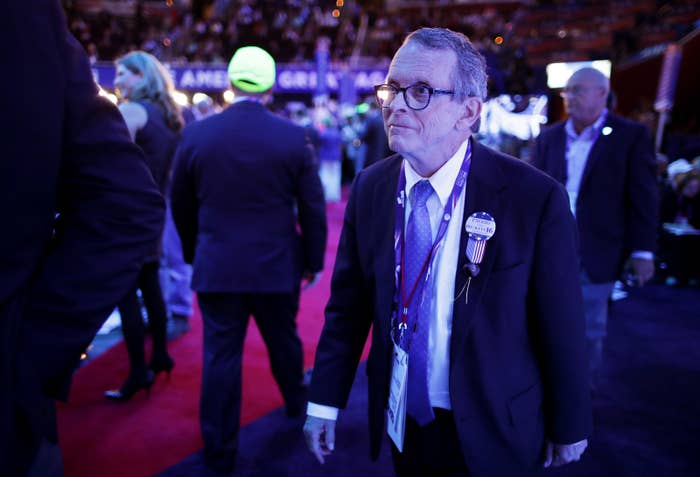 Ohio Attorney General Mike DeWine's office said on Monday that the state will be changing its execution plans in an attempt to resume lethal injections in executions scheduled to begin early next year.

The state has not held an execution since January 2014.
Instead of using either pentobarbital or sodium thiopental, the drugs called for in its current single-drug protocol, the state will change its procedures to allow midazolam to be used as part of a three-drug protocol.
Midazolam, a sedative, was used in Ohio's most recent execution, a 26-minute lethal injection in which inmate Dennis McGuire "struggled and gasped audibly for air."
The Ohio Department of Rehabilitation and Correction is expected to release a new execution protocol later this week that pairs the sedative with a paralytic and a drug that stops the heart.

Execution drugs in general have been difficult for states to get ahold of as drug makers enact procedures to keep their products out of the hands of death penalty states, although midazolam has been somewhat easier for states to obtain.
Arizona, which also carried out a botched execution using midazolam, announced in June that the state would be abandoning use of the drug, even though it currently has no access to other execution drugs. Oklahoma, which also had a botched execution when using midazolam, currently has its executions on hold following a highly critical state investigation into its execution process.
States that have recently been carrying out the most executions — like Texas, Missouri, and Georgia — all use compounded pentobarbital.
Although Ohio's new protocol will use the same sedative used in the McGuire execution, the state will follow it with other drugs. States and death row inmates agree that the final drug can be quite painful if the inmate is not properly sedated.
The Ohio Attorney General's office declined to answer if the state has already obtained the drug, referring questions to the Ohio Department of Rehabilitation and Correction, which did not respond.
Ohio, like other death penalty states, keeps the supplier of execution drugs a secret, arguing that they would face harassment, boycotts, and even threats. Weeks ago, BuzzFeed News revealed that an expert hired by Ohio and Texas misled the courts when making an argument that drug suppliers faced serious threats.