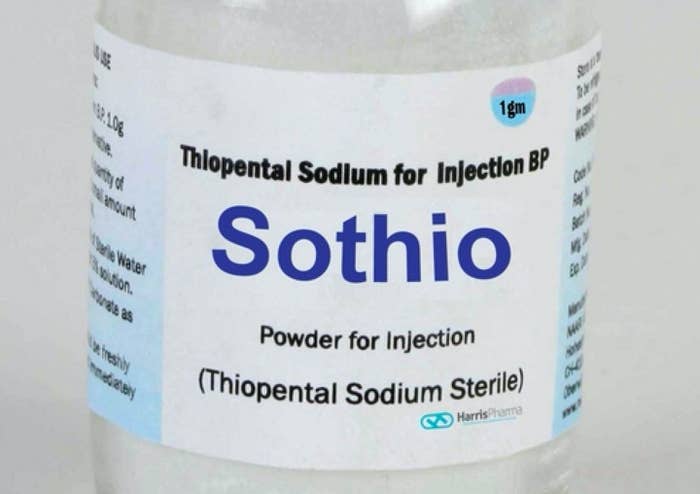 The Nebraska Department of Correctional Services formally asked its would-be execution drug supplier in India for a refund on the thousands of dollars it paid for illegal lethal injection drugs that were unable to get into the United States.
In April 2015, the state paid $26,700 to a man named Chris Harris who claimed to be able to manufacture sodium thiopental that could be used in executions.
"Just wanted to let you know I have a few states who have already ordered sodium thiopental. Would Nebraska be interested as I will have a few thousand vials extra," Harris wrote in his pitch.
"Delivery after 60 days," Harris promised.
But a BuzzFeed News investigation revealed that Harris' facility he registered with the Food and Drug Administration was a small office space incapable of manufacturing drugs, and the facility he registered with the Drug Enforcement Administration (and listed on his invoice) is actually an old apartment building that he no longer lives in. He left owing the landlord several months' rent.
Harris has sold to a handful of states in the previous six years. Each time, he assures the states that the legal issues have been solved, and each time his drugs go unused after legal issues arise.
After attempts to get the drug into the United States last year, over the express warnings from the Food and Drug Administration that doing so would be illegal, Nebraska was unsuccessful.
On January 6, corrections director Scott Frakes demanded a refund from Harris, according to documents obtained by BuzzFeed News through an open records request.
"This failure on the part of Harris Pharma to deliver the Sodium Thiopental ... is unacceptable and is a breach of the representations and promised delivery date made by Harris Pharma," Frakes wrote.

Nebraska "acted in reliance upon representations made by Harris Pharma and must now request Harris Pharma for full repayment of the $26,700 ... for a product that has yet to be delivered," Frakes wrote. "There is no question at this juncture that Harris Pharma has failed to comply with" the agreement.
"Please provide full reimbursement immediately in hopes that this matter may be resolved amicably and without the necessity of further proceedings."

Weeks later, Harris responded that he would not be issuing a refund.
"I am sorry to state that refund of the payment is not possible as there has been no fault of my company," Harris responded on January 28. He went on to blame the shipping company Nebraska requested, and insisted that he could still ship the drugs if Nebraska renewed their DEA license.
"Hope this issue does not spoil the relationship between our organisations and we are able to do business in the future."
When asked if Nebraska would be suing Harris, corrections spokesperson Andrew Nystrom responded that "NDCS continues to explore all available legal options regarding this."
In addition to Nebraska, Harris also sold execution drugs to Texas and Arizona last year. The FDA seized those shipments at the airport, and the two states are fighting for them to be released.
Read the state's letter to Harris: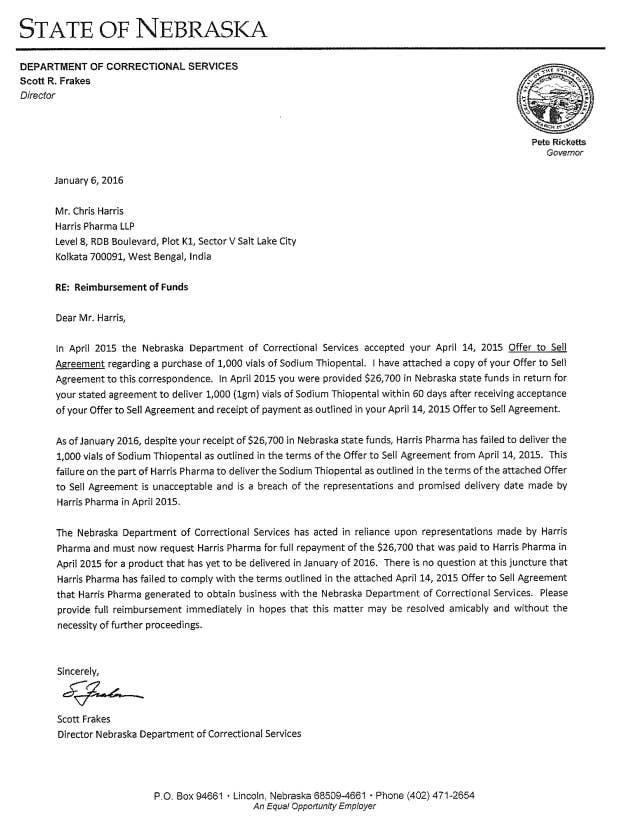 Read Harris's response: