States attempting to illegally import execution drugs, an outside lawyer helping them do so, and an overseas drug supplier have coordinated their efforts more than previously known, documents obtained by BuzzFeed News show.
BuzzFeed News previously reported that three states — Arizona, Ohio, and Texas — hired outside lawyers to help them on drug importation issues. Several states have paid Ben England or his companies — Benjamin L. England & Associates, LLC and FDAImports.com, LLC — to represent the states in their attempts to import the drugs.
New public records provided by Nebraska to BuzzFeed News show that it, too, has hired England to not only import sodium thiopental but register an overseas supplier with the Food and Drug Administration (FDA).
The documents, however, also show much more about the work going on behind the scenes to bring execution drugs into the country that the FDA says cannot legally be imported.

The records, some of which are marked confidential and "attorney-client privileged," show Nebraska's Department of Corrections paid attorney Ben England $399 to register sodium thiopental with the FDA that a man named Chris Harris and his company, Harris Pharma, claims to be able to manufacture. But prior reports from BuzzFeed News call into question information listed on the registration.
The registration, sent to Nebraska officials in early September, lists an address in Kolkata, India, as the location where Harris Pharma manufactures its drugs. A BuzzFeed News investigation, published in October, revealed that the location is a small rented office space, and an employee at the building confirmed that no drugs were being manufactured there.


The records also show that England's company, FDAImports.com, LLC, listed itself as the U.S. Agent on the FDA form.


England did not respond to a request for comment on Sunday and has not returned numerous requests for comment in a span of several months.

Harris, for his part, does not have a pharmaceutical background and has sold execution drugs to states at least six times over the past six years. Each time, after questions are raised about the legality of the sale, his drugs have gone unused. Harris, in response to multiple requests for comment, has told BuzzFeed News repeatedly that he does not speak to reporters.
As state efforts to import sodium thiopental ramped up in 2015, the Food and Drug Administration has been clear — in repeated written communications, including to England — that sodium thiopental cannot be imported, under the law and a related federal court order. States ignored the FDA and bought the drugs anyway.
The agency followed through on its promise and is detaining hundreds of vials of the drug that were on their way to Arizona and Texas. Additionally, Harris attempted to ship sodium thiopental to Nebraska in late August, but Fed Ex returned the drugs to the sender after receiving information that it was not approved by the FDA.
Although Harris sold the drugs and claims to be a manufacturer, BuzzFeed News previously reported that he did not make the drugs intended for Texas and Arizona. Instead, a company in India called Health Biotech Limited is listed as the manufacturer of the drugs on FDA paperwork regarding the shipments. An employee of Health Biotech told BuzzFeed News that the company made the drug for Harris, who then marketed it on his own. "We don't know what he does with the product," the employee said.
Ohio, which responded in October to an FDA letter about the legality of importing sodium thiopental, has paid England more than $30,000 over the past two years. Texas paid one of England's firms more than $15,000 in April, although the payment was rescinded days later.

England also recommended that Nebraska provide $2,500 as a legal retainer "as it is needed."
In the registration documents for Harris Pharma, England's firm puts that the drug is "[f]or law enforcement purposes only." The proposed label includes Harris Pharma's logo.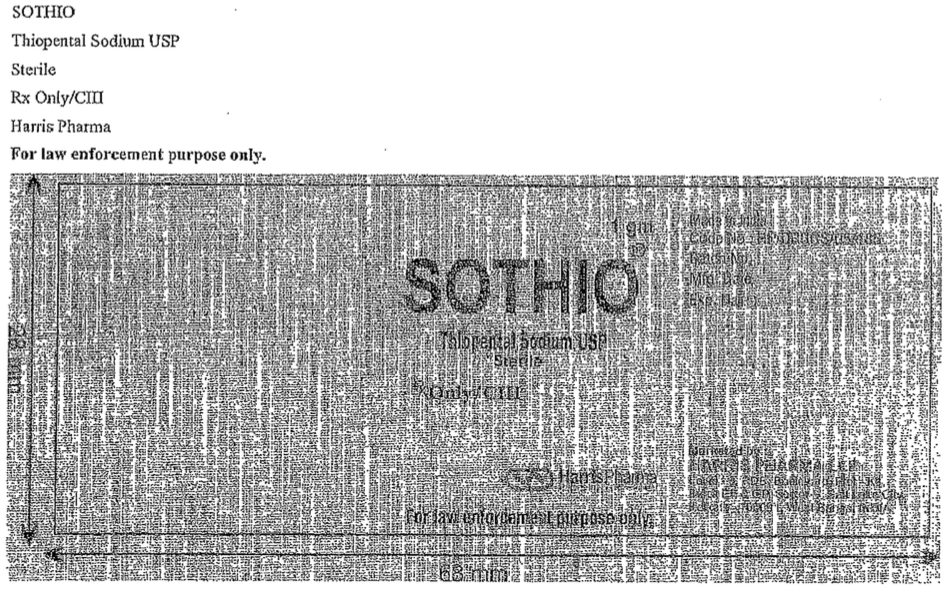 England also listed an email address for FDAImports.com in the space where the form asks for contact information for the drug registrant.


This isn't England's first time dealing with the legal questions involved in importing this drug. Although he now is doing extensive work for numerous states seeking to import sodium thiopental, as well as the seller of the drug, in the past he was worked as an expert on behalf of Arizona death row inmates to keep the drug out of the country.
In that case, he said shipments of sodium thiopental destined for Arizona were illegal. In 2012, a federal judge ruled in a separate case that the FDA could no longer let sodium thiopental into the U.S.
But now, England is on the other side. In Ohio's letter to the FDA, which came after the state had been working with England for two years, the state corrections official argued that there should be a legal way for states to import sodium thiopental.
Texas has not confirmed that England is working for the state, and it's still unclear who Arizona is paying for legal advice on importing sodium thiopental. Both states have redacted that information from records mentioning their outside counsel. In his engagement letter with Nebraska, England says that secrecy would be wise.
"As you may know, it is in your best interest to preserve the confidentiality of all communications between us," England wrote.