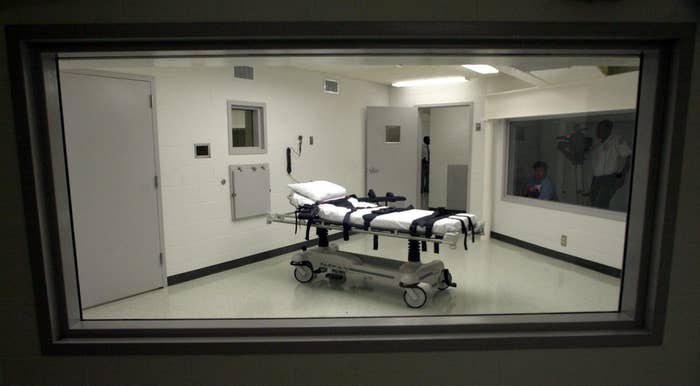 A state judge ruled Tuesday that Montana cannot use the lethal injection dug pentobarbital, which several states have used in recent executions — at least not as state law is currently written.
Montana law requires lethal injections be carried out with an "ultra-fast acting barbiturate." It was written with sodium thiopental in mind, but the sole Food and Drug Administration-approved manufacturer stopped making the drug to keep it from being used in executions.
Montana attempted to substitute pentobarbital, a barbiturate that several other states including Texas, Missouri and Georgia have used in recent executions. Judge Jeffrey Sherlock ruled the drug can't be used since it doesn't mean the statute's definition.
"This case is only about whether the drug selected by the Department of Corrections... meets the legislatively required classification of being an 'ultra-fast acting barbiturate,' Sherlock wrote, adding that if Montana wishes to use pentobarbital, it will need to change state law.
Sherlock heard expert testimony from two doctors on pentobarbital to determine whether pentobarbital is "ultra-fast acting." The judge said the testimony of the state's expert, Dr. Lee Evans, "did not comport" with his prior testimony, which was "crucial" in deciding how to rule.
"Until the trial of this action, Dr. Evans had not testified that pentobarbital was an ultra-fast-acting barbiturate," the judge wrote. "He did so testify at trial. However, the Court struck that conclusion because it did not comport with his prior discovery responses or declarations filed with the Court."
Evans indicated in this trial that the onset of pentobarbital was less than a minute in this trial. But in a trial in 2012, Evans said it was "three to four minutes."
Evans is one of the few medical experts willing to testify on behalf of death penalty states, including in Oklahoma's recent case before the U.S. Supreme Court. In that case, he was criticized for, among other things, using the website Drugs.com for research. The website includes the disclaimer that it is "not intended for medical advice, diagnosis or treatment."
The judge added that his findings are "not in any way insinuate that Dr. Evans is not a credible witness," but that his change in testimony is "a factor when weighing the evidence."
Sherlock indicated that Montana could use the drug if the legislature changed the statute to not require an "ultra-fast acting" drug.