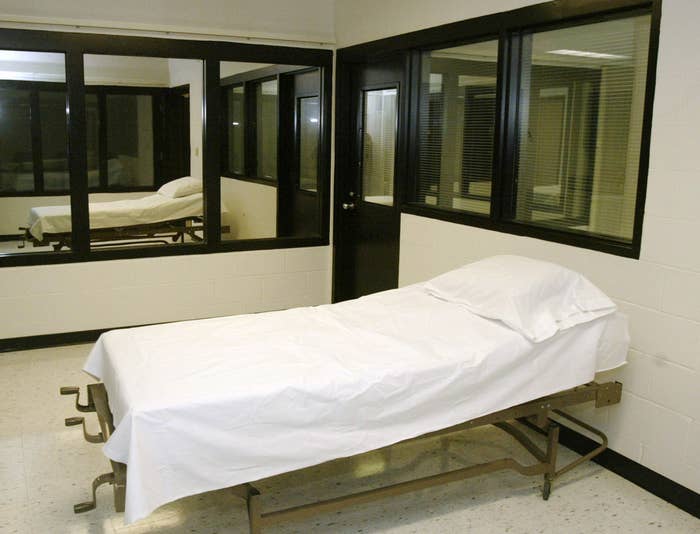 While other death penalty states have struggled to get their hands on execution drugs, the state of Missouri has quietly stockpiled a substantial amount.
It raises the question: How is Missouri able to do this when no other state seems to have a steady source of the drugs? The state isn't saying, at least not anymore.
The state will also no longer say whether officials procure execution drugs from a compounding pharmacy, where pharmacists mix the drugs most often used in executions.
"Missouri uses pentobarbital as the lethal chemical in its execution process, but does not admit nor deny the chemical now used is compounded as opposed to manufactured," Attorney General Chris Koster's Office wrote in an April court filing.
The existence of the large supply itself suggests that something significant has changed with the kind of drug Missouri is using.
Compounded drugs can only last for a short period of time. The United States Pharmacopeia strongly recommends against keeping a compounded drug like pentobarbital for longer than 45 days — and that the drug can only last that long if it's frozen. Manufactured drugs, which are made by pharmaceutical companies, on the other hand, can last for months or years.
State officials changed drug suppliers in February 2014, after their previous supplier, the Apothecary Shoppe, was sued for, among other things, selling execution drugs when it wasn't licensed to do so in Missouri.
Until February 2014, Missouri's drug stockpile hovered around zero, presumably because the compounded drugs expired so quickly. Since changing drug suppliers, however, the state's drug supply has exploded, according to records obtained by BuzzFeed News.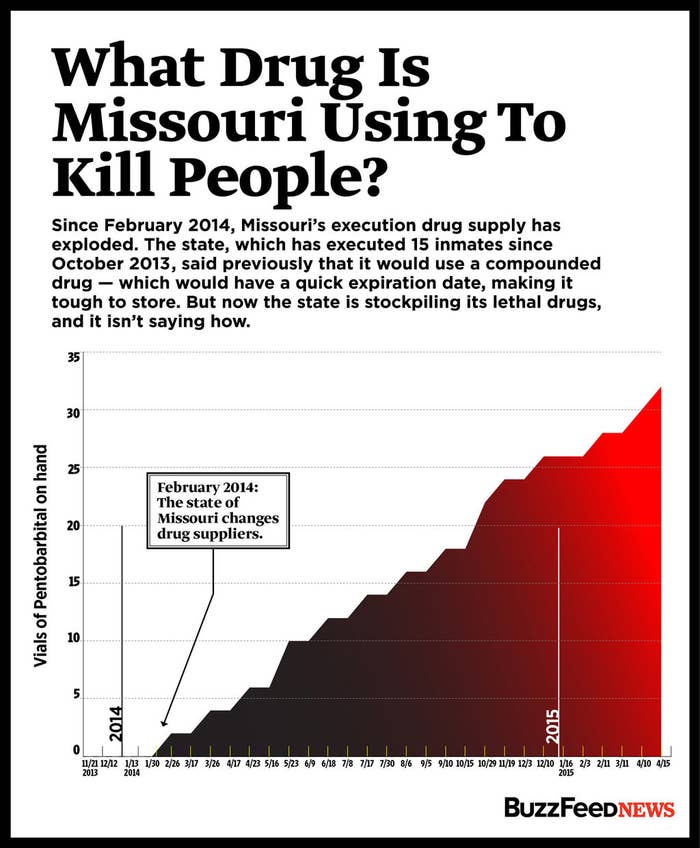 Missouri now has enough drugs for 16 executions.
With FDA-approved suppliers either discontinuing the manufacture of pentobarbital or enacting stringent guidelines to prevent states from getting ahold of their drugs, it led some capital attorneys to believe the state is resorting to veterinary pentobarbital — something that would be much easier to find, but illegal to use on humans.
When two attorneys, Cheryl Pilate and Lindsay Runnels, approached the Department of Corrections, officials refused to say whether the drug is veterinary.
"The response has been very evasive," Pilate said. "We made several requests about the use of veterinary drugs, and instead of getting the response of "Of course we would never use a veterinary drugs," they [were] refusing to say."
When BuzzFeed News asked the state's corrections department whether the state is using veterinary drugs in executions, spokesperson David Owen said, "No."
Owen would not answer any questions about how the state could be holding onto drugs for so long, given the short shelf life of compounded drugs.
Gov. Jay Nixon's Office would not answer questions, either, and a spokesperson with Attorney General Chris Koster's office declined to comment.
"It's the ease with which they're getting it," Pilate said. "Other states are having serious problems getting ahold of their drugs. Why not Missouri?"