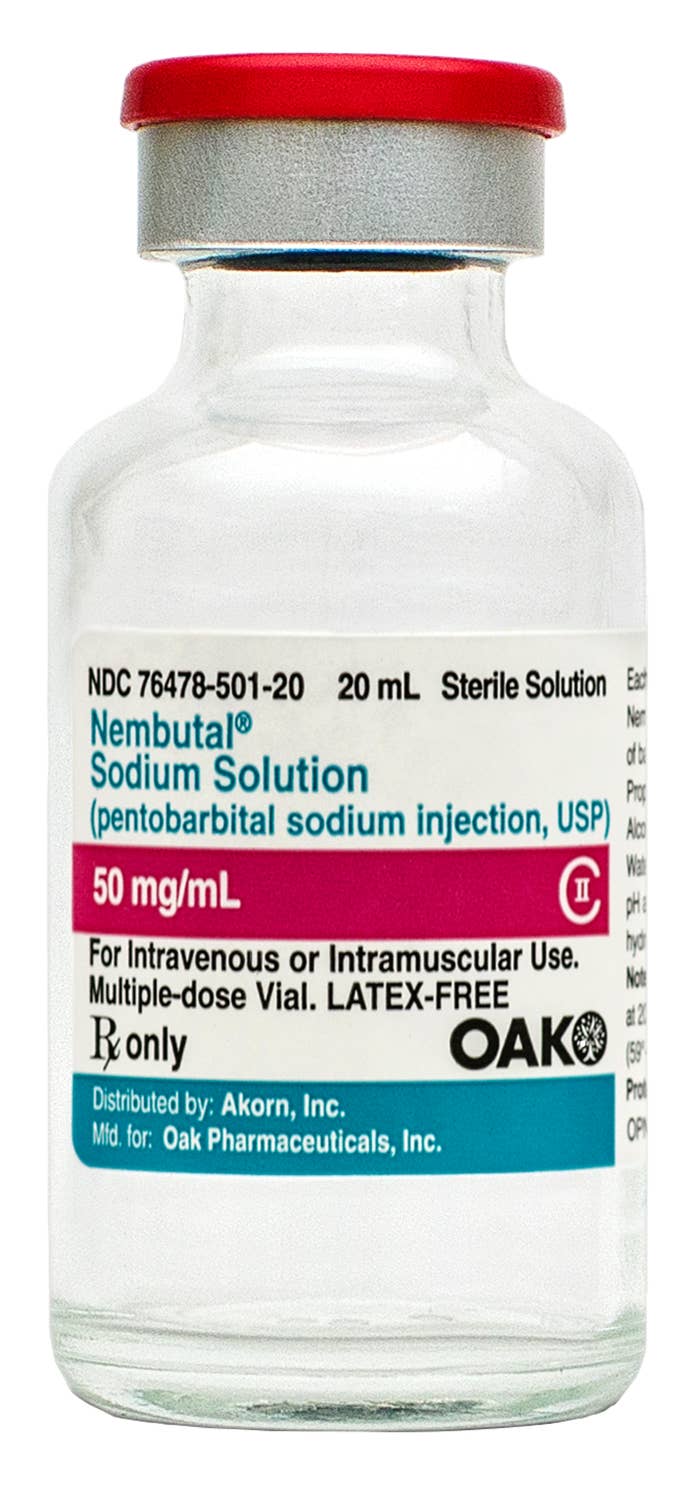 Missouri purchased manufactured drugs for use in recent executions that were made by a company that enacted stringent measures to prevent any state from doing so, BuzzFeed News has learned.
A sealed court document obtained by BuzzFeed News shows that the state had, at least sometimes in the past six years, bought manufactured pentobarbital — as opposed to the compounded version of the drug inmates spent years fighting over in court — for use in its executions.
For years, Missouri death row inmates have waged a legal battle with the state over the use of compounded pentobarbital. Manufactured drugs are subject to Food and Drug Administration regulation, while compounded drugs — which have a significantly higher failure rate — are regulated largely by the states.
But a discussion between Attorney General Chris Koster's office and a federal judge in a sealed courtroom indicates that the state previously purchased a manufactured version of the drug. The sole FDA-approved manufacturer of the drug Missouri uses, pentobarbital, is Akorn. Akorn has stringent measures in place in an attempt to keep it out of the hands of executioners, making companies that wish to sell their drug sign an agreement that it will not go to death penalty states. Despite those efforts, it appears the state has been able to obtain some anyway.
Akorn did not respond to a request for comment.
The revelation comes months after Mississippi death row inmates attempted to subpoena records from the Missouri Department of Corrections, in an effort to discover a better method of execution than used in Mississippi. Missouri successfully quashed the subpoena after the supplier said it would no longer sell the drugs if its identity were revealed.
In a July court hearing, lawyers with Attorney General Koster's office argued that even acknowledging they had documents on some of the requests in the subpoena would reveal too much information about its supplier.
"I'm going to order a sealed proceeding and banish anyone from the courtroom who is not a party or counsel," Judge Stephen Bough said. "And order confidential restrictions not to discuss or file with the clients or in any other way the information that's discussed in this proceeding, subject to contempt order."
After the court was cleared, an attorney with the Attorney General's office laid out his concerns with revealing whether the state had the documents.
"I'm primarily focused on request number two for documents about pentobarbital," Assistant Attorney General Greg Goodwin said, according to an excerpt in a later court filing.
"If [we] identified whether or not there is a responsive document to that request, that answers the question of whether it is or is not manufactured or compounded pentobarbital because manufactured pentobarbital has that information, and compounded pentobarbital does not have a package insert."
"So by merely saying that there exists a document that proves it's manufactured or proves that it's compounded, that answers the question does Missouri use compounded or manufactured pentobarbital," Goodwin said.
The judge then stated that there were three responsive documents to that request, according to the court filing.
The court filing was marked that it should be sealed, but for some reason was available on the federal courts' website, PACER. Shortly after BuzzFeed News approached an attorney representing the execution drug supplier, the filing became sealed.
The now-sealed court filing does not identify the supplier of the drug. When Missouri first began using pentobarbital in Nov. 2013, the state bought the drug from an out-of-state compounding pharmacy called the Apothecary Shoppe. The pharmacy was not licensed to sell in Missouri, which under normal circumstances could be a felony.
After its identity was revealed, a death row inmate sued the pharmacy in early 2014. The pharmacy settled out of court, agreeing to no longer sell execution drugs. BuzzFeed News later revealed that the pharmacy had admitted to committing more than a thousand pharmaceutical violations.
When the Apothecary Shoppe dropped out, Missouri discovered a new supplier that it has referred to only by the pseudonym "M7," and has attempted to keep all information about the supplier secret.
Under M7, the state has mysteriously built up a considerable stockpile of execution drugs, something that does not fit with using compounded drugs. Compounded drugs have a shelf-life measured in weeks, while manufactured drugs can last for years.
Using pentobarbital from the Apothecary Shoppe and M7, Missouri has executed 19 death row inmates. The leadership that oversaw those executions — Gov. Jay Nixon, Attorney General Chris Koster, and Director of Department of Corrections George Lombardi — are on their way out.
Nixon was term-limited out, Koster lost his bid to replace him as governor, and both leave office on Monday. Additionally, Lombardi announced his resignation after accusations that his employees retaliated against women who alleged they were sexually harassed by superiors.
The three offices did not return a request for comment.
Missouri is scheduled to carry out another execution at the end of the month.