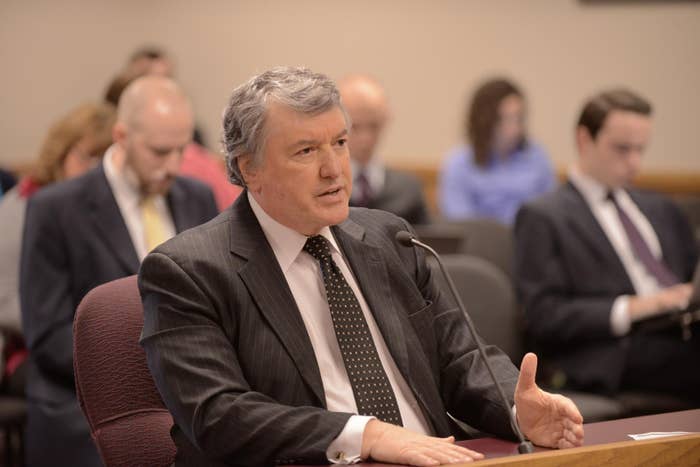 Days after BuzzFeed News revealed that the state of Missouri has paid $250,000 in cash payments to those who help the state carry out the death penalty, the head of the department of corrections defended the practice before a state budget committee.
A high-ranking corrections official hands out envelopes filled with thousands of dollars in cash before each execution. The state does not disclose the payments to the Internal Revenue Service, as is required by federal tax law. Without filing a form called a 1099 with the IRS, the agency has no way of ensuring the recipients are paying taxes on the payments.
Experts BuzzFeed News spoke with said the practice possibly violates the law, and that the state could be contributing to considerable tax evasion.
Director George Lombardi could not point to an exemption that allowed the department to not issue 1099s, but said the policy was essential.
"Is it your understanding that there is some sort of exemption for the department of corrections to skirt that federal requirement?" Rep. Jeremy LaFaver asked.
"It is my understanding that giving 1099s to these individuals would reveal who they were, and would mean the end of the death penalty, because these individuals wouldn't do it," Lombardi said.
"What we do is counsel those folks that they need to report that [to the IRS]," Lombardi said.
"Is there a document that proves that?" the lawmaker continued.
"No."
"Is it in a written policy?"

"No, it's just something we do."
Lombardi seemed agitated that he was being questioned about the cash payments. At the beginning of the inquiry about it, Lombardi said "I don't intend to answer that question as it's under litigation." He also would not answer who is delivering the envelopes of cash, although BuzzFeed News has reported that it is David Dormire, the director of Adult Institutions.
Lombardi also was questioned about a 2015 audit that criticized the department for not following its procedures on the cash payments.
"The auditor was correct in calling us on that, and we changed it immediately," Lombardi said, adding that witnesses are now documenting the exchange.
However, "confidential execution team member receipts" from well after the audit show discrepancies. Some are lacking a witness signature, others are entirely blank, and many of the witnesses signed the receipts on different days than Dormire.
The department of corrections would not provide any explanation of the discrepancies.