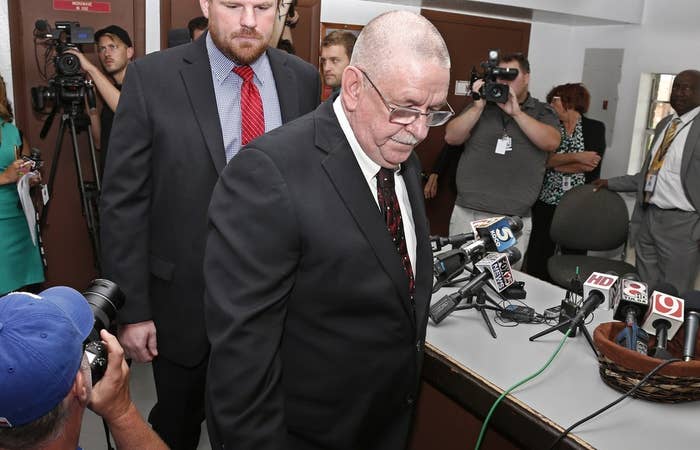 Internal Oklahoma Department of Corrections emails obtained by BuzzFeed News are raising new questions about whether outgoing Director Robert Patton left his position voluntarily or was "forced out" following a failed execution attempt in September.
Officially, Patton, who had only been on the job 22 months when he resigned in December, left the department to "spend more time with his family." But in emails to another corrections employee, an internal affairs agent who served as Patton's security detail said she believed he was pushed out over a grand jury investigation into multiple mistake-ridden executions last year.
Additional documents also show that a top corrections official scrubbed a press release announcing Patton's departure to remove any mention of the grand jury investigation and insisted it have a subdued "tone."
As BuzzFeed News first reported, Patton took a job with GEO Group immediately after leaving the department. GEO Group is a private prison company that was awarded a contract while Patton was director. A state lawmaker has questioned if the move violates Oklahoma's ethics law.
The first execution under Patton's leadership was a 45-minute affair, in which the inmate sat up on the gurney and spoke after he was supposed to be unconscious. In the second execution, the inmate's last words included, "My body is on fire." It was later revealed that the state used the wrong drug in that execution. When the state attempted to carry out its third execution under Patton, it had to be called off because, once again, the state had obtained the wrong drug.
On Dec. 2, weeks after a grand jury began investigating the department, Patton instructed his assistant to type up his letter of resignation to Kevin Gross, the chair of the Board of Corrections. The next day, the department of corrections' communications team emailed with Gross, discussing how to tell the public.
The first draft of the press release announcing his resignation claimed that the resignation had nothing to do with the grand jury investigation.
"Director Patton said the resignation comes at a time when he wants to spend more time with his family, not because of the recent on-going grand jury investigation," said a draft obtained by BuzzFeed News through an open records request.
"The members of the grand jury who have been conducting the investigation have been professional and diligent," the draft quoted Patton as saying. "I appreciate their continued efforts moving forward."
The draft also included glowing praise of Patton from Gross.
"When Director Patton told me about his decision, I encouraged him to stay, however it is hard to argue with the pull of family," the draft quoted Gross as saying. "Since coming to the DOC Director Patton has overseen a difficult task and has thrived."
But when the communications department sent it to Gross for approval, the board chair removed the statements saying the resignation had nothing to do with the grand jury investigation, as well as many of the words of praise for Patton.
"This is more the tone we need," Gross wrote back. "We can talk about the grand jury. But I don't think drawing attention to it will prevent them from coming to the conclusion."
The new statement made no mention of the grand jury investigation and included more subdued praise that "Patton has upheld the mission of the agency and helped to ensure public safety."
When asked days later by reporters if the grand jury investigation into execution mistakes played a role in Patton's resignation, the department's spokesperson said Patton wanting to spend time with his grandchildren "is his main reason for resigning."
In an email to BuzzFeed News, spokesperson Terri Watkins wrote that "the back and forth on the news release is not uncommon."
"The decision was it would be linked to the grand jury right or wrong no matter what the release said," Watkins wrote. "And no it was not because the execution complication played a role."
Gross did not respond to a request for comment.
But a member of Patton's security detail wasn't buying the official line. "Assuming he is being forced out because of the execution issues, it really was not his fault," agent Stephanie Burk wrote in a Dec. email to a colleague. "The pharmacist is the one who substituted the drug without telling us."
"The doctor should have caught it too before it was used on Warner. He/she caught it before it was used on Glossip, which started this latest mess. He/she felt so bad and apologized profusely. But someone had to take the fall and you can't fire the pharmacist or the doctor, so… Of course, this is pure speculation as to why he is leaving. We knew he wouldn't stay long anyway. Bad health and he misses his grandkids in AZ terribly."
Burk worked closely with Patton, and said in another email to a colleague that she had been working with him since he took over and had grown to know and admire him on a personal level.
Burk declined to comment on how she knew about the doctor's reaction — if she was basing it on first-hand or second-hand knowledge — or questions asking about her speculation that Patton was forced out because of execution mistakes. Oklahoma's execution protocol also calls for members of the inspector general's office to play a role in the execution.
Burk would only direct questions to corrections spokesperson Terri Watkins, who told BuzzFeed News, "Any personal statements made regarding their opinion as to why he left are not mine to comment on."
The results of the grand jury could come down as soon as the next few weeks. While the investigation has been going on, Warden Anita Trammell, who ran the prison where executions occur, has resigned, as well as Gov. Mary Fallin's general counsel, Steve Mullins.
The grand jury is scheduled to convene again next week, when it could announce its findings. If a conclusion is not met then, the grand jury will meet again in mid-April.