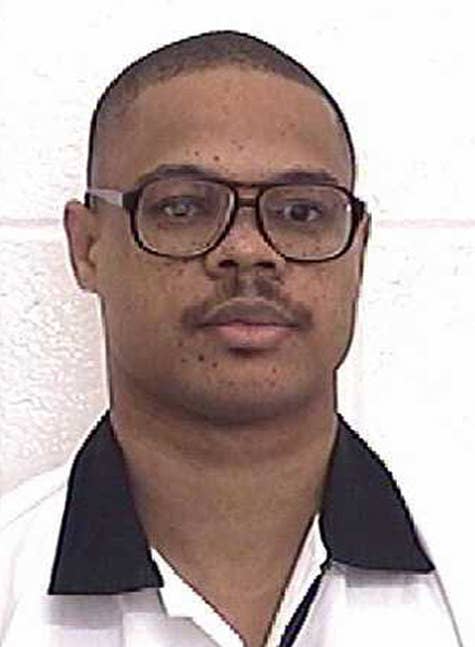 Georgia executed a black man Tuesday convicted of brutally killing a white woman in the mid-1990s, despite a last minute appeal based on one juror's racist comments after the trial.
According to court documents, Fults forced his way into 19-year-old Cathy Bounds' home in 1996 as part of a burglary. She begged for her life and offered up her jewelry, but Fults shot her five times in the back of the head anyway. Fults eventually pleaded guilty to her murder.
However, one of the jurors who sentenced him to death, Thomas Buffington, wrote in a sworn affidavit after the trial that "I don't know if [Fults] ever killed anybody, but that n****r got just what should have happened. Once he pled guilty, I knew I would vote for the death penalty because that's what that n****r deserved."
Before Buffington was allowed to serve as a juror, he was asked if he had any racial prejudices. He said no. He signed the affidavit in 2005 and has since died.
Fults and his attorneys argued Buffington's racism tainted the trial and, as a result, the execution should be canceled. He asked the U.S. Supreme Court to intervene — a request the state opposed. He also asked for a stay of his execution until the court decides what to do with the case.
The Supreme Court denied the requests Tuesday afternoon.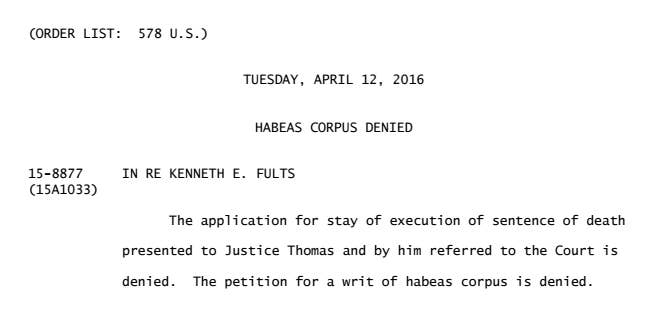 The Georgia Board of Pardons and Paroles on Monday also had rejected Fults' clemency petition that he sought on the grounds of his troubled upbringing.
Fults died at 7:37 p.m. Tuesday, according to the state attorney general.
Last week, the high court agreed to hear a case next term concerning a Colorado juror who made racist comments about Mexicans during jury deliberations. Fults asks that the court hear his case or allow his execution to be put off until after the Colorado case, Peña Rodriguez v. Colorado, is resolved.
Georgia Attorney General Sam Olens' office argues the Supreme Court is not the proper court to weigh in on this issue, and that Fults raised the claim of juror bias too late.