Federal Judge Dismisses Cruelty Suit Against Oklahoma For Botched Execution
While Oklahoma waits for the U.S. Supreme Court to rule on the constitutionality of its execution methods, a federal judge dismissed a separate lawsuit this week against the state over a botched execution.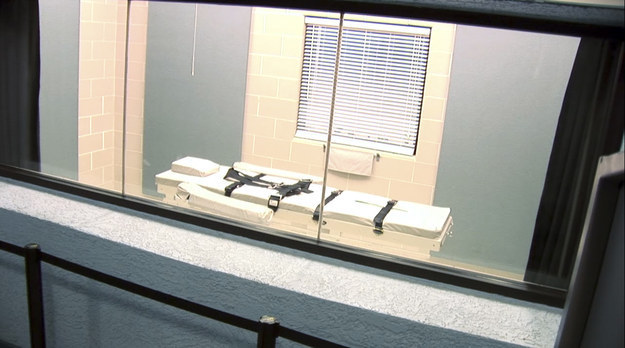 A federal judge dismissed a lawsuit this week brought by the family of a man whose execution was botched by Oklahoma, finding that his extended death did not amount to unconstitutional cruelty.
The family of Oklahoma death row inmate Clayton Lockett filed a lawsuit against the state an after Lockett's execution lasted for 43 minutes, with witnesses reporting him raising up on the gurney and speaking after he was supposed to be unconscious. Lockett's family alleged the execution amounted to torture and violated his rights. His family asked for an unspecified amount of damages.
Judge Joe Heaton called the complaint "hyperbolic" and "bombast[ic]," and dismissed the suit this week.
"These allegations suggest nothing more than the sort of isolated mishap, which alone does not give rise to an Eighth Amendment violation, precisely because such an event, while regrettable, does not suggest cruelty," Heaton wrote in his decision.
Oklahoma is still awaiting a determination from the U.S. Supreme Court about the constitutionality of how it carries out executions, specifically its use of a drug called midazolam to anesthetize the condemned. The decision could come either Friday or Monday, but Heaton was clear that the decision would have no bearing on this case.
"But even if the Supreme Court ultimately [rules against Oklahoma], it is nonetheless clear that any right which [Lockett's estate] now asserts based on the use of midazolam was not clearly established at the time of Mr. Lockett's execution," the judge wrote.
A state investigation found that issues with setting the IV was the greatest cause of the botched execution. The paramedic and doctor who participated in the execution had trouble finding a vein, although prior checks and his medical history suggested his veins were good.
The Department of Corrections lowered the blinds when things began to go awry, but people who could see inside the room reported Lockett raised himself and said, "Shit is fucking with me," according to a copy of the state investigation obtained by BuzzFeed News.
The state called off the execution, but Lockett died 10 minutes later.
The state investigation also found that Corrections personnel were inadequately trained — a finding that the warden and Department of Corrections Director Robert Patton acknowledged.
But inadequate training doesn't necessarily amount to a constitutional violation, Heaton ruled, because at the time there was no clearly established standard that the state violated.
"It may well be that, in [the current Supreme Court case] or in some other case, the appellate courts will conclude that aspects of Oklahoma's execution protocol were constitutionally deficient," Heaton wrote. "However, what is determinative for present purposes is that the claimed constitutional violations asserted here as to Mr. Lockett are not based on standards that were "clearly established" at the time of his execution. The law therefore recognizes that these defendants should not be held personally liable for any violation which may have occurred."
The attorney representing Lockett's family did not return a request for comment, but has indicated that he will appeal the decision. Lockett was sentenced to death for shooting 19-year-old Stephanie Neiman and then burying her alive.