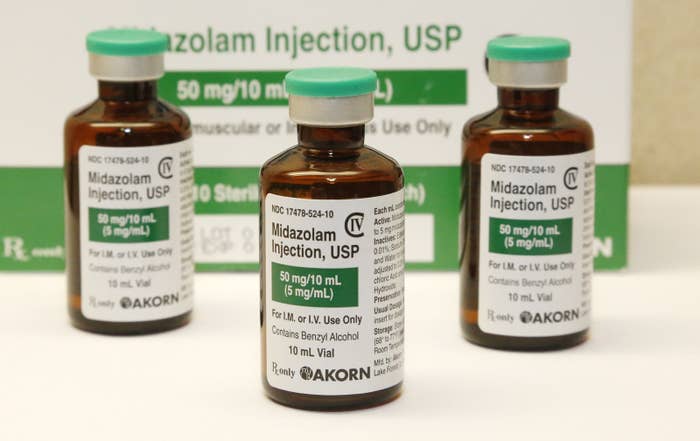 The Alabama Department of Corrections has offered to kill an inmate facing an execution next month with the drug protocol he requested, one never before used in an execution, provided the man consents to it. On Wednesday, a federal judge asked inmate Ronald Smith to decide by next week if he will agree.
Alabama's current lethal injection protocol calls for three drugs to be administered. The first is midazolam: A controversial sedative used in several botched executions. The second is a drug that paralyzes the inmate. And the third is a drug that stops the heart; it is undisputed that the drug causes severe pain to a conscious person.
Death row inmates in Alabama have argued that the risk of pain is too high to use the third drug, and offered up a few different ways they could be killed. If death row inmates want to challenge their method of execution, the Supreme Court has said they have to propose better alternatives.
One of the options they proposed is to use a single dose of midazolam, the controversial sedative, and no other drugs. In previous executions throughout the United States, midazolam has always been paired with other execution drugs.
"While Defendants continue to maintain that the current lethal-injection protocol is constitutional," Attorney General Luther Strange's office wrote in May, "Defendants acknowledge that Plaintiffs' proposed third alternative is at least feasible."
Alabama "would consent to the ADOC executing Plaintiffs by lethal injection using only midazolam" but added that the department may need to use additional doses in case the initial dosages do not kill the inmates.
A "one-drug protocol using midazolam has never been tested, and thus, the ADOC reserves the right to administer further doses of midazolam as required."

U.S. District Court Judge Keith Watkins ordered the state to produce a one-drug execution protocol with only midazolam by early next week. Smith, the inmate, will have to decide within 48 hours whether he will consent to that execution or possibly face the three-drug protocol.

The state offered up the possibility a year ago for another inmate, Christopher Brooks. He declined, arguing that there was no official one-drug protocol and that the case should first be decided on the merits of whether the three-drug protocol is constitutional.
Brooks ended up being executed with the three-drug protocol. The federal judge noted that "a witness in the viewing room testified that Mr. Brooks's eye opened after the consciousness assessment and remained open until the curtain was closed in the viewing room."
Just this past week, the U.S. Supreme Court halted the execution of another Alabama inmate who raised similar concerns about the three-drug protocol.