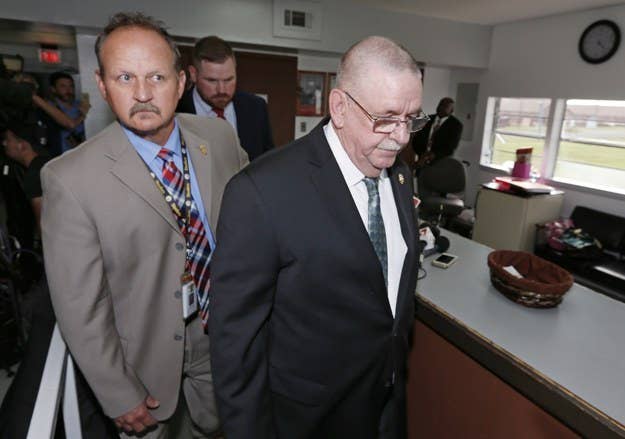 Oklahoma Department of Corrections Director Robert Patton announced on Friday that he will resign after serving less than two years in the office.
During Patton's tenure, Oklahoma's execution process had been marred by mistakes, and his resignation comes in the midst of a grand jury investigation into the state's executions.
In Patton's first execution at the helm, inmate Clayton Lockett took 45 minutes to die from lethal injection. In the second execution under Patton, executioners used the wrong drug on Charles Warner. In the third attempted execution, the state called it off after realizing it obtained the wrong drug.
In a statement, Patton said he has accepted a job in Arizona to be closer to family.

"I appreciate the members of the board of corrections for their continued support during my time as director, Patton said in a statement Friday. "It has been an honor to serve this agency, the state of Oklahoma and to work with the talented people who make up the department."
A BuzzFeed News investigation revealed several mistakes under Patton's tenure in Oklahoma mirrored mistakes made during his time as a corrections official in Arizona.

Patton worked at the Arizona Department of Corrections for more than 20 years, and participated in several executions in that state.
During his time in Arizona, he admitted numerous deviations from the protocol in performing lethal injections. He allowed a blanket to cover the IV. He allowed executioners to participate even though they did not have the required qualifications. He did not do the proper criminal background checks on the executioners, and he said that, to his knowledge, no one checked the professional licenses of the executioners.
Patton also said he never checked the forms that would indicate how much and which drugs were actually used during the Arizona executions.
Many of these were all problems exhibited during his brief tenure in Oklahoma.
When BuzzFeed News approached Patton in November, he denied some of these facts. But when given direct quotes from a 2011 deposition when he admitted these deviations from protocol, his spokesperson said he would not be commenting further.
Patton's exit is the second high-profile resignation since Oklahoma Attorney General Scott Pruitt began a grand jury investigation into the execution mistakes. Warden Anita Trammell resigned in October.
Documents obtained by BuzzFeed News show that Patton has kept in touch with Arizona corrections officials. After the Lockett botch, Arizona Deputy Director Jeff Hood attempted to reassure Patton.
"Opinions are like assholes - everybody has one. If people only knew the extraordinary efforts undertaken to treat these vile examples of humanity with respect and dignity in their last hours," Hood wrote to Patton.

Patton's new job will for the GEO Group, a private prison company. He will be the Deputy Warden at the Arizona State Prison-Kingman.
"With 30 years of correctional experience and having served in increasingly senior positions throughout his career, Mr. Patton brings extensive qualifications to our ASP-Kingman management team," spokesperson Pablo Paez said in a statement. "Our company is focused on ensuring a safe and secure transition of management functions at ASP-Kingman, and Mr. Patton's proven leadership will serve as a valuable asset during this process."

Patton will have no role in Arizona's execution process.