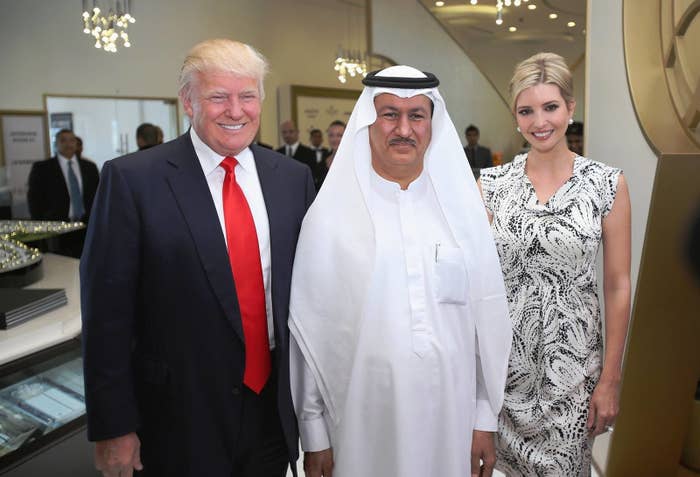 President-elect Donald Trump said Wednesday that he recently turned down a $2 billion deal with a prominent Dubai real estate developer he called "a very amazing man" and "a friend of mine." The developer in question is Hussain Sajwani, head of Damac Properties. (Trump mistakenly referred to him as "Hussain Damac.") He and Trump have partnered on projects in Sajwani's native Dubai in the United Arab Emirates, including the Trump International Golf Club and Trump PRVT luxury mansions overlooking the course. A welcome message from Trump on the golf club's website says, "The course is scheduled to be completed in 2017, with the luxury villas and mansions that overlook the course following over the next couple of years."
What Trump didn't mention: Sajwani was convicted in Egypt of cutting a deal that would have swindled millions from the public. Then, a BuzzFeed News investigation found, he got his five-year prison sentence wiped away by turning to a legal system that is part of the same international trade deals Trump has lambasted.
In 2006, Sajwani struck an agreement with the tourism minister of the notoriously corrupt Egyptian autocrat Hosni Mubarak to build what Sajwani said would be the largest tourist metropolis in the Middle East. Documents obtained by BuzzFeed News show that for this prime real estate, Sajwani agreed to pay just $1 per square meter. Five years later, he still hadn't built the resort or fully paid this bargain-basement price.
After the historic 2011 revolution on Tahrir Square, which was fueled in large part by frustration with crushing poverty and entrenched corruption, an Egyptian court convicted Sajwani and the former tourism minister of colluding on a deal that would cheat the public out of about $41 million.
Through his spokesmen and lawyers, Sajwani has previously denied any wrongdoing related to the Egypt deal and called the criminal case a politically motivated witch hunt. A Damac spokesman did not respond to a request for comment following Trump's press conference on Wednesday but confirmed to the Associated Press that the company had recently offered Trump deals amounting to about $2 billion, which he had rejected. Trump's transition team also did not respond to questions.
The president-elect brought up Sajwani in response to a reporter's question about whether he had business dealings involving Russia. Trump said he had none, then added: "Now, I have to say one other thing. Over the weekend, I was offered $2 billion to do a deal in Dubai with a very, very, very amazing man, a great, great developer from the Middle East, Hussain Damac, a friend of mine, great guy. I was offered $2 billion to do a deal in Dubai, a number of deals. And I turned it down. I didn't have to turn it down, because as you know, I have a no-conflict situation because I'm president, which is — I didn't know about that until about three months ago, but it's a nice thing to have. But I don't want to take advantage of something."
That statement highlights the potential conflicts of interest for a president with a global network of business deals. But it also highlights uncertainty surrounding his promise to tear up or renegotiate international trade deals.
The legal system that Sajwani turned to — investor-state dispute settlement, or ISDS — is enshrined in many of these trade and investment deals, including the North American Free Trade Agreement, NAFTA. It empowers businesses and executives to sue entire countries. After Sajwani filed his claim, other executives and prominent businesses that came under scrutiny for Mubarak-era deals followed suit, and the Egyptian government, facing potentially ruinous liabilities, began settling cases.
NBC News reported that Sajwani attended Trump's recent New Year's Eve party at Mar-a-Lago, and the Dubai developer told the news organization that Trump's election was "definitely good news." "Naturally, I think we will benefit from the strength of the brand going forward," Sajwani said, adding, "I would love to enhance the relation with the Trump Organization." But, he noted, "I am not involved in any political issues or positions."
Sajwani also claimed he had strong personal ties to Trump's children, who are deeply involved in the president-elect's business empire, a fact that has caused further concern over potential conflicts of interest.
"All his three children are very much involved, and I think under their leadership we will have no issue in expanding and growing and maintaining our business relation," Sajwani told NBC News. "My wife and Ivanka are very good friends. They send emails. She's been here to my house. We've been in New York having lunch and dinners with them regularly. And, you know, you enjoy working with somebody — it's not only cold business relation."
On the campaign trail, Trump promised to scrap US trade deals and renegotiate NAFTA, but he is likely to face pressure from businesses, executives, and large law firms to keep the controversial ISDS provisions. ISDS was originally intended to provide foreign businesses with a fair venue to resolve disputes with a government that had seized their property or blatantly discriminated against them. But the BuzzFeed News investigation found that it has morphed into a way for executives to evade punishment for alleged crimes, for companies to reshape or gut public-interest laws and regulations, and for financiers to pump up profits through high-stakes bets.
Citing the investigation, 12 US senators and an influential House Democrat have called for major changes in US trade policy. Last week, House Democrats called on Trump to deliver on his campaign pledge to renegotiate NAFTA and urged him to eliminate "the dangerous ISDS provisions that undermine U.S. sovereignty."
Trump's position on ISDS is unclear. In a September 2016 interview with BuzzFeed News, a top campaign trade staffer, Peter Navarro, whom Trump has since tapped to head a new White House trade council, said he didn't feel comfortable discussing ISDS by phone. In response to written follow-up questions, he wrote, "The Trump Trade Doctrine also opposes any provisions in any trade deals that interfere with the sovereignty of the United States government, and ISDS clauses raise sovereignty issues."