With Unprecedented Gay Victories, U.S. Looks Wedded To Change
After decades of fits and starts, Tuesday's election results were unambiguous: The LGBT rights movement is winning.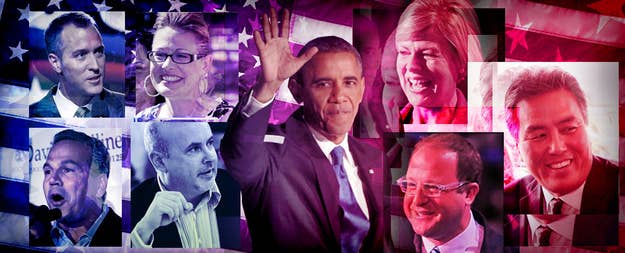 WASHINGTON, DC — "As it has for more than two centuries, progress will come in fits and starts," President Obama told a packed crowd in Chicago well after 1 a.m. early Wednesday. "It's not always a straight line. It's not always a smooth path."
Although Obama was making a broad statement about governing, he could have as easily been describing the path the lesbian, gay, bisexual, and transgender community has traversed since the 1969 Stonewall riots.
After two decades of "fits and starts" in the long-fought battle for recognition of same-sex couples' right to marry, the cause looked to have hit an unmistakable stride forward with this year's elections.
At the least, the landscape looked remarkably different Wednesday morning than it had even on Tuesday.
The Human Rights Campaign, the nation's largest LGBT organization, declared Tuesday night's results — ranging from Obama's reelection to House and Senate victories by out LGBT candidates to marriage equality-related victories in four states — as an "equality landslide."
In Wisconsin, Tammy Baldwin will become the first out LGBT senator when she moves to the upper chamber in January. Mark Takano, elected to the House in California, will be the first out LGBT person of color in Congress. And Kyrsten Sinema, leading in her House race in Arizona, would be the first out bi person in Congress if she maintains her lead over Vernon Parker.
But it was the marriage equality votes that ultimately marked Tuesday's election. Voters in all four states with marriage equality-related measures on the ballot sided with LGBT advocates. In Maine, a voter-driven marriage equality initiative easily passed. In Maryland and Washington, voters approved marriage equality laws passed earlier in the year but brought to a referendum vote by opponents of the law. And, finally, in Minnesota, voters there rejected a constitutional amendment to ban same-sex couples from marrying.
"We proved that the momentum is on our side — in a significant way. It wasn't just winning one state and maybe a few candidates. It was a clean sweep, where fair-minded Americans across this country stood up for fairness and for equality," HRC's Chad Griffin told BuzzFeed Wednesday. "We had some tremendous, tremendous victories last night that I really think, when we go forward five or ten years and look back and the history is written, this election will be seen as a true turning point."
The night, though, only came after the "fits and starts" of which Obama spoke — decades of them that reached a fever pitch in the past four years and, perhaps, a permanent turning point on Tuesday.
It was a little more than 20 years ago when Ninia Baehr and Genora Dancel, along with two other couples, sued the state of Hawaii to be able to marry. Evan Wolfson, then a lawyer at Lambda Legal, was able to provide only behind-the-scenes help because even the concept itself was considered such a hot-button issue.
After an initial win that moved the case forward toward a finding that they did have a right to marry in Hawaii, the country had the first of two nearly convulsive reactions to the specter of married gay couples.
As the 1996 presidential race took shape, Republicans in Congress forced the Defense of Marriage Act — which bans federal recognition of same-sex couples' marriages and purports to allow states to refuse to recognize same-sex couples' marriages entered into elsewhere — onto the national agenda. Up for reelection, President Clinton signed it into law less than two months before Election Day.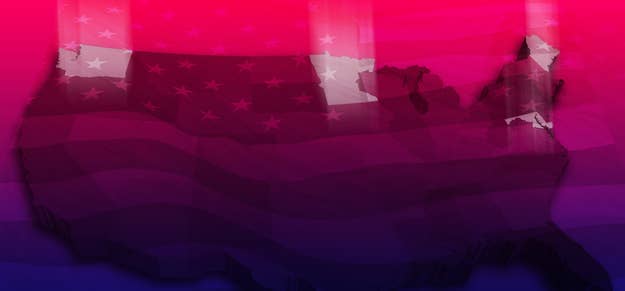 The next national spasm came in 2004, following the 2003 decision of the Massachusetts Supreme Judicial Court to allow same-sex couples to marry, as well as the decision of San Francisco Mayor Gavin Newsom, state law notwithstanding, to allow same-sex couples to marry in his city, a decision that was short-lived and resulted in no legal marriages.
The 2004 presidential election featured another vote in Congress — this time on amending the U.S. Constitution to ban states from allowing same-sex couples to marry. Although the federal effort was unsuccessful, voters in 11 states voted on Election Day to amend their state constitutions to ban same-sex couples' marriages.
The next four years were slow-moving for LGBT advocates, with more education happening than accomplishments — especially at the national level. Wolfson, the Lambda Legal lawyer who had been pushing the marriage cause, had since left the legal group to form an educational organization, Freedom to Marry.
Then, more fits and starts. As the 2008 presidential race heated up, things began moving very, very quickly.
California's Supreme Court held that same-sex couples' right to marry was required under the state's constitution, and couples began marrying. Opponents put a constitutional measure on the ballot to stop same-sex couples from being able to marry and, on the night Obama won election to the White House, Griffin sat with Newsom and others watching Proposition 8, as it was called, pass. Advocates, however, saw a silver lining following the amendment's passage: An energy was launched with that ballot loss, they've explained, from a generation coming of age uncomfortable with or previously unaware of the fact that voters — even in a socially liberal place like California — might vote to stop same-sex couples from marrying.
Griffin, a former Clinton White House staffer, quickly put in motion a plan to challenge the law as a violation of the U.S. Constitution — something LGBT groups had been loathe to do. Connecticut and then Iowa's highest courts, meanwhile, found in favor of requiring marriage equality. Griffin, having secured the legal services of the "odd couple" team of conservative Ted Olson and liberal David Boies, filed his lawsuit on behalf of two same-sex couples in California. As 2009 progressed, legislatures in Vermont, New Hampshire, and Maine passed marriage equality legislation — the first states to do so.
A veto in Vermont, a referendum vote in Maine to overturn the law there, and an unsuccessful legislative effort in New York were blows to advancements — as was the filing by the Obama Justice Department of a particularly aggressive brief defending DOMA.
But, then, Vermont's legislature overrode the governor's veto of the marriage equality bill; Congress passed and Obama signed into law the Matthew Shepard and James Byrd Jr. Hate Crimes Prevention Act, the first piece of pro-LGBT legislation ever passed into law by Congress; and DC passed marriage equality to end 2009.
In 2010, the nation, the Pentagon, Congress, and the Obama administration engaged in a national discussion about the role of "Don't Ask, Don't Tell" and whether the country should allow out gay, lesbian, and bisexual people to serve. In the middle of the year, a federal judge, appointed by President Nixon, struck down that federal definition of marriage in the Defense of Marriage Act. In August, a federal judge appointed to the bench by President George H.W. Bush struck down California's Proposition 8.
The 2010 election had swept Democrats out of power in the House, minimizing chances for movement forward on LGBT rights in Congress. In the lame-duck session, as the year came to a close, Congress passed a law repealing "Don't Ask, Don't Tell" as one of the Democrats' last acts while controlling both chambers — with some Republican support in both chambers.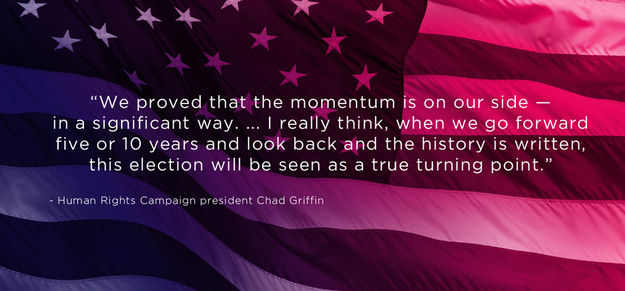 The next year began with Obama and Attorney General Eric Holder announcing in February that they also had determined that DOMA's federal definition of marriage was unconstitutional and that the administration would no longer defend the law in court. New York tried again and passed marriage equality. The House Republican leadership, however, took up the defense of the law.
Despite their defense, three other trial courts and two federal appeals courts have since struck down the law, and third federal appeals court upheld the ruling that Proposition 8 is unconstitutional.
Still, there were setbacks: Voters in North Carolina, by a large margin, amended their constitution to ban gay couples from marrying.
Days later, though, Obama followed Vice President Biden's comments on Meet the Press and announced his personal support for marriage equality. Soon thereafter, Wolfson appeared on stage with Obama at the Barnard College commencement in New York, where Obama's support for marriage equality was mentioned — and Wolfson beamed.
It was a clear turning point, and at the Democratic National Convention, Obama and Biden's party made Democrats' support official, adding marriage equality to the national platform. Even at the Republican National Convention, where the platform continued to support both federal and state constitutional amendments to ban same-sex couples from marrying, there was no mention of specific legislation to oppose gay rights and few general mentions even of the party's opposition.
Then, Tuesday happened and, though fits and starts certainly remain, the country now looks different.
For the first time, the electoral process in the country appeared to be catching up to the perceived — and polled — shift in public opinion. Movement won't stop, either, as the Supreme Court is slated to decide on Nov. 20 whether it will hear the appeals of the challenges to DOMA and Proposition 8. Supporters of marriage equality could not be happier that the national engagement on marriage equality that such cases will push forward will come on the heels of this historic election.
Challenges remain for advocates, most notably addressing the absence of clear workplace and other protections for LGBT people; ongoing physical violence and bullying, particularly against transgender people; and the 31 states with constitutional amendments banning same-sex couples from marrying.
In a 12-word crystallization of the terrain traversed since Baehr and Dancel filed their lawsuit in Hawaii in 1991, however, some of the greatest excitement about the ballot measures' success on Tuesday came not even from same-sex couples eager to wed but from straight allies for marriage equality — including more than one in that bastion of American masculine heterosexuality, the National Football League.
"I'm so stoked," Baltimore Ravens Pro Bowl special-teams ace Brendon Ayanbadejo told The Baltimore Sun. "It's like I woke up and it was Christmas."