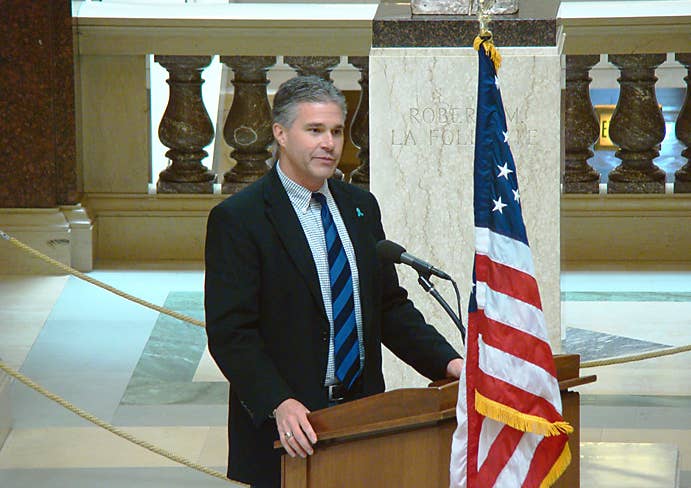 WASHINGTON — As same-sex couples continue to marry in some Wisconsin counties, the state's attorney general has gone to a federal appeals court asking the court to put an immediate stop to the marriages.
After the Friday decision from U.S. District Court Judge Barbara Crabb striking down the state's ban on same-sex couples' marriages, officials in Dane and Milwaukee counties began allowing such couples to marry. This despite the fact the Wisconsin Attorney General J.B. Van Hollen said that even after the ruling "current law remains in force" as Crabb had not yet issued an injunction stopping enforcement of the ban.
After marriages were conducted Friday and Saturday with no action from Crabb on the state's emergency motion for a temporary stay, Crabb on Monday morning called for a 1 p.m. Central Time hearing on the motion.
Despite the hearing notice, Van Hollen then filed a notice of appeal in the trial court and then filed an "emergency motion for a temporary immediate stay from the relief granted" by Crabb's opinion and order on Friday.
As of 1 p.m. Central Time, 16 counties were issuing marriage licenses to same-sex couples, according to the Milwaukee Journal Sentinel.
From the Wisconsin attorney general's filing: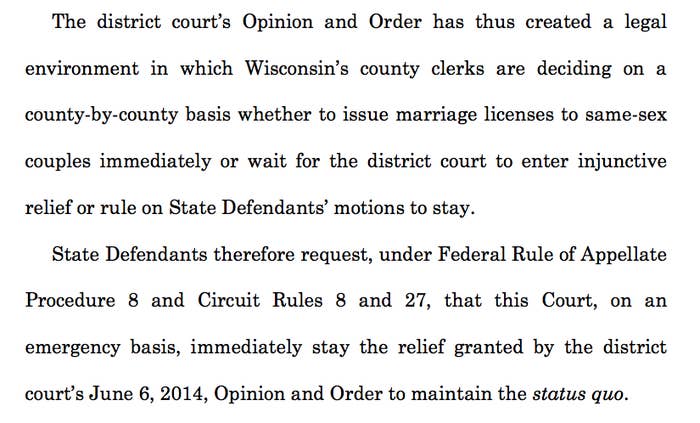 U.S. District Judge Barbara Crabb declined to stay her ruling at Monday's hearing, stating, "I will consider a stay as to what's in the (final order,) but I'm not going to act today," as reported by the Milwaukee Journal Sentinel.
Crabb also said, however, that, to the extent some county officials were granting marriage licenses to same-sex couples, "They did not act because I told them they could," adding, "That hasn't been decided."
According to the Journal Sentinel, "When asked by state attorneys Monday about that inconsistency among counties, Crabb said that was an issue for state courts to decide if needed, not her."
In a statement following the hearing, Attorney General J.B. Van Hollen said, "Wisconsin's marriage law is in full force and effect, and all state and local officials are under a continuing duty to follow Wisconsin's marriage law unless and until the court enjoins that law."
It was not clear if Crabb would be issuing a written ruling following the Monday hearing.
The state also has a request pending before the 7th Circuit Court of Appeals to stay the riling.
Judge Crabb denied the state's emergency motion for an immediate stay, noting: "I understand defendants' concern that some county clerks have been issuing marriage licenses to same-sex couples since I issued the June 6 decision, but that is not a result of an injunction by this court. Thus, if defendants believe that a particular county clerk is issuing a marriage license in violation of state law, that is an issue outside the scope of this case."
She said she will consider the pending request for a stay pending appeal once the injunction is issued, noting, "Once both sides have had an opportunity to weigh in on the appropriate scope of the injunction, I may enter judgment and determine whether the injunction should be stayed pending appeal."
On Monday evening, the 7th Circuit Court of Appeals asked the parties to file arguments by 5 p.m. Wednesday as to whether the appellate court has jurisdiction over the state's "emergency motion for [a] temporary immediate stay."