Will An Appeals Court Stop Same-Sex Couples In Utah From Marrying On Christmas Eve?
With no decision from the 10th Circuit Court of Appeals at the end of the day Monday, more same-sex couples will be heading to clerks' offices Tuesday to get married.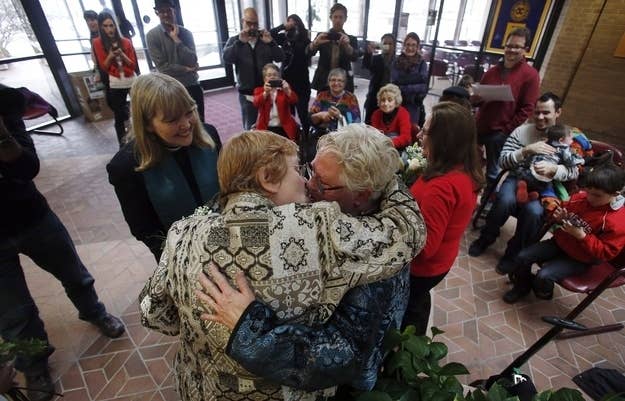 Same-sex couples got married throughout Utah on Monday, an unexpected 18th state with marriage equality in a year that saw success after success for marriage equality throughout the country.
The Monday marriages followed a weekend of wrangling over whether the Friday court ruling from U.S. District Judge Robert Shelby would remain in effect when clerks' offices opened Monday.
The lack of guidance from state officials in advising county officials about the impact of the ruling has caused most of the confusion experienced by same-sex couples in recent days. It also has empowered a handful of counties to decide they would refuse to marry same-sex couples — from outright refusal in places like Utah Country to Cache County's strategy of shutting the office to avoid questions altogether. Nonetheless, hundreds and hundreds of couples on Monday joined the 124 couples who married in Salt Lake County the day of Shelby's ruling.
On Monday afternoon, as marriages were ongoing, Shelby refused to put his ruling on hold while the state appeals it, particularly not on account of the state's argument that to do so would preserve the status quo. In fact, Shelby wrote, "[T]he status quo is currently that same-sex couples are allowed to marry in the State of Utah."
Now, the question about whether to issue a stay is before the judges of the 10th Circuit Court of Appeals. Judges Jerome Holmes and Robert Bacharach, who have considered and denied two earlier requests from state officials to stop the weddings, ordered a response from the plaintiffs to the state's request by 5 p.m. MT, which they provided.
As Monday turned to Tuesday in Utah, there was no ruling from the court, raising the question: Will the federal appeals court that includes some of the most conservative states in the country stop marriages in a state that prides itself on how much it values family in a ruling it issues on Christmas Eve?
If they do issue a stay, they will be taking an action that will be seen by many as cutting off joy and harming families on a day associated with joy and celebration of family. As Shelby wrote in denying the stay, "[T]here is no dispute that same-sex couples face harm by not being allowed to marry."
Additionally, and to Shelby's "status quo" point, marriages between same-sex couples already exist now in Utah, and the judges — and state officials — would still have to face the issues that will come with already having more than 500 legally married same-sex couples in Utah even if they do issue a stay.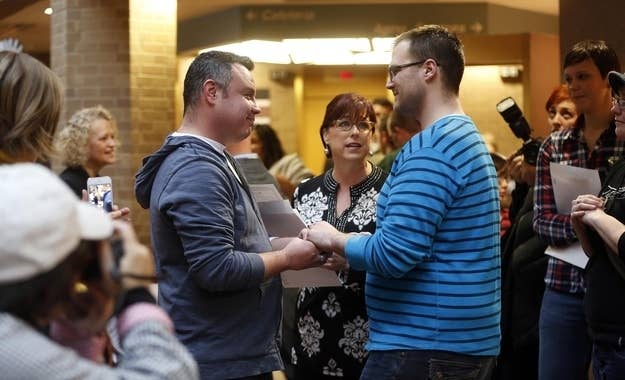 If the 10th Circuit doesn't issue a stay on Tuesday, however, issuing a stay later to hold off any more marriages throughout the appeal could prove even more difficult because the state would have gone several days with such marriages being allowed before cutting them off. The ruling won't likely come Christmas Day, so, even if it comes on Thursday, that still means there are likely to be somewhere in the neighborhood of 1,000 married same-sex couples in the state.
That alone would dramatically change the conversation in the state as the case proceeds. But Utahns are not even alone. To Utah's west, Nevada has comprehensive domestic partnership benefits and an ongoing marriage equality lawsuit now at the 9th Circuit Court of Appeals. To Utah's east, Colorado has civil unions. Nearby New Mexico now has marriage equality.
What's more, the married couples in Utah are going to seek, and almost certainly receive, federal benefits of marriage in the wake of June's Supreme Court ruling striking down part of the federal Defense of Marriage Act.
Recognition of same-sex couples' relationships is becoming an expectation — no longer an outlier — even in Utah.
Shelby's ruling took effect immediately because, as he noted in his order Monday, the state had not asked for a stay in advance of his ruling. Regardless of the reason, though, Utah changed on Friday night when same-sex couples began marrying there.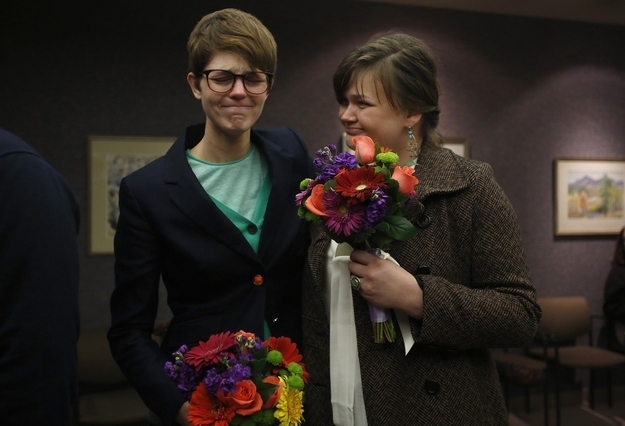 When California took away the right of same-sex couples to marry by passing Proposition 8, there were 18,000 married same-sex couples in the state. The vote activated a generation of activists throughout the state and nation in a way that had not happened before — a function of the internet and a generation coming of age with a growing expectation of equality among their peers. And that was in 2008, in a country that had only two states with marriage equality.
Now, in a country with 17 other states and the District of Columbia with marriage equality, taking away this newfound right — even if as a temporary measure during the hearing of the appeal — will spark a response. Equating for population, California's 18,000 couples — who married over six months — would be 1,350 couples in Utah, a number the state likely would reach in one week of marriage equality.
The energy already for the ruling has been made clear. It was seen Friday in the immediate action by Salt Lake County couples to get married. It was seen in the coverage across the country. It was seen in the Utah couples who lined up overnight from Sunday to Monday, hoping to ensure that they would have the chance to marry — even had Shelby issued the stay later in the day Monday.
Now, the 10th Circuit will decide, eventually, if Shelby was right about the Constitution's protections.
But first, those judges must decide if they see allowing same-sex couples to marry as creating "irreparable harm" for the state or whether, as Shelby decided, the denial of marriages to those couples would be a greater harm.