Why Hasn't Obama Acted On LGBT Workers' Protections?
While the White House pushes on Republican House leaders to vote on the Employment Non-Discrimination Act, the administration won't explain why President Obama won't take executive action to protect 20% of workers now.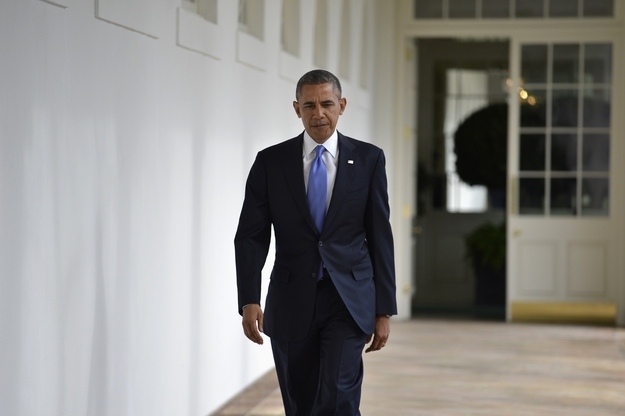 WASHINGTON — "Full stop."
White House press secretary Jay Carney's abrupt response Monday to a question about protections for LGBT workers reflects the unusual position the White House finds itself in — and the unanswered questions many have for the administration — when it comes to a proposed executive order to bar federal contractors from discriminating against LGBT employees or job applicants.
Carney has been asked regularly over the past three years — beginning in April 2011 — whether President Obama would issue an executive order to bar federal contractors explicitly from discriminating on the basis of sexual orientation or gender identity.
Other White House officials, up to and including President Obama himself, have been asked by lawmakers, LGBT advocates, and donors about the proposal — which would expand an existing executive order protecting federal contractors from discrimination based on race, sex, religious, and national origin.
After avoiding answering the question for a year, White House officials, including Carney, made clear in April 2012 that Obama would not issue the executive order at that time.
The move contradicted Obama's position, stated in a 2008 candidate questionnaire for the Houston GLBT Political Caucus, that he would support a "formal written policy of non-discrimination that includes sexual orientation and gender identity or expression ... for all Federal contractors."
The White House, in the face of repeated questioning on the matter, has maintained a position that Obama's preferred path is to press for passage of the Employment Non-Discrimination Act to cover the entire private workforce and not just those who contract with the federal government — a move that would protect roughly 20% of the private workforce.
On Monday, asked about LGBT employment protections, the press secretary was terse to the Washington Blade's Chris Johnson.
"Chris, the president believes that we ought to pass an Employment Non-Discrimination Act because it's the right thing to do for LGBT Americans and it's the right thing to do for our economy, full stop," he said.
Frustration, though, is growing from some of Obama's biggest supporters as well.
"With all due respect to a president that has done a tremendous amount for LGBT people, there is no good reason why the executive order has not been signed," Human Rights Campaign Vice President of Communications Fred Sainz said. "They've had five years now to get it done."
Carney's full stop has been the White House's approach to all questions about the matter, with LGBT advocates agreeing that the White House has not told them why the executive order — included in proposals for action by LGBT groups before Obama's first Inauguration in 2009 — has not moved forward.
"We have been given no reasons and that's why this is such a head scratcher," Sainz said. "They have gone out on the plank on far more sensitive issues. This one seems to be a no-brainer, yet there's been no movement."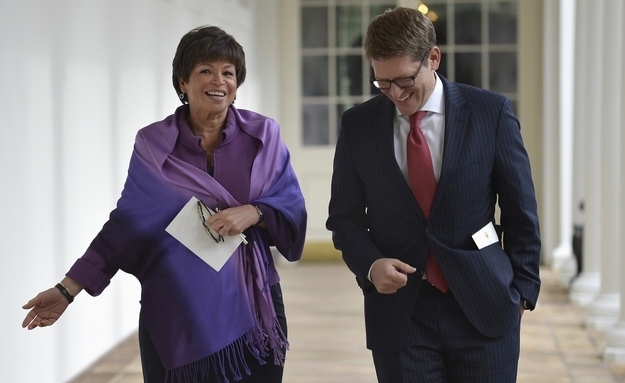 As far back as January 2012, this journalist reported that several sources outside the administration said the proposal had been given the OK by officials in the Justice and Labor departments. Two years later, though, there still has been no movement.
As National Center for Transgender Equality Executive Director Mara Keisling told BuzzFeed, "It's a big mystery. A lot of people have asked a lot of times in a lot of different ways, and we haven't won that yet."
The mystery of Obama's inaction — and, arguably, broken 2008 campaign promise — continues to baffle advocates who have watched the president advance LGBT issues on a number of significant fronts, including his noted "evolution" on marriage equality that preceded the Democratic Party endorsing marriage equality in its 2012 party platform. Moreover, his administration has taken executive action in other areas — including hospital visitation and housing discrimination.
At various times, some have suggested business opposition to the move — specifically noting former White House Chief of Staff Bill Daley's stated aim of improving Obama's relationship with the business community — could be behind the inaction, but no one has backed that claim up with any proof. Arguing against this position is the fact that the U.S. Chamber of Commerce hasn't opposed ENDA itself, instead taking no position on the bill, and that a majority of the nation's largest businesses already provide LGBT workplace protections.
The only answer the White House has given is that its focus is on ENDA. Supporters of the bill in the House have long urged the president to sign the order, though — support that continues to this day, as the Huffington Post reported.
The questions about the administration's inaction were raised anew Tuesday morning, when the Washington Post reported that Obama would be announcing in the State of the Union that he is taking executive action regarding federal contractors — raising the minimum wage for those workers. Of relevance to those pushing for the other executive order, the Post report specifically noted, "Previously, the White House said it wanted to concentrate on the legislative route for boosting the minimum wage."
Richard Socarides, who was the gay and lesbian liaison to President Clinton when Clinton issued an executive order including sexual orientation in federal civilian workforce nondiscrimination protections, called Obama's inaction on sexual orientation and gender identity protections for federal contractors "disconcerting" when, "in a different context, the objections seem to evaporate."
Of the minimum wage hike for those contractors, Socarides acknowledged, "They are different issues," but maintained, "It is undeniably a double standard and LGBT workers are getting the short end of the stick."
Rea Carey, the executive director at the National Gay and Lesbian Task Force, echoed the remarks, noting, "With the president thankfully raising the minimum wage for federal contractor workers, it makes more apparent his inaction on creating a fair workplace for LGBT people."
Freedom to Work founder Tico Almeida went further, telling BuzzFeed, "These two executive actions should be coupled together. Americans who work for federal contractors deserve both fair wages and the peace that comes from knowing they have protections against getting fired simply because of who they love."
Presuming they are not, though, the question of why the White House refuses to do so is all the more confounding to advocates.
"The White House has never provided a compelling answer for why this executive order must come after the passage of ENDA when the very premise of the president's campaign is that he is willing to take action where Congress won't," Sainz said.
Almeida echoed that, noting the Post's reporting that Obama is expected to continue pressing for congressional action on the minimum wage, saying, "It makes no sense for Jay Carney to continue arguing that they prefer ENDA over the LGBT executive order when today's minimum wage order shows that the White House can pursue both strategies at the same time."
Advocates are mystified why it hasn't happened so far: Obama is willing to be out front on LGBT issues, business isn't actively opposing the move, there is an existing template for this proposed executive order from past orders, the administration has a record of taking executive and regulatory action on LGBT priorities, and the White House is willing to take executive action where Congress doesn't act.
What possible reasons remain for why this one action remains in a drawer?
No one at the White House is willing to answer that question.