Who Is Intellectually Disabled? Supreme Court Orders Alabama To Reconsider Death-Row Case
A month after a ruling against Texas' standards for determining when someone is intellectually disabled — and, therefore, ineligible for the death penalty — justices sent a case back to Alabama courts for further review over similar questions.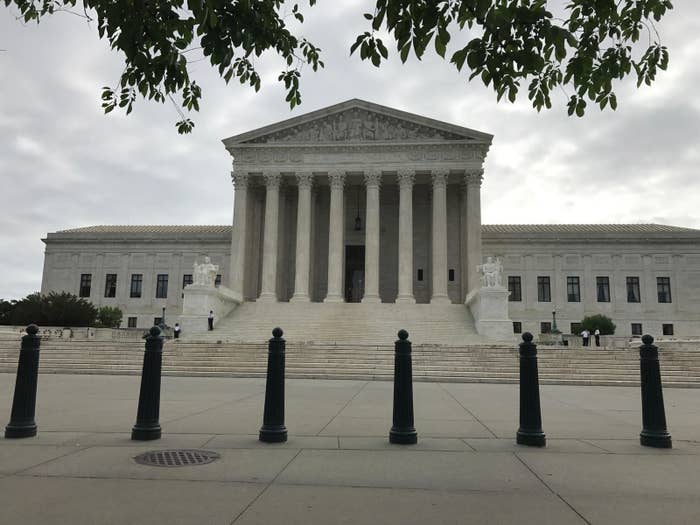 A US Supreme Court decision from March over Texas' death penalty standards — specifically, how the state determines who is intellectually disabled — could have a ripple effect into another state with one of the country's largest death-row populations.
The Supreme Court on Monday ordered Alabama courts to reconsider whether the state's process for determining if a person is intellectually disabled, and thus ineligible for the death penalty, is constitutional in the wake of that March ruling.
Nearly 15 years ago, the Supreme Court held that it was unconstitutional for states or the federal government to execute intellectually disabled people. In that case — Atkins v. Virginia — and a follow-up case barring states from using a strict cut-off IQ measurement to determine intellectual disability, the court had left open questions about how a state could determine whether a person is intellectually disabled.
This past fall, however, the justices considered whether Texas used appropriate standards in making intellectual disability decisions in death penalty cases. The so-called Briseno factors used by Texas courts — a series of questions addressing adaptive skills — overemphasized a focus on adaptive strengths, the Supreme Court held in March, and were not appropriate.

Justice Ruth Bader Ginsburg, writing for the court's five-justice majority, wrote that the use of the factors "creat[ed] an unacceptable risk that persons with intellectual disability will be executed." Even Chief Justice John Roberts, who dissented from the court's ruling along with Justices Clarence Thomas and Samuel Alito, wrote that he "agree[d] with the Court ... that those factors are an unacceptable method of enforcing the guarantee of Atkins."

The court sent Bobby James Moore's case back to the Texas courts to address his sentencing in light of the decision.

While Moore's case was pending before the justices, the lawyer for Taurus Carroll — on death row in Alabama — asked the justices to review Carroll's case on similar grounds. Carrol's lawyer, Benjamin Maxymuk, wrote that if the Supreme Court sided with Moore, Carroll "will be entitled to similar relief from his death sentence."
Alabama balked, writing one day before the decision in Moore's case was handed down that Carroll's case "is distinguishable from Moore because the Alabama courts do not require a consideration of the seven evidentiary factors developed by the Texas Court of Criminal Appeals in Ex parte Briseno" — in other words, Alabama did not use the Texas standards. The state also asserted that the Alabama courts had followed the Supreme Court's ruling in the Atkins case in determining that Carroll is "not intellectually disabled."
The Supreme Court handed down the decision in Moore on March 28. About a week later — with the decision in hand — Carroll's lawyer responded, quoting from the Moore decision. "As in Moore, the consideration below of Mr. Carroll's adaptive functioning 'deviate[s] from prevailing clinical standards, by 'overemphasiz[ing] Mr. [Carroll]'s perceived adaptive strengths," he wrote.
The justices did not take Alabama's advice. The court granted Carroll's case on Monday, vacated the lower court's judgment, and remanded the case to Alabama's Court of Criminal Appeals "for further consideration in light of Moore v. Texas."

Such a move is not uncommon when the justices issue decisions that have a bearing on similar laws in other states or affect related cases. With Moore, however, there had been discussion about how Texas was out of the mainstream because of the way it addressed intellectual disability.
The court's opinion in Moore said as much, with Ginsburg writing, "The Briseno factors are an outlier, in comparison both to other States' handling of intellectual-disability pleas and to Texas' own practices in other contexts."
While the justices gave no reason for their decision on Monday (and no justices noted their disagreement with the order), the move does shift the issue — and Carroll's case — back to the state's courts, where Alabama judges will have to decide how much of an effect, if any, Moore should have on Alabama's methods of determining intellectual disability.
Although Maxymuk declined to comment, another criminal defense lawyer involved in death penalty cases in the state told BuzzFeed News he saw the move as a positive sign.
"We are pleased that the Supreme Court has ordered the Alabama courts to reexamine Mr. Carroll's case in light of Moore v. Texas," John Palombi, a lawyer with the Federal Defenders for the Middle District of Alabama, wrote in an email. "This will require Alabama courts to follow scientific principles when making the life or death decision of whether someone charged with capital murder is intellectually disabled."
The state's lawyers, however, tell BuzzFeed News that they will continue to argue that Carroll is not intellectually disabled and should not be exempted from the death penalty.
"The trial court and the Court of Criminal Appeals have already rejected Carroll's claims that he is intellectually disabled," Deputy Attorney General Thomas Govan, chief of the Attorney General's Capital Litigation Section, said in a statement. "The State will continue to argue, as it has argued previously, that Carroll does not meet the criteria for intellectual disability."