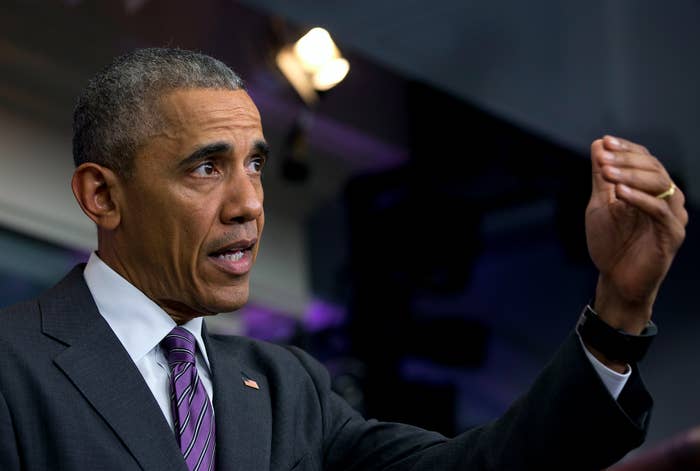 WASHINGTON — The Obama administration is announcing a proposed federal rule on Friday that senior administration officials say would effectively "ban the box" for many federal agency jobs.
The rule will prohibit federal employers from asking questions about criminal history until later in the employment process for the affected jobs — a move administration officials say is their part to advance the "ban the box" effort. The phrase is a reference to the check box many job application forms include asking about whether a person has any criminal arrest and/or conviction history.
In a call with reporters, Beth Cobert, the acting director of the Office of Personnel Management, said that the proposed rule would bar criminal history questions from being asked "until a conditional offer of employment has been made."
Requirements to report criminal history on job applications often makes securing employment significantly harder, which advocates say becomes a hindrance for reintegrating people with such history into their communities.
The proposed rule, Cobert said, would apply to applicants for jobs in the competitive service, which she said accounts for roughly half of the 200,000 hires made in 2015 by the federal government.
"The rule would affect tens of thousands of individuals," Cobert said. "As the nation's largest employer, the federal government should lead the way and serve as a model for all employers, both public and private."
The excepted service — jobs that primarily relate to the intelligence community, national security, or law enforcement — would not be covered by the new rule, Cobert said, and covered agencies would be able to seek exemptions from the rule on a case-by-case basis.
The move comes at the end of a week the Obama administration has highlighted as Re-Entry Week — focused on efforts to help prepare incarcerated individuals for their life after returning to their communities and to help address barriers to re-entry for those who are or have returned to those communities.
On the call, Obama senior adviser Valerie Jarrett called the proposed rule "a big step" toward supporting re-entry efforts, "one that will truly make a difference."

Cobert noted that the proposed rule — which will be the default for competitive service jobs once it goes into effect — "builds on current practice at many agencies, which already choose to collect information on criminal history at late stages of the hiring process." She said, "The proposed rule takes the important step to formalize, expand, and codify this best practice."
Jarrett also highlighted two other efforts being taken by the administration, announcing that President Obama will sign a presidential memorandum establishing the Federal Interagency Reentry Council, which builds on prior efforts by Attorneys General Eric Holder and Loretta Lynch. Jarrett said the council will "lead the government's work on the rehabilitation and reintegration of Americans returning to their communities."
She also said that 112 employers and organizations have signed on to the White House's Fair Chance Business Pledge.
Jarrett described the pledge as "a call to action for all employers to improve their communities by eliminating barriers for those with criminal records and creating a pathway for a second chance." Among the provisions in the pledge is an agreement to "ban the box," as well as other human resources efforts to prevent those with a criminal record from unnecessarily not being considered by employment.
Among the 112 companies and organizations to sign the pledge are Microsoft, Google, Facebook, Xerox, Best Buy, Kellogg Company, American Airlines, Starbucks, Koch Industries, Pepsi, Coca Cola, and Staples — as well as the ACLU, Catholic Charities USA, and NAACP.
Asked whether there was consideration of whether to take action to require federal contractors to "ban the box," Jarrett said, "The president has supported federal legislation that would ban the box for federal contractors. He thinks that's the best approach."
Jarrett also noted, however, that the Department of Labor in 2013 adopted earlier guidance from Equal Employment Opportunity Commission to, in her words, "recommend that contractors refrain from inquiring about convictions on job applications." That Labor Department directive, she added, also warned there are scenarios in which criminal records-based exclusions could violate civil rights protections.
As part of the week's mission to promote the federal efforts and the coordination with private companies on their re-entry support, Attorney General Loretta Lynch will be visiting a federal prison in Talladega, Alabama, as well as attend a Re-Entry Week "Fair Chance" event in Mobile, Alabama, on Friday.