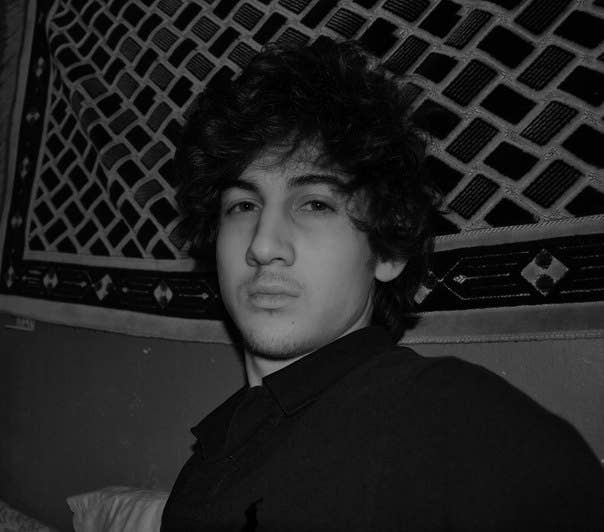 Dzhokhar A. Tsarnaev, 19, is the remaining suspect in the Boston Marathon bombings — the subject of a massive manhunt Friday morning in Watertown, Massachusetts, multiple sources reported Friday morning.
[UPDATE AT 11PM: Boston Bombing Suspect Alive And In Custody.]
His brother, Tamerlan Tsarnaev, 26, has been identified as the first suspect and died overnight following a firefight with police.
NBC News' Pete Williams said earlier Friday morning that the two suspects likely had "foreign military training," and had been in the country for about a year.
Later he said they were brothers, and added, "They were legal permanent residents. They were in this country legally, at least a year. They appear to be from Turkey, possibly Chechens from Turkey. That seems to be the nationality here." As more information became available, multiple source reported that Dzhokhar was born in Kyrgyzstan and Tamerlan was born in Russia.
Just before 7 a.m. Friday morning, the Associated Press confirmed Williams' reporting and naming Tsarnaev.
Born July 22, 1993, according to Williams, Tsarnaev attended Cambridge Rindge and Latin School, has a Massachusetts driver's license, and has been in the country for around a decade. CBS reported that he became a naturalized U.S. citizen on Sept. 11, 2012. He is a registered student at UMass Dartmouth, according to the school, where he lived in a dorm. The school was evacuated at 10 a.m.
Tamerlan Tsarnaev, although NBC initially reported he was 20, was 26. He became a lawful permanent resident, according to NBC, in 2007. He maintained a YouTube page that focused on Sunni Islam and included a playlist named "terrorist."
Dzhokhar Tsarnaev's online profile is more secular, though his "World view" on Vkontakte, the Russian equivalent of Facebook, is listed as "Islam" and his "Personal priority" is "career and money."
Tamerlan Tsarnaev died following a firefight with police, suffering from what doctors at the hospital where he was pronounced dead said were "blast and potentially gunshot wounds ... probably a blast injury [and] possibly shrapnel" throughout his trunk.
CBS reports that Dzhokhar Tsarnaev is a U.S. citizen.
In 2011, Dzhokar Tsarnaev was recognized as a Cambridge Rindge and Latin School Greater Boston League Winter All Star: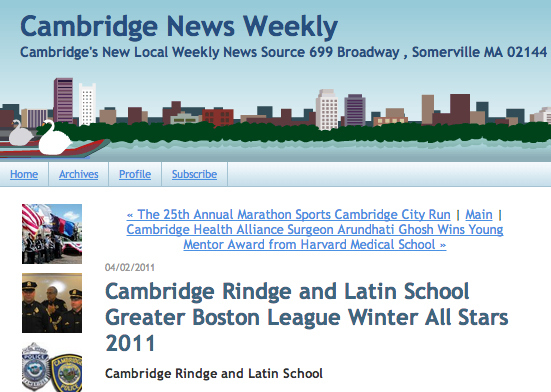 He later graduated from the school:
The City of Cambridge appears to have given him a $2,500 scholarship in 2011:
And he then went to UMass Dartmouth.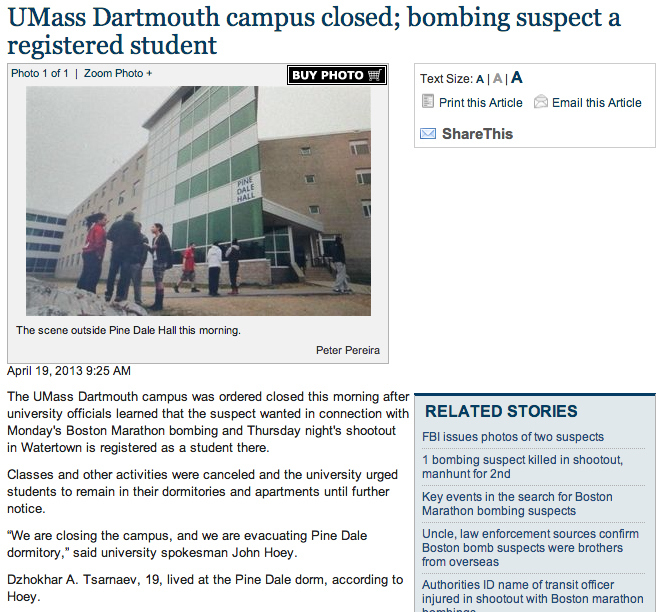 Where he played intramural soccer back in 2011.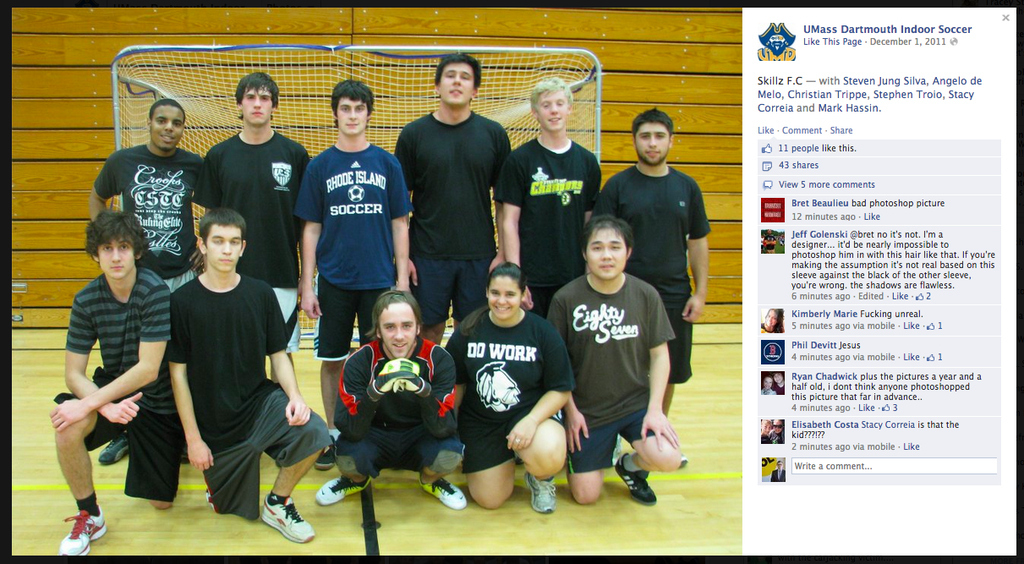 The school evacuated today after they realized a student was the subject of the manhunt in Boston.

He appears to have been involved in Cambridge life as early as 2010 and has been in the U.S. much longer than that.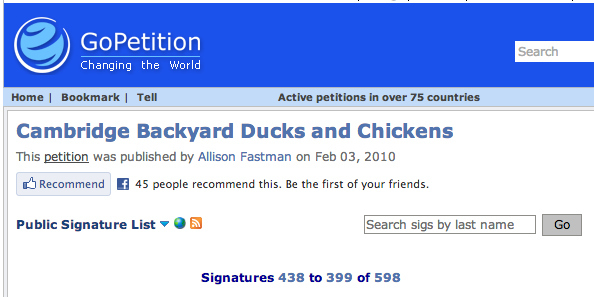 Nexis also shows he was a registered voter, but he was not registered in Cambridge or at his school address, Politico reports.
His Page on Vkontakte, the Russian equivalent of Facebook, has been overrun with people asking him how he could have committed the bombing, and wishing him dead.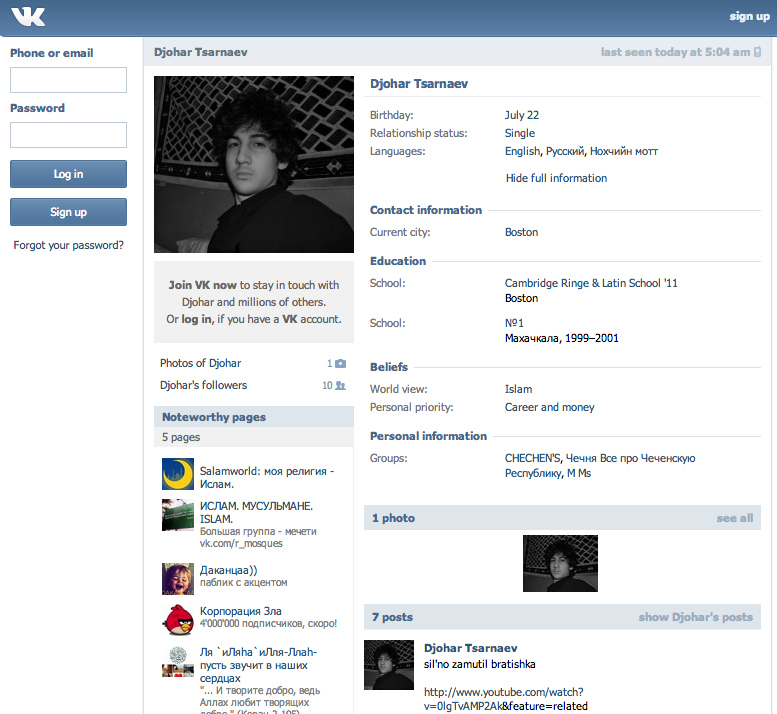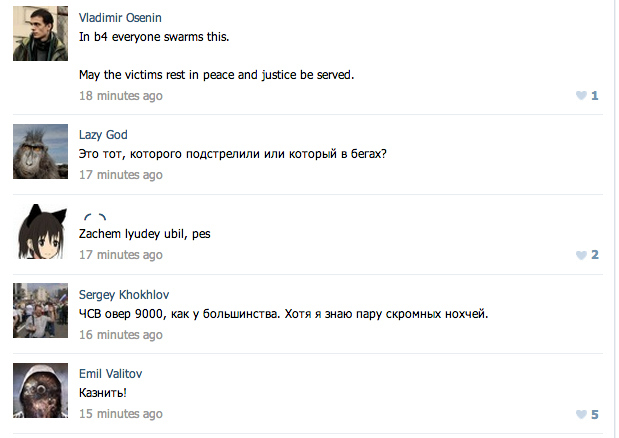 A favorite joke.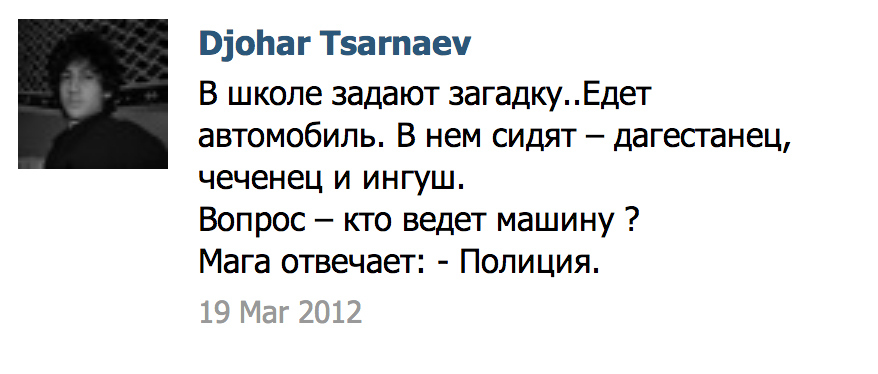 Nexis also shows Tamerlan Tsarnaev as a registered voter, but he was not registered in Cambridge.

A photo series sheds some insight into Tamerlan Tsarnaev's views.
"Tamerlan Tsarnaev practices boxing at the Wai Kru Mixed Martial Arts center."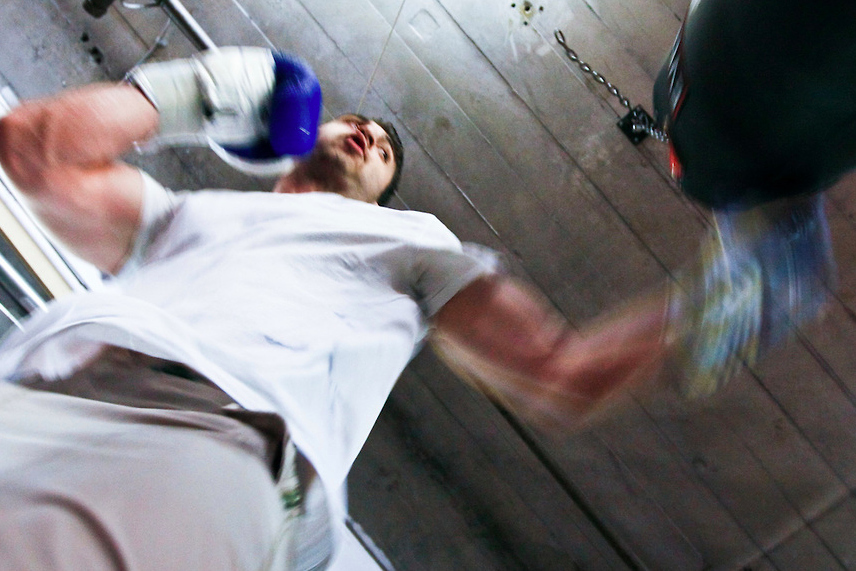 "Originally from Chechnya, but living in the United States since five years, Tamerlan says: 'I don't have a single American friend, I don't understand them.'"
"Tamerlan says he doesn't drink or smoke anymore: 'God said no alcohol.' A Muslim, he says: 'There are no values anymore,' and worries that 'people can't control themselves.'"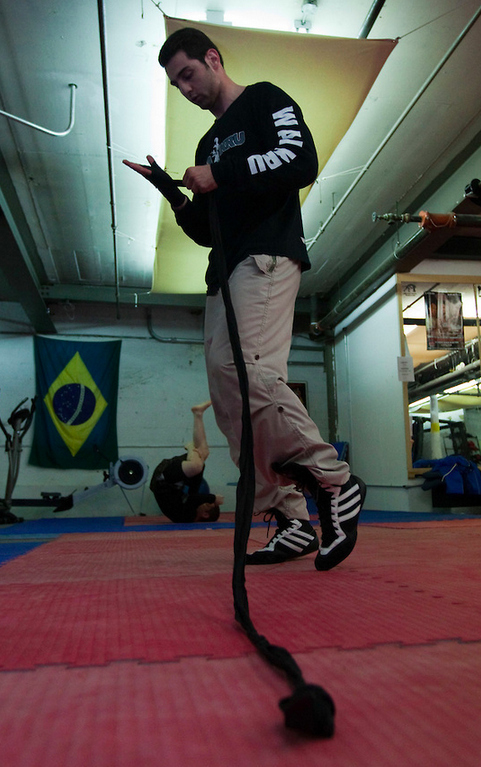 Back in 2009, Tamerlan was boxing in regional tournaments in New England.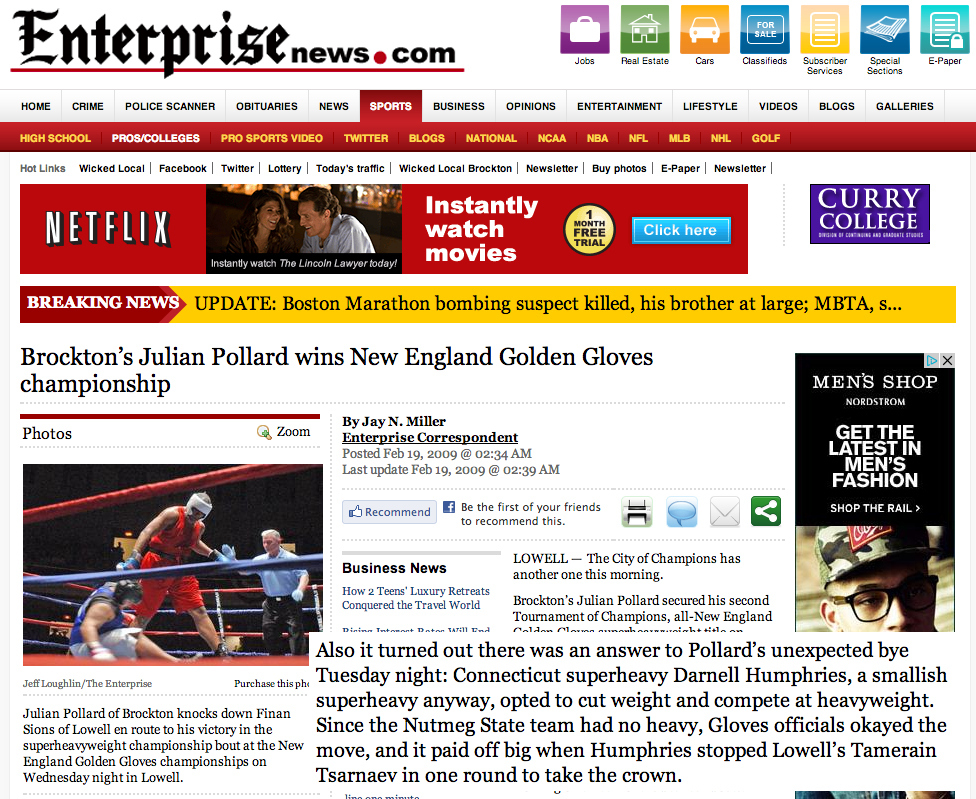 The Lowell Sun reports that he won his first fight in the U.S. in 2004.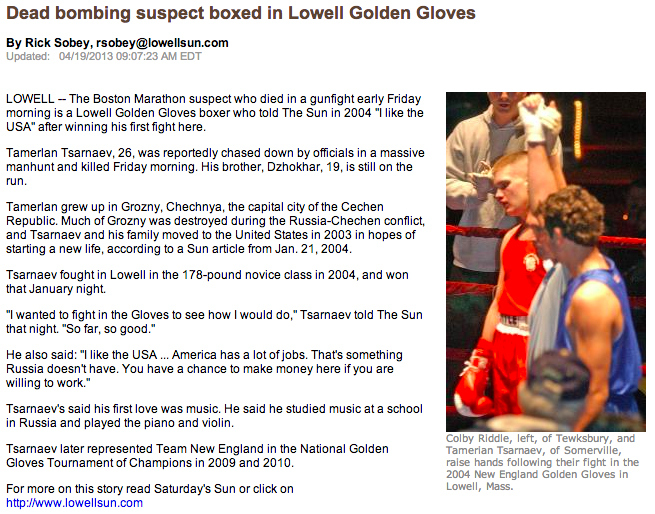 Zubeidat K. Tsarnaeva, 45, who shares an address with the two men and could be their mother, was arrested last summer for shoplifting.