Western Conservatives Urge Appeals Court To Uphold Marriage Equality
"[M]arriage is strengthened ... by providing access to civil marriage for same-sex couples," the officials argue.
WASHINGTON — Several prominent Western-state conservatives and Republicans — led by former Sen. Alan Simpson — urged the 10th Circuit Court of Appeals Tuesday to strike down bans on same-sex couples' marriages in Utah and Oklahoma.
Modeled after the briefing at the Supreme Court last year, the brief filed Tuesday aims to convince the court that the marriage equality cause is supported by people all along the political spectrum.
The brief states that the signers believe that "there is no legitimate, fact-based reason for denying same-sex couples the same recognition in law that is available to opposite-sex couples. To the contrary, [the signers] have concluded that marriage is strengthened and its benefits, importance to society, and the social stability of the family unit are promoted by providing access to civil marriage for same-sex couples."
Asking the court to act to advance that access, the brief states, "It is precisely at moments like this — when discriminatory laws appear to reflect unexamined, unfounded, or unwarranted assumptions rather than facts and evidence, and the rights of one group of citizens hang in the balance — that the courts' intervention is most needed."
Full list of those signing: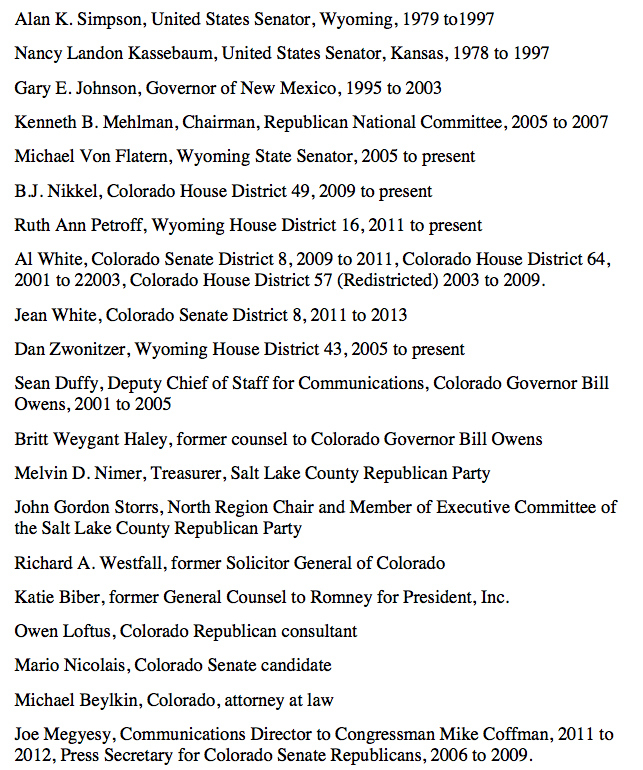 Read the brief:
Download PDF