In the midst of the Pokémon Go ~moment~, Hillary Clinton mentioned the new app on Thursday — saying that she'd like to see a "Pokémon Go To The Polls" app.
Prior to Thursday's comments, Clinton had received a PokéBriefing on Wednesday, ABC News reported:
Clinton's campaign in Ohio appears to be using the app's Pokéstops — locations where players stop to secure additional supplies — to register voters.
The Columbus Dispatch reported on several similar activities throughout the battleground state:
Asked about the efforts, the Clinton campaign provided the following statement to BuzzFeed News:

"Our volunteers and staffers across the country are taking the campaign into their own hands and reaching out to voters wherever they are. After the launch of Pokemon Go last Thursday, our organizers innovated and used the app to find other players to register them to vote and continue to do so. Whether it's Twitter, Facebook, Pokemon Go or whatever comes next, we expect our organizers will use whatever tools they can to register and commit voters to support Hillary Clinton."
Not to be left out, Donald Trump's campaign placed its own Pokémon campaign content on Facebook — portraying Clinton as one of the Pokémon monsters to be captured.
The "Crooked Hillary" Pokémon's next evolution, per the Trump campaign, "Unemployed."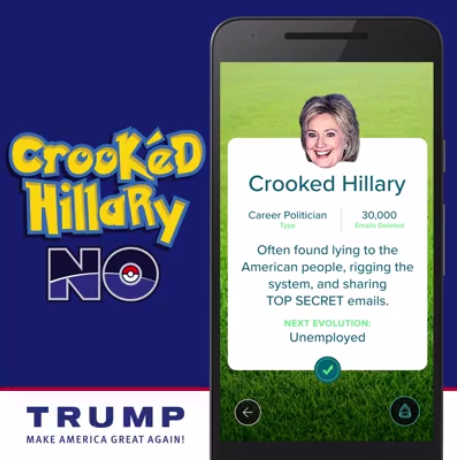 Earlier Thursday, Trump had told the Washington Examiner that he was aware of the game — but was not playing it.

"I don't, but people are playing it. No question about it," Trump said. "I do not. I wish I had time."
The 2016 campaign, where all your memes and internet moments go to die.