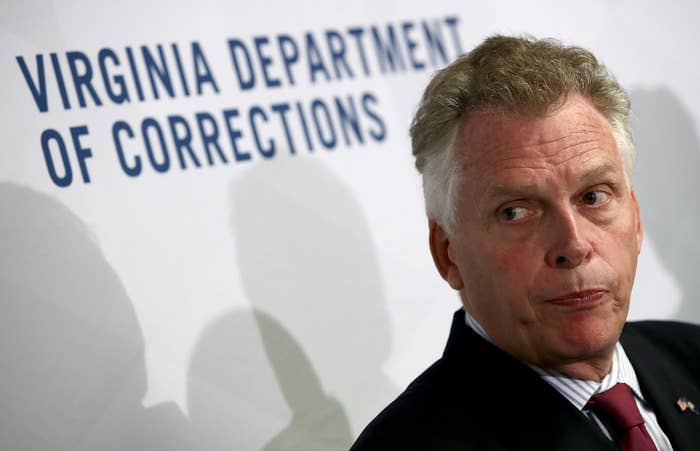 WASHINGTON — The Virginia Supreme Court held that the state's governor lacked the authority to issue an order automatically allowing people convicted of a felony who completed their sentence to register to vote.
The April order from Virginia Gov. Terry McAuliffe would have allowed more than 200,000 people to register to vote in the upcoming presidential election in November.
Under the state's Constitution, "No person who has been convicted of a felony shall be qualified to vote unless his civil rights have been restored by the Governor or other appropriate authority."
The court's 4-3 majority ruling on Friday, however, asserted that McAuliffe's order "effectively reframes Article II, Section 1 to say: 'No person who has been convicted of a felony shall be disqualified to vote unless the convicted felon is incarcerated or serving a sentence of supervised release.'"
The main question before the court, the majority states, is whether McAuliffe's order "'suspends' a general principle of voter disqualification and replaces it with a new principle of voter qualification that has not received the 'consent of the representatives of the people'" — a limit on government power found elsewhere in the state's constitution.
The court decided that McAuliffe's order did suspend the "general principle" and, as such, is unconstitutional. "The unprecedented scope, magnitude, and
categorical nature of Governor McAuliffe's Executive Order crosses that forbidden line," the court held.
In addition to striking down the executive order, the court accordingly barred all election officials in the state from enforcing those orders.
McAuliffe still has the authority to restore voting rights on a case-by-case basis, in accordance with the constitutional provision.
UPDATE: In a statement, McAuliffe announced that he will individually restore voting rights for all who would have qualified under his initial executive order.
"The men and women whose voting rights were restored by my executive action should not be alarmed," he said in the statement, released on Friday evening. "I will expeditiously sign nearly 13,000 individual orders to restore the fundamental rights of the citizens who have had their rights restored and registered to vote. And I will continue to sign orders until I have completed restoration for all 200,000 Virginians."