WASHINGTON — A Virginia county court clerk plans to ask the Supreme Court to hear the case challenging Virginia's ban on same-sex couples' marriages, her lawyers informed a federal appeals court Friday.
On July 28, the 4th Circuit Court of Appeals upheld a trial court ruling that Virginia's ban violated the Constitution.
Prince William County Clerk of Circuit Court Michèle McQuigg — represented by a conservative legal organization, the Alliance Defending Freedom (ADF) — informed the 4th Circuit Court appeals that she "intends to file a petition for a writ of certiorari with the Supreme Court within the ninety days permitted."
Justice Ruth Bader Ginsburg, meanwhile, said that she believes the court won't "duck[]" the issue if it comes back to the justices, telling the Associated Press, "If a case is properly before the court, they will take it."
Utah officials previously have said that they will be filing a certiorari petition with the Supreme Court seeking to defend their state's ban. In addition, there is an Oklahoma ban that has been struck down in part by a federal appeals court, and there are several other state bans struck down by trial courts. [Update: Late Friday local time, ADF also announced, as reported by The Oklahoman, that it would be filing a certiorari petition at the Supreme Court on behalf of Tulsa County clerk.]
Once a certiorari petition is filed by one party, it is possible that other parties could filed a petition for certiorari before judgment in order to give the justices more options to find the "perfect" case — but also so that the various lawsuits' lawyers and supporting organizations can claim the title of defending the case at the Supreme Court.
McQuigg, for her part, has been a party to the Virginia case, and her lawyer was one of the two attorneys defending the ban before the 4th Circuit Court of Appeal when it heard arguments over the ban in May.
As such, she asked the 4th Circuit to issue a stay of the mandate in the case — which would put the ruling in effect — pending the filing of the petition and, then, until the "Supreme Court's final disposition" of the case.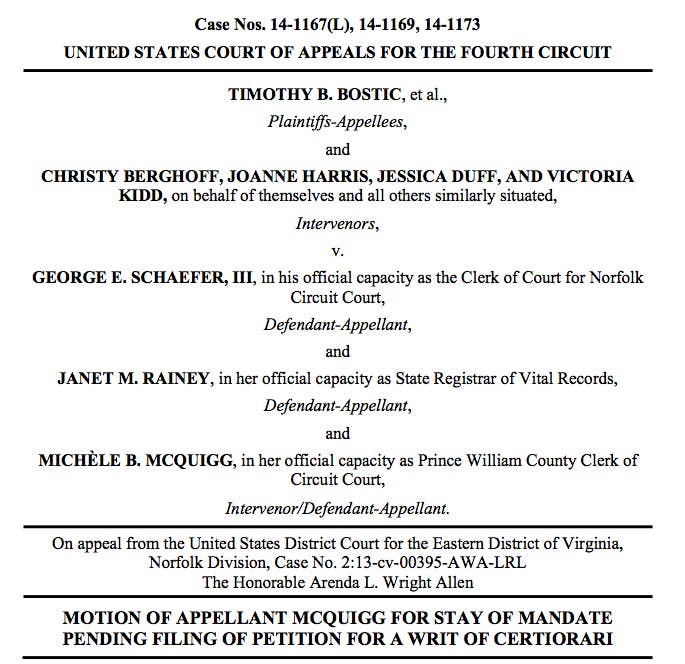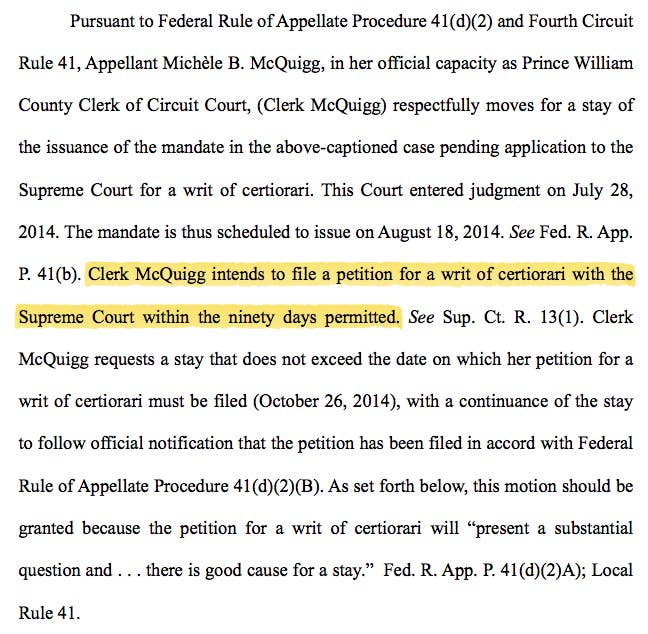 Not all of the parties consented to the stay request, so expect opposition to McQuigg's motion to be filed: