Utah's Lawyer In Marriage Case Cites Religious Duty In Defending Amendment
"I have accepted th[e] position so that I can fulfill what I have come to see as a religious and family duty: defending the constitutionality of traditional marriage in the state where my church is headquartered and where most of my family resides," Gene Schaerr wrote.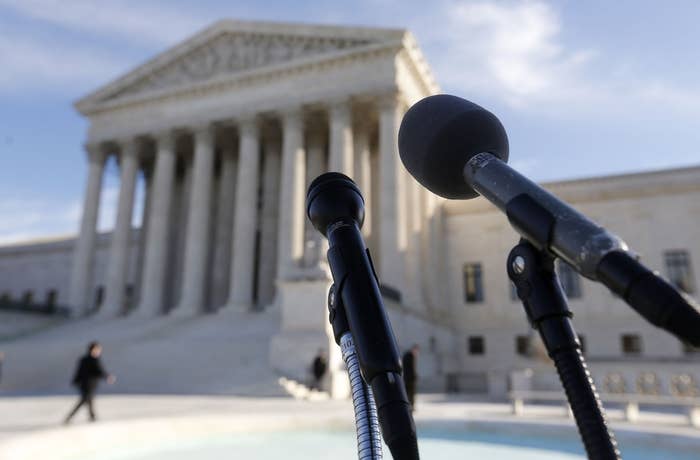 WASHINGTON — The lead outside attorney for the state of Utah told his former law firm he was leaving to fulfill "a religious and family duty" to defend "the constitutionality of traditional marriage."
The departure email that Gene Schaerr sent to his Winston & Strawn colleagues on Jan. 17, published Wednesday by Above the Law, made clear that he was leaving the firm to assist the Utah Attorney General's Office in defending the state's ban on same-sex couples marrying because his own personal belief aligned with the state's position.
In the email, sent the morning after Utah Attorney General Sean Reyes announced his appointment as the lead outside lawyer helping the state to defend the state's 2004 amendment banning same-sex couples from marrying, Schaerr wrote:

When Schaerr's appointment was announced, Reyes' office noted that Schaerr was from Utah and got his undergraduate degree from Brigham Young University.
"It's quite alarming that the reason for him taking this position has nothing to do with the U.S. Constitution or the legal issues at play. His entire motivation for taking the position is to impose a certain religious viewpoint on all Utahns — and that's wrong," Human Rights Campaign vice president Fred Sainz told BuzzFeed. "When you become an attorney, you take an oath to uphold the U.S. Constitution, not any particular religious doctrine."
Schaerr is one of three outside attorneys hired by Reyes' office to assist at the 10th Circuit Court of Appeals and, potentially, the Supreme Court in its defense of the marriage amendment, Amendment 3. A federal trial judge struck down the amendment on Dec. 20, 2013, and more than 1,300 same-sex couples married before the Supreme Court stopped the judge's ruling from being in effect during the state's appeal.
HRC had taken an aggressive position back in 2011 against the decision by another law firm, King & Spalding, to help the House in its defense of the Defense of Marriage Act — a defense that it ended days later, leaving Paul Clement to join another, smaller firm to continue the defense.
Sainz pointed to Schaerr's decision to leave Winston & Strawn before taking on the case as a sign of victory, stating, "I definitely think it's a measure of our success as a movement that no serious law firm was willing to take this case. ... It's clear that Winston & Strawn made a reputational decision that taking this case was not in their best interests."
Of Schaerr's stated reasons for taking the case, though, others echoed Sainz in pushing back.
"At least it's clear what really is the underlying motivation of defending the discrimination," Freedom to Marry president Evan Wolfson said of the email. Of the religious grounding of Schaerr's comments, Wolfson added, "That's understandable given that the discrimination is really motivated by those kinds of attitudes."
Neither Schaerr nor lawyers for the plaintiffs in the Utah marriage case responded to requests for comment.