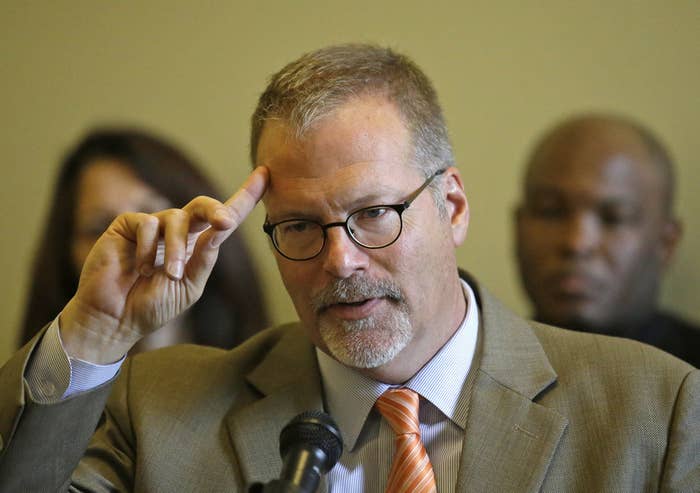 The Utah Senate on Wednesday passed legislation to repeal the death penalty in the conservative state, and its Republican sponsor says he expects the bill to pass the state's House as well.
The 15-12-2 vote in the overwhelmingly Republican body came just eight days after a state Senate committee passed the legislation on a 5-2 vote.
If passed by the House as well, the bill would go to Utah Gov. Gary Herbert. This past year, Herbert signed a bill into law bringing back the electric chair as a potential method of execution in the state should lethal injection be unavailable.
Asked about this new legislation, a spokesperson for Herbert, Jon Cox, said in a statement on Wednesday only that the governor "continues to be a supporter of the death penalty but has concerns over the excessive length of time it often takes from the date of conviction to the actual punishment."
The bill is not retroactive to those already on the state's death row, the sponsor, Sen. Stephen Urquhart, noted. According to the Death Penalty Information Center, the state had nine people on death row as of July 2015.
The legislation passed the Senate on Wednesday with a bare majority support of the upper chamber's 29 members: 4 of the Senate's 5 Democrats and 11 Republicans. It had support from only two of the seven Republican members of the Senate leadership and was opposed by one of the four Democratic members of the minority's leadership. Senate President Wayne Niederhauser and Sen. David Hinkins were absent or did not vote, according to the Senate record of the vote.
Urquhart said on Wednesday that he believes there is time to pass the bill through the state's House, according to Fox 13's Ben Winslow.
Urquhart said House Speaker Greg Hughes supports the bill and that the chair of the House committee overseeing criminal justice issues, Rep. Eric Hutchings, has agreed to co-sponsor the legislation in the chamber, Winslow also reported.
"We're going to pass it," Urquhart said.