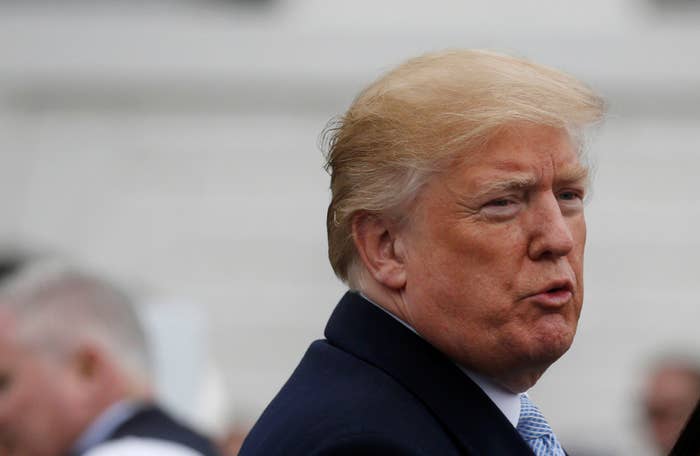 Lawyers representing President Donald Trump's interests on Monday asked a federal judge to force disputes over a 2016 settlement agreement between a company associated with Trump and Stormy Daniels back into arbitration — which would not be public.
Brent Blakely, the lawyer for the company set up by Trump's longtime lawyer Michael Cohen to pay Daniels in the days before the 2016 election, filed a motion in Daniels' lawsuit against the company, Essential Consultants, LLC, and Trump seeking to compel arbitration. Trump, through a different lawyer — Charles Harder — joined in the request.
Daniels, an adult film performer and director whose real name is Stephanie Clifford, filed the lawsuit in California courts earlier this year asking that the 2016 settlement agreement — which she and her lawyer, Michael Avenatti, call a "hush agreement" — be tossed out.
Before Daniels filed the lawsuit, EC, LLC, had sought to enforce the agreement in arbitration, where the company obtained a temporary restraining order against Daniels.
Avenatti argues in the lawsuit that the agreement should be declared invalid because it violates public policy. He also argues the agreement was never even formed because it was signed only by Cohen and not by "David Dennison," the third party to the agreement who Daniels and Avenatti say is Trump.
Essential Consultants removed the lawsuit to federal court — a move joined by Trump.
Monday's request for an order sending Daniels' claim to arbitration was expected. In it, EC's lawyer, Blakely, argues that the Federal Arbitration Act supports enforcing the mandatory arbitration clause in the 2016 agreement; that the arbitration clause itself is valid; and that, under prior court precedent, challenges to the contract itself should be resolved in arbitration.
Additionally, he argues that a new claim for defamation against Cohen that Daniels added to her lawsuit last week does not change EC's argument that the first claim — against EC and "Dennison" regarding the 2016 agreement — should be sent to arbitration.
The filing likely will prompt Avenatti to go back to US District Judge James Otero and seek a jury trial and limited discovery on whether there is a valid arbitration agreement. When Avenatti previously made a request for certain information from EC and Trump on the issue, as well as the jury trial, Otero ruled that the motion was "premature and must be denied" because neither EC nor Trump had yet filed a motion to compel arbitration.
Blakely, in a related filing on Monday, also states that he will be seeking to have the defamation claim against Cohen tossed out under California's anti-SLAPP statute — a provision in California law aimed at stopping "strategic lawsuits against public participation." It would be an unusual use of the provision, which is intended to protect speech — coming as it is in a lawsuit that has resulted from Cohen's attempt to enforce an agreement that purports to bar Daniels from speaking.