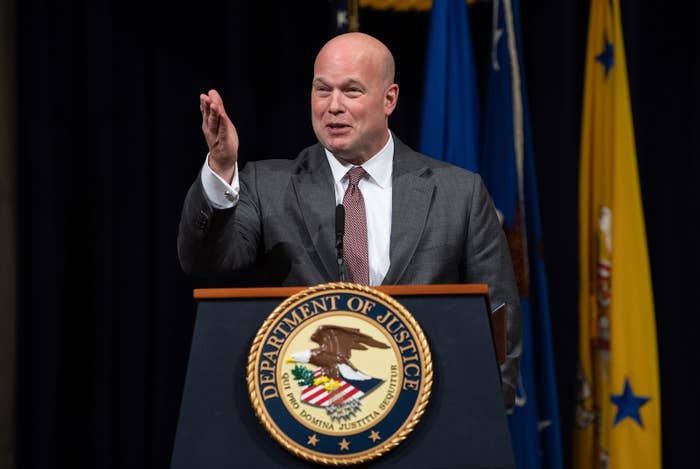 The White House will not say when President Donald Trump appointed acting attorney general Matthew Whitaker to his new post, acknowledging to BuzzFeed News that the information could be relevant to ongoing litigation.
"After accepting the resignation of Attorney General Jeff Sessions, the President signed a memorandum addressed to Matthew Whitaker, directing him to perform the functions and duties of the office of Attorney General, until the position is filled by appointment or subsequent designation," White House spokesperson Raj Shah told BuzzFeed News in a statement.
BuzzFeed News has been seeking information about the formal appointment of Whitaker since a few days after Trump tweeted news of his appointment Nov. 7. A Justice Department spokesperson who was first asked for "formal documentation" of Whitaker's appointment on Nov. 10 eventually referred the question to the White House on Nov. 13. The White House declined to provide a copy of the memorandum it said had been sent to Whitaker, but provided Shah's statement on Nov. 14, after the Justice Department had released its own memorandum from the Office of Legal Counsel approving the legality of Whitaker's appointment.
Asked when the president's memorandum was dated and when it was provided to Whitaker, Shah did not initially respond. (Sessions' resignation letter as attorney general, many noted at the time, was undated.)
Asked again on Monday for the information, Shah responded that he had provided all of the information he could, claiming, "Additional information is relevant to ongoing litigation, unfortunately."
It is true that there is ongoing litigation challenging the legality of Whitaker's appointment. There are multiple cases pending in federal district courts and at least one each in a federal appeals court and at the Supreme Court. The White House provided no information, however, as to why that litigation means the information about those dates is being kept secret by the White House.
The Justice Department has made clear, at least internally, that it is preparing for additional litigation.
In a notice posted on an internal Justice Department message board, the department stated on Nov. 16, "Multiple US Attorney Offices have received motions to dismiss cases based on an allegation that the Acting Attorney General's appointment is invalid. The Criminal and Civil Divisions are working on model briefing in response. Please standby for that briefing, which will help ensure consistent responses."