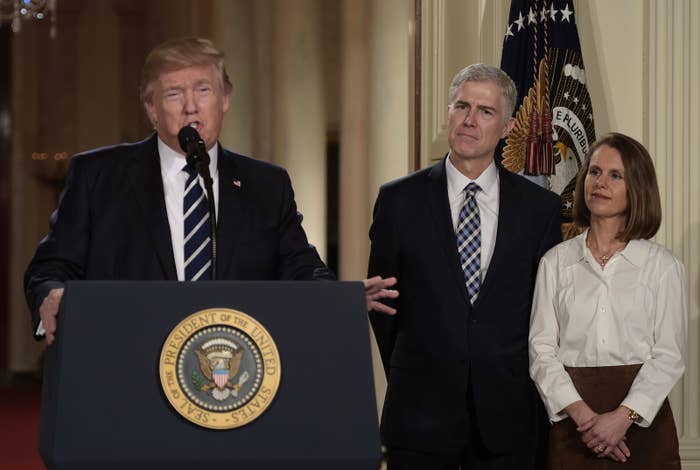 WASHINGTON — President Donald Trump announced Judge Neil Gorsuch as his nominee for the Supreme Court on Tuesday evening in the East Room of the White House.
"An extraordinary resume — as good as it gets," Trump said of his nominee, noting there was no opposition to his nomination in the Senate when he was approved for his current job as a judge on the US Court of Appeals for the Tenth Circuit.
Saying he had promised a transparent process for filling the Supreme Court vacancy, presenting a list of 21 potential nominees during the campaign, Trump declared, "Millions of voters said this was the single most important issue to them when they voted for me for president.
"I am a man of my word, I will do what I say — something that the American people have been asking for from Washington for a very, very long time," he continued. "Today, I am keeping another promise to the American people by nominating Judge Neil Gorsuch of the United States Supreme Court [sic] to be of the United States Supreme Court."
Gorsuch, 49, traveled to DC from Denver, where the Tenth Circuit sits. Although less high-profile than some of the other 20 names on Trump's 21-person list of potential Supreme Court nominees, Gorsuch had been one of the names conservatives have said would be a great pick.
Saying the president had entrusted him with "a most solemn assignment," Gorsuch said, "Standing here, in a house of history and acutely aware of my own imperfections, I pledge, if I am confirmed, I will do all my powers permit to be a faithful servant of the Constitution and laws of this great country."
Gorsuch is perhaps best known for siding — strongly — with Hobby Lobby and Little Sisters of the Poor in the challenges brought by for-profit and nonprofit entities, respectively, to the contraception mandate under the Affordable Care Act.
"The towering judges that have served in this particular seat of the Supreme Court, including Antonin Scalia and Robert Jackson, are much in my mind at this moment," Gorsuch said, with Scalia's wife, Maureen, in attendance at the White House ceremony. Calling Scalia a "lion," Gorsuch noted how well Scalia was thought of among his high court colleagues, and adding, "Like them, I miss him."
Gorsuch originally came to Washington, DC, as a child when his mother, Ann Gorsuch Burford, was named to head the Environmental Protection Agency under President Ronald Reagan. After Harvard Law School, Gorsuch clerked for Judge David Sentelle of the DC Circuit and then-retired Justice Byron White and Justice Anthony Kennedy. After a decade in private practice, Gorsuch briefly worked in the Justice Department before being nominated to his current seat on the 10th Circuit.
Gorsuch's wife, Louise, was with him and at his side at Tuesday night's ceremony. He added that his daughters were watching the announcement on TV.
Notably, Gorsuch highlighted a portion of his judicial philosophy — one that dovetails closely with the man whose seat he would take if confirmed — in his brief remarks.
"I respect ... that in our legal order, it is for Congress, and not the courts, to write new laws. It is the role of judges to apply, not alter, the work of the people's representatives," Gorsuch said. Echoing comments often made by Scalia, he added, "A judge who likes every outcome he reaches is likely a bad judge— stretching for results he prefers rather than those the law demands."
In addition to his positions on religious liberty, Gorsuch also has written a book and done significant other writing on the topic of assisted suicide. In addition, he has laid out important views on law in more arcane, but nonetheless key, areas involving administrative law — a crucial issue as Trump's administration begins taking significant executive actions — and the so-called "Dormant Commerce Clause," which limits state actions hurting out-of-state commerce.
The nomination is coming 50 weeks after Justice Antonin Scalia died unexpectedly, leaving the court for almost a year with only eight members. Although President Obama soon thereafter nominated Judge Merrick Garland — the chief judge of the US Court of Appeals for the DC Circuit — to fill the vacancy, Senate Republicans refused to consider the nomination, saying the matter would be left to the winner of November's election.

The result was a somewhat lower-profile court over the past year that took fewer cases and also reached a series of 4–4 tie votes — split decisions that left lower court decisions in place but did not create a national precedent.
Now, however, in the midst of a nationwide debate over Trump's refugee and travel ban executive order and 24 hours after he fired the acting attorney general for directing Justice Department attorneys not to defend the executive order, Trump presented his nominee for the Supreme Court to the nation.
Later — and unsurprisingly — the president checked in on Twitter.
The runner-up, Hardiman, 51, has sat on the US Court of Appeals for the Third Circuit for just less than a decade. Prior to that, he served on a federal trial court for nearly four years. Described recently by SCOTUSblog's Amy Howe as a "dark horse" possibility for Trump's nomination initially, he had become one of the clear front-runners in recent weeks.
Hardiman has laid out a solid conservative record on the Second Amendment that would fit with the significant attention Trump gave to gun rights during any campaign discussion of the high court. Hardiman does not have the background of many of his would-be colleagues on the high court — although he also previously spent time in DC at Georgetown Law School and as a young lawyer. As the Washington Post detailed in a profile of the judge, "He was the first in his family to graduate from college, did not attend an Ivy League law school and helped pay for his education by driving a taxi." He does, however, serve on the 3rd Circuit with the president's sister, Judge Maryanne Trump Barry.
Trump also had considered Judge William Pryor from the US Court of Appeals for the 11th Circuit for the current vacancy, although his chances of getting the nomination appeared to diminish in recent weeks.