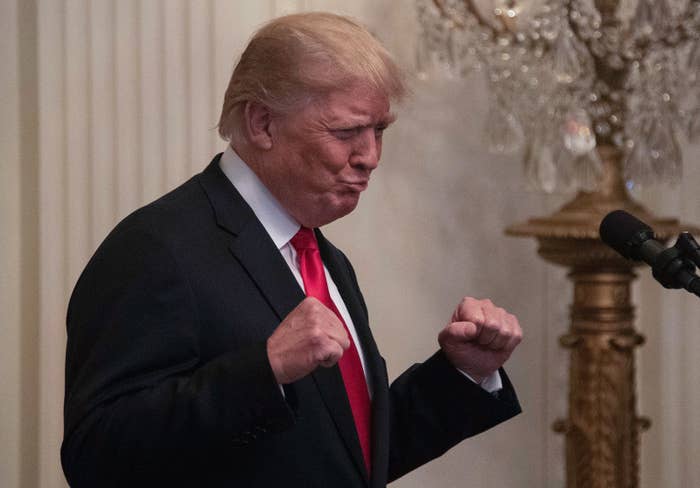 The White House announced on Monday that President Donald Trump had ordered the declassification of several documents related to the ongoing Russia investigation that involve people the president has criticized.
In the statement, White House press secretary Sarah Sanders said Trump directed the declassification of some documents and public release of others "[a]t the request of a number of committees of Congress, and for reasons of transparency."
Asked for the actual presidential directive or directives referenced in her statement, Sanders told BuzzFeed News, "There isn't anything else, just the statement."
Despite the lack of any formal directive, a Justice Department spokesperson said Monday evening that government agencies were reviewing the documents for release but did not say when that process would be completed. It was not clear if portions of the documents might still be withheld.
"When the President issues such an order, it triggers a declassification review process that is conducted by various agencies within the intelligence community, in conjunction with the White House Counsel, to seek to ensure the safety of America's national security interests," the spokesperson said in a statement. "The Department and the Federal Bureau of Investigation are already working with the Director of National Intelligence to comply with the President's order."
The DOJ "review" language — and the lack of a formal directive from Trump — could be key to what happens next, a lawyer who specializes in national security law told BuzzFeed News.
"A direct order from the President to declassify something doesn't trigger a declassification review, because it doesn't give the agency any authority to not declassify anything, even 'to ensure the safety of America's national security interests.' It would be an order to declassify, not an order to review," Kel McClanahan, executive director of National Security Counselors, wrote. "In essence, DOJ is treating this as a Mandatory Declassification Review request, which anyone in the country can make."
Since special counsel Robert Mueller's appointment in May 2017, he has been investigating Russia's attempts to interfere with the 2016 presidential election and whether Trump's campaign and its allies cooperated in those efforts. The investigation initially began, however, nearly a year earlier — as an FBI investigation. When Trump fired then–FBI director James Comey, though, Deputy Attorney General Rod Rosenstein — who is overseeing the investigation due to Attorney General Jeff Sessions' recusal — appointed Mueller to take over the investigation.

Trump ordered the declassification of materials relating to Carter Page, a one-time foreign policy adviser to the Trump campaign who had been the subject of a secret warrant, and Bruce Ohr, a Justice Department employee who has drawn Trump's ire in recent months.
Additionally, Trump ordered the Justice Department to release unredacted text messages from Comey, whom Trump fired last year; former FBI deputy director Andrew McCabe, who was fired by Sessions earlier this year; Lisa Page, who resigned earlier this year; Peter Strzok, who was fired in August; and Ohr, who still works for the Justice Department.
All except Ohr played key roles in the early stages of the Russia investigation and have been the subject of Trump's continuous attacks on the investigation and those behind its beginnings.
Ohr, on the other hand, is a longtime DOJ official and was only first mentioned by Trump on Twitter in August — once before Strzok's firing and a dozen times since. He, primarily, has entered the story, in Trump's telling, because Ohr's wife was a contractor for Fusion GPS, the contractor behind the so-called dossier that was compiled for the Democrats by Christopher Steele, a former British intelligence officer. Steele and Ohr knew one another through their previous work and met several times in late 2016 and 2017, after the FBI formally cut ties with Steele.