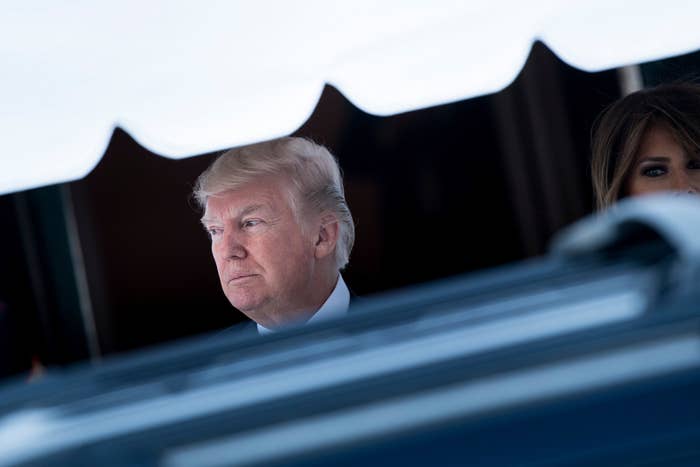 President Donald Trump has joined the legal fight over whether a woman is bound by an agreement she signed in 2016 to keep quiet about their alleged affair.
Stephanie Clifford, the adult film performer and director known as Stormy Daniels, sued Trump and the company set up by longtime Trump lawyer Michael Cohen in 2016 to pay Clifford to keep quiet.

Lawyers for that company, Essential Consultants (EC), filed a notice Friday afternoon in California to remove her case from state court to federal court and asserted that, under the 2016 agreement, they could seek damages of at least $20 million.

Charles Harder, an attorney best known for representing Hulk Hogan in his legal fight against Gawker, filed a notice on behalf of Trump joining in the removal. "Mr. Trump intends to join in EC's anticipated Petition to Compel Arbitration under the Arbitration Agreement," he announced.
In Clifford's lawsuit, her lawyer, Michael Avenatti, claims that the settlement agreement and therefore its confidentiality provisions — which they call a "hush agreement" — were never valid because Trump did not sign the agreement. He also argues that the agreement should be found to be invalid as counter to public policy.

"This is simply more of the same bullying tactics from the president and Mr. Cohen. They are now attempting to remove this case in order to increase their chances that the matter will ultimately be decided in private arbitration, behind closed doors, outside of public view and scrutiny," Avenatti told BuzzFeed News. "To put it simply — they want to hide the truth from the American people. We will oppose this effort at every turn."

In its removal notice, EC makes clear it will defend the validity of the agreement and its requirement that any dispute be settled by arbitration.
"EC is aware of at least twenty (20) violations by Clifford of the confidentiality provisions of the Settlement Agreement," Brent Blakely, the lawyer for EC, wrote. Due to a provision in the agreement that each breach of the confidentiality provisions could lead to $1 million in damages, Blakely argues that "EC and/or Defendant Trump have the right to seek liquidated damages against Clifford for her numerous breaches" in the arbitration for an amount "approximated to already be in excess of twenty million dollars ($20,000,000)."
Regarding that claim, Avenatti told BuzzFeed News, "The fact that a sitting president is pursuing over $20 million in bogus 'damages' against a private citizen, who is only trying to tell the public what really happened, is truly remarkable. Likely unprecedented in our history. We are not going away and we will not be intimidated by these threats."
Earlier this month, Clifford sat down with Anderson Cooper for an interview, which 60 Minutes plans to air later this month.

Lawyers for Trump and EC did not immediately respond to requests for comment on the filings and Avenatti's comments Friday evening.