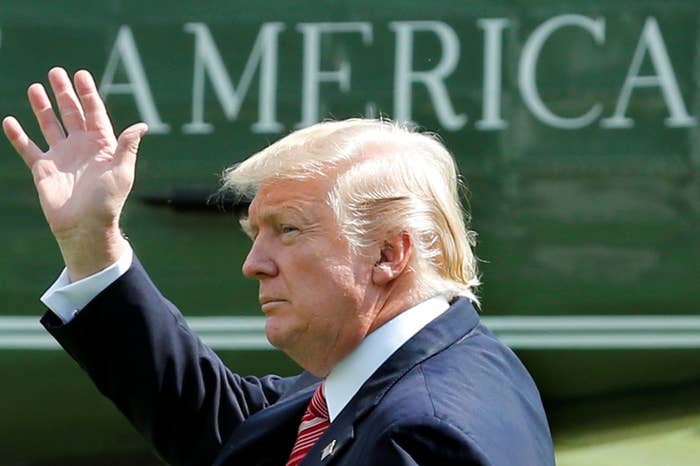 President Trump issued a brief memorandum on Friday afternoon ordering a reversal of Obama administration policies that had been beginning to allow transgender people to serve openly in the military.
Trump wrote that "the previous Administration failed to identify a sufficient basis to conclude that terminating the Departments' longstanding policy and practice [against out transgender military service] would not hinder military effectiveness and lethality, disrupt unit cohesion, or tax military resources."
The move is almost nearly a month after Trump issued a series of morning tweets announcing an end to open transgender military service, which was a policy implemented over the past two years by the Obama administration.

Trump's new policy — reverting to the pre-2016 policy that did not allow open transgender service — is not due to take effect until March 23, 2018.

In a move that could become important later on, the memorandum leaves significant discretion to the secretary of defense and, to a lesser extent, the secretary of homeland security. Notably, it states that "[t]he Secretary of Defense, after consulting with the Secretary of Homeland Security, may advise me at any time, in writing, that a change to this policy is warranted."

The memorandum also orders a halt — again, effective March 23, 2018 — to the use of Defense Department and Department of Homeland Security funds for "sex-reassignment surgical procedures," except when necessary to "protect the health" of a person who already began such treatment.
Finally, the memorandum continues indefinitely the already-delayed plan on establishing standards for allowing transgender people to join the military. The decision, which the Obama administration had set for this summer, already was delayed once until Jan. 1, 2018. The Trump memorandum extends that "until such time as the Secretary of Defense, after consulting with the Secretary of Homeland Security, provides a recommendation to the contrary that I find convincing."
Under the memorandum, the defense secretary is to submit an implementation plan for the three portions of the memo to Trump by Feb. 21.

Secretary of Defense Jim Mattis on Tuesday issued a statement saying that transgender troops will be allowed to continue serving in the military, pending a review by a panel of experts.

"Once the panel reports its recommendations and following my consultation with the secretary of Homeland Security, I will provide my advice to the president concerning implementation of his policy direction," the statement continued.
While that is happening, Mattis wrote, "current policy with respect to currently serving members will remain in place," though more interim guidance will be issued.
Two lawsuits were filed early Monday morning: Lambda Legal and OutServe-Servicemembers Legal Defense Network filed a lawsuit on Monday on behalf of transgender people currently enlisted in the military and those seeking to join as soon. The ACLU also filed suit.
An update to one lawsuit, filed previously on behalf of a handful of transgender service members, is expected soon. National Center for Lesbian Rights (NCLR) and GLBTQ Legal Advocates and Defenders (GLAD) will be seeking a preliminary injunction to halt enforcement of the memorandum, NCLR's Shannon Minter told BuzzFeed News.
"This memo makes clear that transgender people who want to join the military will not be permitted to do so," Jon Davidson, legal director for Lambda Legal, told BuzzFeed News on Friday after Trump's memo was issued.
Vera Bergengruen contributed to this report.
UPDATE
This post has been updated with a statement from Secretary of Defense Jim Mattis. It has also been updated with information about two lawsuits filed against the Trump administration.