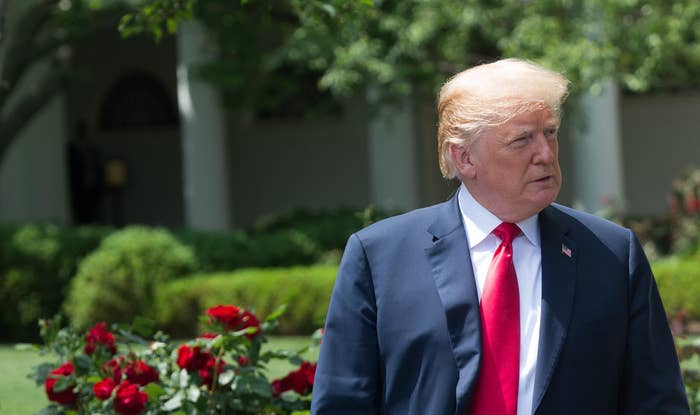 The Justice Department's inspector general will be asked to look into whether there were "any irregularities" regarding the FBI and DOJ's handling of investigations concerning the Trump campaign, White House press secretary Sarah Sanders said in a statement Monday afternoon.
Sanders also said that White House chief of staff John Kelly will hold a meeting "immediately" with intelligence and congressional leaders to review classified and other documents sought by members of Congress.

The statement followed a White House meeting between President Donald Trump, White House chief of staff John Kelly, Deputy Attorney General Rod Rosenstein, FBI Director Chris Wray, and Director of National Intelligence Dan Coats.

The meeting came a day after President Donald Trump tweeted his "demand" that the Justice Department investigate whether the counterintelligence investigation opened in 2016 regarding the Trump campaign's ties to Russia was opened "for Political Purposes." The tweet itself came in the wake of reporting that an FBI source met during the 2016 campaign with George Papadopoulos and Carter Page — two members of the Trump campaign whose Russia ties were part of the counterintelligence investigation.

On Tuesday, Trump explained further in answering a reporter's question about the meeting.
"I think the Department of Justice wants to get down to it, and I can tell you Congress does. So hopefully they will all be able to get together," Trump said. "General Kelly is going to be setting up a meeting between Congress and the various representatives. And they will be able to open up documents, take a look and find out what happened."
Reiterating the question raised in his weekend tweet, Trump said, "But if they had spies in my campaign — during my campaign — for political purposes, that would be unprecedented in the history of our country."
Despite the claim that DOJ's action regarding the inspector general was "[b]ased on the meeting with the president," DOJ announced on Sunday — just a few hours after Trump's tweet — that the department was asking the inspector general "to expand the ongoing review of the FISA application process to include determining whether there was any impropriety or political motivation in how the FBI conducted its counterintelligence investigation of persons suspected of involvement with the Russian agents who interfered in the 2016 presidential election."

Sanders full statement on that point:
Based on the meeting with the President, the Department of Justice has asked the Inspector General to expand its current investigation to include any irregularities with the Federal Bureau of Investigation's or the Department of Justice's tactics concerning the Trump Campaign.
While that language is slightly more broad than DOJ's earlier statement, it's not clear whether there is any functional distinction — since Trump's specific concern related to issues included within the DOJ statement.

As to the other part of her statement, the most recent crisis point in the ongoing dispute between House Republicans and DOJ over documents was on May 9, resulting in a May 10 meeting. After that meeting, House Intelligence Committee Chair Devin Nunes and Rep. Trey Gowdy said in a joint statement that the meeting was "productive" and that the ODNI, DOJ, and FBI officials in the meeting "committed to holding further discussions of these matters."
More recently, however, Nunes and Gowdy have been seeking information regarding the FBI informant. DOJ officials, in response, had resisted turning over that information previously but had offered to brief lawmakers on the issue.
Sanders' full statement on that point:
It was also agreed that White House Chief of Staff Kelly will immediately set up a meeting with the FBI, DOJ, and DNI together with Congressional Leaders to review highly classified and other information they have requested."

It was not immediately clear whether the statement meant Nunes and Gowdy would be getting information about the informant and, if so, whether they would be reviewing the full, unredacted documents.
Asked about the statement, a DOJ spokesperson declined to comment further.
UPDATE
This story was updated on Tuesday to include comments from President Donald Trump.
CORRECTION
Dan Coats' name was misspelled in an earlier version of this post.