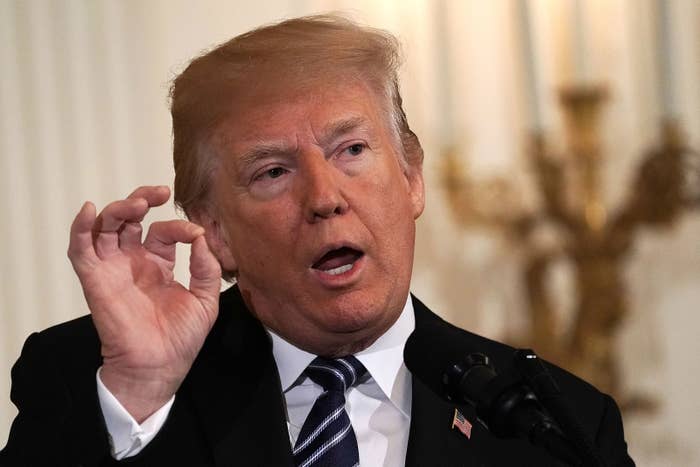 On Sunday, President Donald Trump tweeted that he will be "demand[ing]" that the Justice Department open an investigation to determine whether the counterintelligence investigation opened in 2016 regarding the Trump campaign's ties to Russia was opened "for Political Purposes" by the Obama administration.
The tweet could set up a constitutional crisis. Or it could set up a now-familiar process of lawyers, essentially, pushing off the request to avoid such a crisis. Or it could be forgotten by the week's end.
The initial response from the Justice Department suggested an attempt to take the middle path.
"If anyone did infiltrate or surveil participants in a presidential campaign for inappropriate purposes, we need to know about it and take appropriate action," Deputy Attorney General Rod Rosenstein said in a late Sunday afternoon statement responding to Trump's tweet.

The Sunday tweet was part of the continued fallout from recent reporting on an FBI source who met with George Papadopoulos and Carter Page — two members of the Trump campaign whose Russia ties were part of the counterintelligence investigation. On Saturday, in the wake of the Friday reports, Trump tweeted, "If the FBI or DOJ was infiltrating a campaign for the benefit of another campaign, that is a really big deal."

In other instances when Trump or Republicans in Congress have pushed for more action from the Justice Department — like when some Republicans sought appointment of a second special counsel to investigate the FBI for potential abuse of the Foreign Intelligence Surveillance Court process — Rosenstein and Attorney General Jeff Sessions either have referred the issue to the department's inspector general or assigned a particular US attorney to review the matter.
On Sunday, the Justice Department appeared to be seeking that approach again.

DOJ spokesperson Sarah Isgur Flores said that the department has asked the inspector general "to expand the ongoing review of the FISA application process to include determining whether there was any impropriety or political motivation in how the FBI conducted its counterintelligence investigation of persons suspected of involvement with the Russian agents who interfered in the 2016 presidential election."

"As always," she added, "the Inspector General will consult with the appropriate U.S. Attorney if there is any evidence of potential criminal conduct."
Earlier this year, when Trump and Sessions sparred over the handling of the allegations of FISA abuse, Sessions appeared to draw a line as to his handling of the department and his office in such matters.

"We have initiated the appropriate process that will ensure complaints against this Department will be fully and fairly acted upon if necessary," he said then. "As long as I am the Attorney General, I will continue to discharge my duties with integrity and honor, and this Department will continue to do its work in a fair and impartial manner according to the law and Constitution."
In addition to referring the allegations of wrongdoing — which relate to the FISA warrant sought in October 2016 against former Trump campaign aide Carter Page — to DOJ Inspector General Michael Horowitz, Sessions tasked US Attorney John Huber, from Utah, with determining what other steps might be needed.
In another instance, Sessions asked US Attorney John Lausch, Chicago's top federal prosecutor, to oversee the production of a document to a House committee that had been criticizing the department for its slow pace.

Some observers saw Sunday's tweet differently from these past instances, however — and the speed with which DOJ responded to Trump's tweet reinforced the heightened concern raised in some quarters.
If Trump specifically demands that the Justice Department open a criminal investigation, these people argued, it is not clear that a roundabout response would take care of the matter. Such an order, they said, could set up the most stark conflict between Trump and the Justice Department — a potential crisis point for the fraught relationship between the White House and senior leadership of DOJ.
"So if the President really gives Rod Rosenstein or [FBI Director] Chris Wray an order (as opposed to Twitter bluster) demanding a particular investigation not properly predicated under FBI/DOJ guidelines for this overtly political purpose, I believe both men will resign rather than comply," Lawfare's Ben Wittes wrote on Sunday afternoon.
"The Department of Justice doesn't open investigations for political pu[r]poses, which is what the president says today he will order tomorrow," Carrie Cordero, a lawyer with significant background in national security law, wrote. "There are rules."

On the other hand, it was a Sunday afternoon Trump tweet. The use of "I hereby demand," from a normal president would seem pretty official. However, the last time Trump used that language on Twitter, it was apparently taken as bluster and more or less ignored.