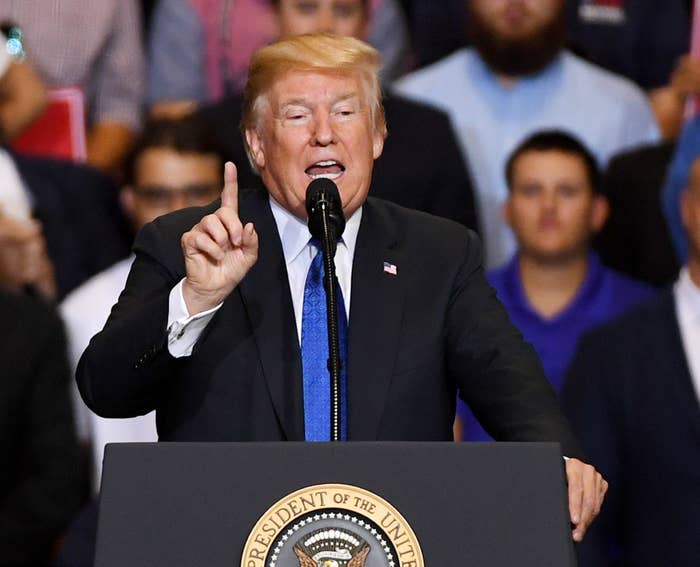 At the end of a week that began with the White House announcing that President Donald Trump "directed" the "immediate declassification" of documents relating to the Russia investigation, Trump acknowledged that there was no directive — tweeting instead that an "expedited" review regarding the release of some of those documents was being sought.
The acknowledgment further clarifies a statement White House press secretary Sarah Sanders made to BuzzFeed News on the night of Sept. 17. When asked for the directives mentioned in a statement released under her name, Sanders responded, "There isn't anything else, just the statement."
The Sept. 17 statement from Sanders said that Trump had directed the declassification of documents relating to Carter Page, the former Trump campaign aide against whom a warrant was issued by the Foreign Intelligence Surveillance Court, and Bruce Ohr, a longtime — and current — Justice Department official.
From the beginning, it was clear "immediate declassification" was unlikely.
A Justice Department spokesperson on Sept. 17 said in a statement that a "declassification review process" is begun when "such an order" is issued by the president and that agencies were "already working" to "comply with the president's order."
In Trump's Friday tweets, he references a meeting with Justice Department officials, in which he says they told him the release could have "a perceived negative impact on the Russia probe."
A Justice Department spokesperson acknowledged that a meeting took place, but referred any questions about the meeting to the White House. The White House did not immediately provide any further information about the meeting.
Trump also claimed that "key Allies" called and asked for the documents not to be released. He did not provide further information about who he was claiming did so, and the White House did not immediately respond to a request for comment.

Although no country has been named, an Australian diplomat, Alexander Downer, figures into a key part of the start of the Russia investigation — the result of a night of drinks that he reportedly shared with former Trump campaign aide George Papadopoulos in London in May 2016. Downer reportedly told US officials over the summer in 2016, once emails from Democrats began being leaked, that Papadopoulos had told him that Russia had dirt on Hillary Clinton.
Rather than actually declassifying the documents at issue — parts of the Page warrant and FBI notes regarding Page and Ohr — Trump tweeted that the Justice Department's inspector general has been asked "to review these documents on an expedited basis."
An official with the inspector general's office did not immediately respond to a request for comment.
It is not clear what the status is of the second part of the White House's Sept. 17 announcement: directing the public release of text messages from several key figures in the Russia investigation, including fired former FBI director James Comey.