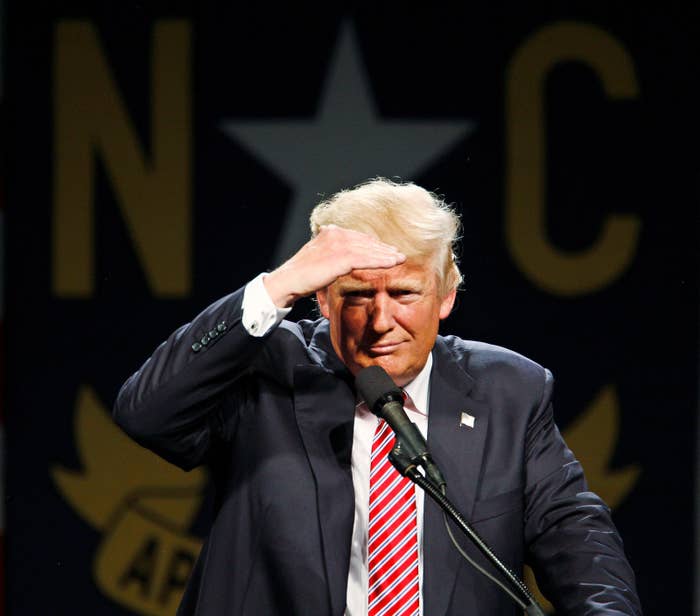 WASHINGTON — In the same North Carolina speech in which Donald Trump attacked Hillary Clinton as "no friend of LGBT Americans," he also praised the state's governor, Pat McCrory — a man maligned by the LGBT community and allies for his signing of and support for the state's new anti-LGBT law.
The conflicting aims were decried as "two-faced insincerity" by a leading LGBT advocate on Wednesday. Trump, though, said on Wednesday that "the LGBT community" is backing him in his anti-immigration aims.
In the aftermath of the shooting rampage in Orlando at a gay nightclub that left 49 people — many of whom were gay and Latino — dead, Trump has taken to talking about LGBT people in his speeches and on Twitter.

On Monday, Trump said, "Our nation stands together in solidarity with the members of Orlando's LGBT community."
He continued: "They have been through something that nobody could ever experience. This is a very dark moment in America's history. A radical Islamic terrorist targeted the nightclub, not only because he wanted to kill Americans, but in order to execute gay and lesbian citizens, because of their sexual orientation."
The line of support, however, has been used as a part of his attack on "radical Islam" and his support for stopping immigration from Muslims or from nations with significant Muslim populations.
"Remember this, radical Islam is anti-woman, anti-gay and anti-American," Trump later said.
On Tuesday, he continued on Twitter: "Thank you to the LGBT community! I will fight for you while Hillary brings in more people that will threaten your freedoms and beliefs."
When Trump traveled to North Carolina on Tuesday, however, the complexity of this line of argument became clear as he met with, reportedly attended a fundraiser with, and praised McCrory.

In a speech in Greensboro, Trump noted the earlier meeting, then said, "Pat, your governor — he's doing a fantastic job."

Earlier this year, though, McCrory signed into law one of the most aggressively anti-LGBT pieces of legislation in the country. The law overrides local LGBT nondiscrimination ordinances in the state by stating that state nondiscrimination law preempts local ordinances and bans transgender people from government restrooms that don't match their birth certificate.
The anti-transgender portion of the law has been challenged by the Justice Department, as well as the ACLU.
Later in his Tuesday speech in Greensboro, Trump went after Hillary Clinton for her immigration plans, asserting that her support for continued immigration — including refugee plans — and the Clinton Foundation's donations from countries with harsh anti-LGBT laws mean that "[s]he's no friend of women. She's no friend of LGBT Americans."
The head of the nation's largest LGBT rights group, the Human Rights Campaign, questioned Trump's LGBT move.
"Donald Trump's two-faced insincerity is mind-blowing. If his anti-LGBTQ agenda and unbridled Islamophobia didn't give fair-minded voters enough pause, his hearty endorsement of a Governor who has made North Carolina home to the worst state law in the nation for LGBTQ people should," HRC president Chad Griffin, whose group has endorsed Clinton's presidential bid, told BuzzFeed News.

Even before the praise for McCrory, several LGBT advocates questioned Trump's Monday comments, contrasting them with his statements opposing marriage equality during the campaign, his support for the First Amendment Defense Act, and the records of several of his proposed judicial nominees as being hostile to LGBT rights.
Trump, though, maintained the line of argument in Atlanta on Wednesday, saying, "The LGBT community, the gay community, the lesbian community – they are so much in favor of what I've been saying over the last three or four days."

Trump went so far as to say, "Ask the gays!" in his speech, prompting a response that trended on Twitter in the U.S. by Wednesday afternoon.