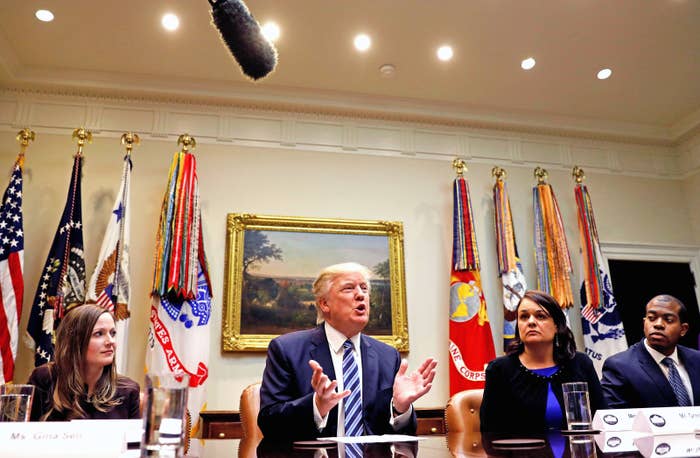 WASHINGTON — On Tuesday evening, the Trump administration's lawyers argued to the federal judge who previously halted enforcement of the original refugee and travel ban that the new executive order, signed by President Trump on March 6, should not be subject to the prior injunction.

Washington Attorney General Bob Ferguson has argued that the Feb. 3 injunction against the original executive order should apply to the two provisions from the original ban that were reinstated, albeit with some changes, in the new executive order, which is due to go into effect at 12:01 a.m. ET Thursday.
Specifically, Washington's lawyers argue the subsections of the new executive order announcing the 90-day halt to travel from a number of majority-Muslim nations and the 120-day halt to the refugee program are virtually the same as those provisions enjoined in the original order.
"Plaintiffs are wrong: this Court's order, by its plain terms, does not apply to the New Executive Order," Justice Department lawyers argue in a filing before US District Judge James Robart. "And courts routinely hold that relief granted as to prior policies does not extend to new policies that are substantially different."
Washington previously argued otherwise, with lawyers noting, "The key question is whether some of the enjoined policies or conduct continue, and here they plainly do."
Regardless, the administration's lawyers continue, "the Court's injunction should not be extended to the New Executive Order because the New Executive Order is entirely lawful."
Washington, again, disagrees — joined by several states in an amended lawsuit that specifically challenges the new executive order.

On Tuesday, several large cities — led by Chicago — filed an amici curiae, friends of the court, brief in support of Washington's request that Robart enforce the existing injunction against the new executive order.
The judge announced previously that if a hearing is necessary to decide the matter, he would not schedule it to take place before Wednesday. He has not, as of early Wednesday morning, scheduled any hearing in the case.

In another case before Robart challenging the travel portion of the ban — specifically focused on people approved for immigrant visas — he has scheduled a hearing for 2 p.m. Pacific Time (5 p.m. Eastern Time) Wednesday on the plaintiffs' request for a temporary restraining order. The Justice Department on Tuesday evening also filed its opposition in this case, Ali v. Trump.

The filings in the Washington cases come on the eve of two scheduled hearings in other cases challenging the new executive order — one in federal court in Hawaii, brought by the state, and one in federal court in Maryland, brought by nonprofit organizations.
In the Hawaii case, on Monday, 13 states and the District of Columbia weighed in to support Hawaii's motion for a temporary restraining order against enforcement of the travel and refugee ban sections of the executive order.