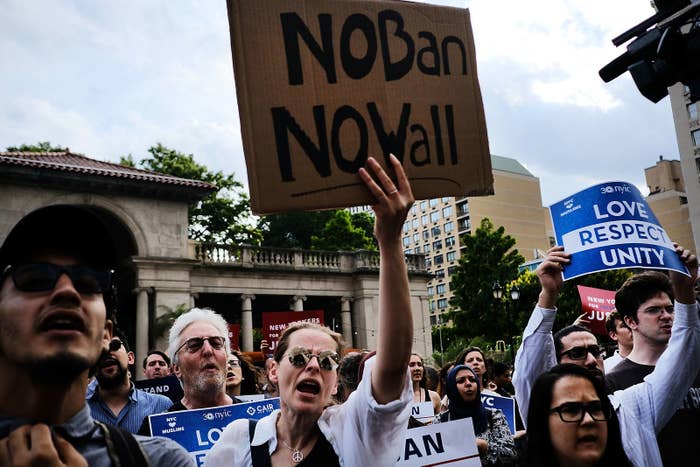 The Justice Department on Monday asked the Supreme Court to stop part of an appeals court ruling from going into effect that would limit enforcement of President Trump's refugee ban.

The ruling of the US Court of Appeals for the 9th Circuit, issued Sept. 7, would exempt refugees who have received assurances of support from resettlement agencies from the ban.
That ruling upheld a district court's modified injunction against enforcing parts of Trump's March 6 executive order. The district court also found that "grandparents, grandchildren, brothers-in-law, sisters-in- law, aunts, uncles, nieces, nephews, and cousins of persons in the United States" count as "close familial relationships" exempted from the travel ban. The Trump administration had fought for a more narrow definition, but the 9th Circuit upheld that ruling as well.
Notably, the Justice Department is not asking the Supreme Court to halt that more broad definition of a "close familial relationship."

By way of explaining the Justice Department's different treatment of the rulings, lawyers noted in Monday's filing that "the government already has been applying the lower courts' reading of close family members, whereas the Ninth Circuit's refugee-assurance ruling would upend the status quo and do far greater harm to the national interest."
The 9th Circuit's decision was due to go into effect Tuesday. However, shortly after the filing, Justice Anthony Kennedy put the 9th Circuit ruling on hold "with respect to refugees covered by a formal assurance" pending a response by noon Tuesday from Hawaii, which brought the lawsuit against the executive order, and a further order from Kennedy or the full court.
The moves over the scope of the injunction against Trump's travel and refugee bans have taken place even as the 90-day ban on travel from six Muslim-majority nations and 120-day halt to the refugee program took effect — with exemptions, under a Supreme Court order, for those with a "credible claim of a bona fide relationship" to a US person or entity.

The debates here, now before the Supreme Court, have centered around what constitutes such a "bona fide relationship."
Hawaii responded before 10 a.m. Tuesday, arguing to the justices, "The Court laid out a legal standard. The District Court and the Ninth Circuit diligently and correctly applied it. ... The Government's motion should be denied." The Justice Department filed its reply Tuesday afternoon.
The justices already have agreed to hear the government's appeal of the challenges to the legality and constitutionality of the executive order itself. Those arguments are set for Oct. 10.
Under the terms of Trump's order, the 90-day travel ban would end before the arguments even happen — on Sept. 27. The refugee ban would still be active, but for less than another 20 days — ending Oct. 27. It is not yet clear what effect, if any, that will have on the Supreme Court's consideration of the case.
The order from Justice Anthony Kennedy: