Top Idaho Republicans Split Over Response To Same-Sex Marriage Ruling
After a Friday ruling from the Supreme Court denying Idaho's request to put the marriage ruling on hold, the governor continues to fight — but the attorney general takes a different approach. [Update: Marriages to start Wednesday, 9th Circuit rules.]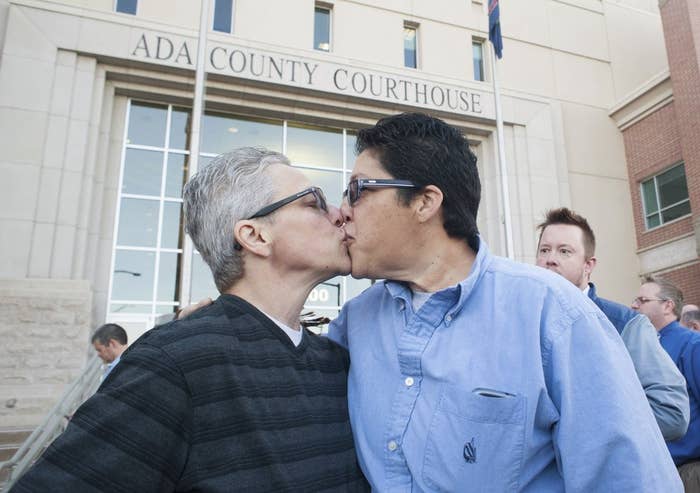 The 9th Circuit Court of Appeals ordered that same-sex couples can marry in Idaho beginning 9 a.m. PT on Wednesday.
The appeals court granted the same-sex couple plaintiffs' request to dissolve the stay of the trial court order striking down Idaho's ban on such marriages.
WASHINGTON — Idaho Gov. Butch Otter went to court on Monday morning seeking to keep same-sex couples from marrying in the state.
Hours later, however, the state's attorney general, Lawrence Wasden, split with the governor. He argued that recent Supreme Court action means state officials "cannot satisfy the stringent standards governing issuance of stays." In other words, because the Supreme Court didn't think a stay was appropriate in the case, Wasden does not think the state could make a successful argument in favor of a stay.
The dueling Republican officials' filings at the 9th Circuit Court of Appeals was a sign of the almost breakneck pace of change in the legal fight over whether states can prohibit same-sex couples from marrying.
The Monday moves followed a week of legal maneuvering by the state since the appeals court ruled on Oct. 7 that Idaho's ban on same-sex couples' marriages is unconstitutional.
On Friday evening, Oct. 10, the Supreme Court denied Idaho's request for the court to issue a stay keeping the 9th Circuit from issuing its mandate — the final step in putting its ruling into effect.
Soon after, lawyers for the same-sex couples who had sued Idaho asked for the 9th Circuit to end the stay it earlier had granted to the state pending the outcome of its appeal of the trial court's decision. The 9th Circuit ordered a response to the request from state officials by 12 p.m. PT Monday.
Although Wasden noted that his filing did "not reflect reconsideration of their position concerning the validity of Idaho's marriage laws or the strength of their legal position," the split with the governor over whether same-sex couples should be able to marry during any appeal is a significant concession in a strong conservative state.
Read the same-sex couples' request to dissolve the stay:
Update: The 9th Circuit's order dissolving the stay: