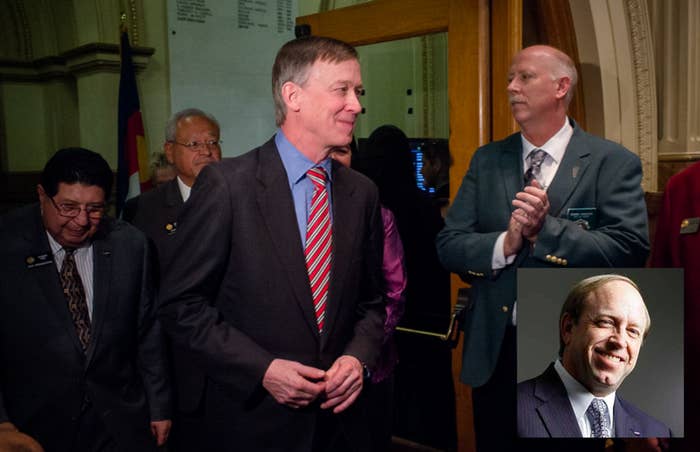 WASHINGTON — In order to stop a county clerk from issuing marriage licenses to same-sex couples, the Colorado attorney general went to court Wednesday asking a federal court to strike down the state's ban on same-sex marriages.
The unusual move from Attorney General John Suthers, who has been defending the ban, follows last week's ruling from the 10th Circuit Court of Appeals that Utah's similar ban is unconstitutional.
As Colorado is one of the other states within the 10th Circuit, the ruling is binding precedent in the district court in Colorado, where a lawsuit challenging the state's ban was filed on Tuesday.
In Wednesday's filing, Colorado Gov. John Hickenlooper, who supports marriage equality, joined Suthers in asking the federal court to strike down the state's ban on same-sex marriages — but, in doing so, also to enter a stay stopping same-sex couples from marrying at this time.
The newly filed lawsuit could thus reach a quick, although indefinite, resolution. The move, though, also is Suthers's best way of seeking a clear legal basis for stopping Boulder County Clerk Hillary Hall from issuing marriage licenses to same-sex couples — something she has been doing for the past week.
Hickenlooper and Suthers disagree about whether the 10th Circuit Court of Appeals was correct in striking down Utah's similar ban last week. In the Wednesday filing in federal court, though, they both agree to a ruling from the trial court that the appellate ruling in the Utah case means that Colorado's ban also is unconstitutional.
"[T]he Defendants do not oppose the entry of a preliminary injunctive relief in favor of the Plaintiffs based on their constitutional claims at this time," Suthers wrote, adding, however, that they wish for that injunction "to be stayed pending until all final appeals in the [Utah] case are resolved."
Suthers then noted the state defendants' differing positions in the case: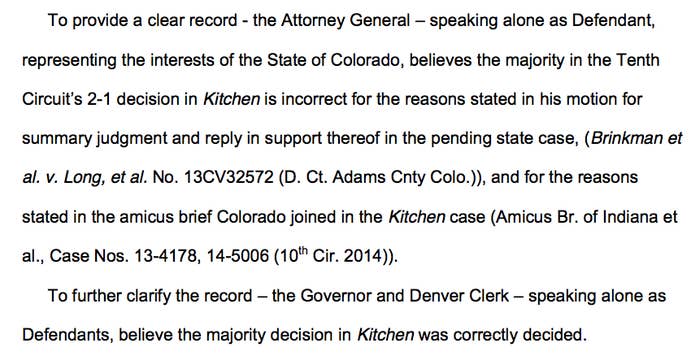 Suthers's office has been going back and forth with Boulder County officials in recent days over Clerk Hall's decision to begin issuing marriage licenses to same-sex couples following the 10th Circuit's decision.
Attorney Jean Dubofsky, who successfully argued against the constitutionality of Colorado's anti-gay Amendment 2 in Romer v. Evans, also put the attorney general's move Wednesday in the context of the pending state marriage cases, in comments to the Daily Camera.
"It's like he's seeking some sort of pretrial relief in the federal case in Denver, and trying to forestall a ruling by the Adams County District Court," Dubofsky said. "If I were the federal district court judge in Denver, I would say, 'Wait a minute, this case hasn't even gone anywhere yet. Why am I being asked to stay everything?'"
According to the Daily Camera, "Dubofsky theorized that Suthers is very concerned about the pending Adams County ruling, and, 'He knew he wouldn't get anywhere in Adams County initially, so he went into federal court.'"
The state's proposed "stay and preliminary injunction" in the case: