This Is How Politicians Are Reacting To The Orlando Gay Nightclub Shooting
Donald Trump said he "appreciate[s] the congrats for being right on radical Islamic terrorism."
WASHINGTON — In the wake of Sunday's deadly mass-shooting at the Pulse gay nightclub in Orlando, Republican presidential candidate Donald Trump tweeted that the shooting was a sign he was "right on radical Islamic terrorism."
The shooting, which left 50 dead and more than another 50 injured, took place at a Latin night at the gay club.
Sen. Bill Nelson of Florida said the intelligence community believes the shooter, Omar Mateen, had connections to ISIS.
After Obama's speech, Trump continued with his tweets, mentioning in one tweet the arrest in Los Angeles of a man arrested with weapons who reportedly told police he was headed to the L.A. Pride festival. Trump also retweeted a person who said the country would be in "so much trouble" if Hillary Clinton became president.
He also released the following statement:
Last night, our nation was attacked by a radical Islamic terrorist. It was the worst terrorist attack on our soil since 9/11, and the second of its kind in 6 months. My deepest sympathy and support goes out to the victims, the wounded, and their families.

In his remarks today, President Obama disgracefully refused to even say the words 'Radical Islam'. For that reason alone, he should step down. If Hillary Clinton, after this attack, still cannot say the two words 'Radical Islam' she should get out of this race for the Presidency.

If we do not get tough and smart real fast, we are not going to have a country anymore. Because our leaders are weak, I said this was going to happen – and it is only going to get worse. I am trying to save lives and prevent the next terrorist attack. We can't afford to be politically correct anymore.

The terrorist, Omar Mir Saddique Mateen, is the son of an immigrant from Afghanistan who openly published his support for the Afghanistani Taliban and even tried to run for President of Afghanistan. According to Pew, 99% of people in Afghanistan support oppressive Sharia Law.

We admit more than 100,000 lifetime migrants from the Middle East each year. Since 9/11, hundreds of migrants and their children have been implicated in terrorism in the United States.


Hillary Clinton wants to dramatically increase admissions from the Middle East, bringing in many hundreds of thousands during a first term – and we will have no way to screen them, pay for them, or prevent the second generation from radicalizing.

We need to protect all Americans, of all backgrounds and all beliefs, from Radical Islamic Terrorism - which has no place in an open and tolerant society. Radical Islam advocates hate for women, gays, Jews, Christians and all Americans. I am going to be a President for all Americans, and I am going to protect and defend all Americans. We are going to make America safe again and great again for everyone.


- Donald J. Trump
Hillary Clinton, the presumptive Democratic nominee for president, released a statement on Sunday afternoon:
I join Americans in praying for the victims of the attack in Orlando, their families and the first responders who did everything they could to save lives.

This was an act of terror. Law enforcement and intelligence agencies are hard at work, and we will learn more in the hours and days ahead. For now, we can say for certain that we need to redouble our efforts to defend our country from threats at home and abroad. That means defeating international terror groups, working with allies and partners to go after them wherever they are, countering their attempts to recruit people here and everywhere, and hardening our defenses at home. It also means refusing to be intimidated and staying true to our values.

This was also an act of hate. The gunman attacked an LGBT nightclub during Pride Month. To the LGBT community: please know that you have millions of allies across our country. I am one of them. We will keep fighting for your right to live freely, openly and without fear. Hate has absolutely no place in America.

Finally, we need to keep guns like the ones used last night out of the hands of terrorists or other violent criminals. This is the deadliest mass shooting in the history of the United States and it reminds us once more that weapons of war have no place on our streets.

This is a time to stand together and resolve to do everything we can to defend our communities and country.
The remarks echoed those that President Obama made from the White House press briefing room earlier in the afternoon.
Clinton and Obama have postponed a planned campaign rally together that had been scheduled for Wednesday, BuzzFeed News has learned.
Following Trump's release of his statement, Clinton campaign communications director Jen Palmieri issued a statement, saying, "This act of terror is the largest mass shooting in American history and a tragedy that requires a serious response. Hillary Clinton has a comprehensive plan to combat ISIS at home and abroad and will be talking to the American people in the coming days about steps she would take to keep the country safe."
Addressing Trump directly, Palmieri added, "In contrast, Donald Trump put out political attacks, weak platitudes and self-congratulations. Trump has offered no real plans to keep our nation safe and no outreach to the Americans targeted, just insults and attacks. In times of crisis more than ever, Americans are looking for leadership and deserve better."
Clinton, earlier Sunday morning, had tweeted that she was waiting on more information, but called the attacks "horrific." About a half-hour later, Clinton also tweeted a Spanish-language version of the tweet.
On Meet the Press, Sen. Bernie Sanders, who continues to compete against Clinton for the Democratic nomination, pointed to sales of "automatic weapons" as a focus in the aftermath of the shooting.
"It's horrific, it's unthinkable. And just hopes go out to all those who were shot that they can recover," Sanders said. "We should not be selling automatic weapons which are designed to kill people. We have got to do everything that we can on top of that to make sure that guns do not fall into the hands of people who should not have them, criminals, people who are mentally ill."
In a statement, Sanders added, "[W]e extend our heartfelt condolences to the victims' families and loved ones and our thoughts are with the injured and the entire Orlando LGBTQ community."
House Speaker Paul Ryan released a statement on Sunday evening, saying, "It is horrifying to see so many innocent lives cut short by such cowardice. Tonight, and in the long days ahead, we will grieve with the families. We will thank the heroes. We will hope for a swift recovery for the injured."
He added: "As we heal, we need to be clear-eyed about who did this. We are a nation at war with Islamist terrorists. Theirs is a repressive, hateful ideology that respects no borders. It is a threat to our people at home and abroad. Our security depends on our refusal to back down in the face of terror. We never will."
In a statement released earlier in Sunday, Ryan's Senate counterpart, Majority Leader Mitch McConnell, said, ""The nation's prayers are with the victims and their families in the wake of this terrible tragedy. We thank the citizens and first responders who helped rescue and save lives amidst horror and chaos. We will continue to monitor developments from local law enforcement and the FBI to determine the exact nature of this crime and whether it was connected to international terrorist groups."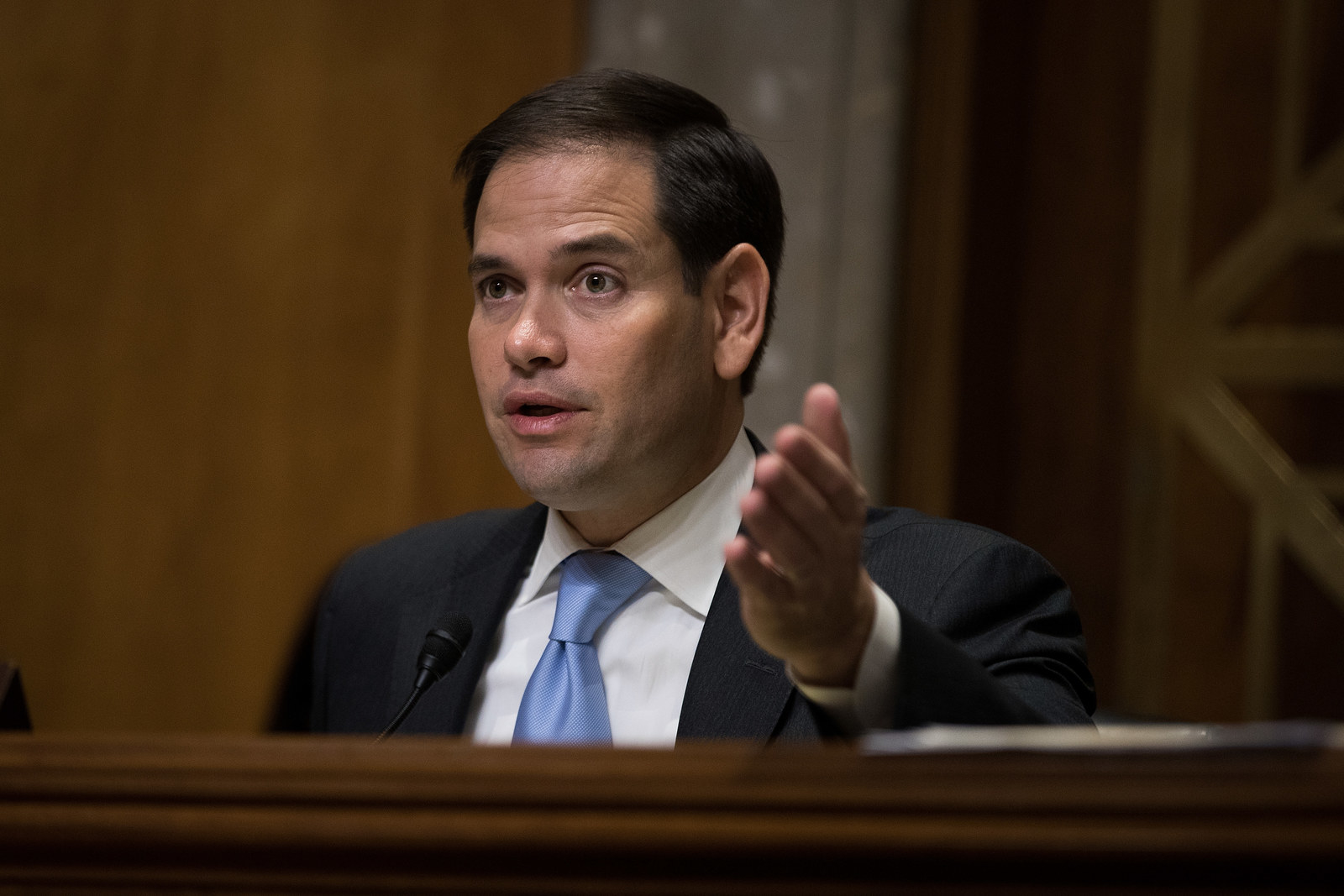 Florida Sen. Marco Rubio, who had run against Trump for the Republican presidential nomination, referred to the shooter's "warped ideology" in speaking about the attacks on Sunday afternoon.
"They seek to intimidate us, they seek to terrorize us," he said, adding, "They will not win" — specifically noting that this will be so, regardless of "sexual orientation."
Earlier, Rubio had called the killings a "horrifying act of terror" and urged locals to donate blood. Significant lines at blood donation centers were seen in the area on Sunday — despite the ongoing ban on blood donations from gay men who have had sex with men in the prior year.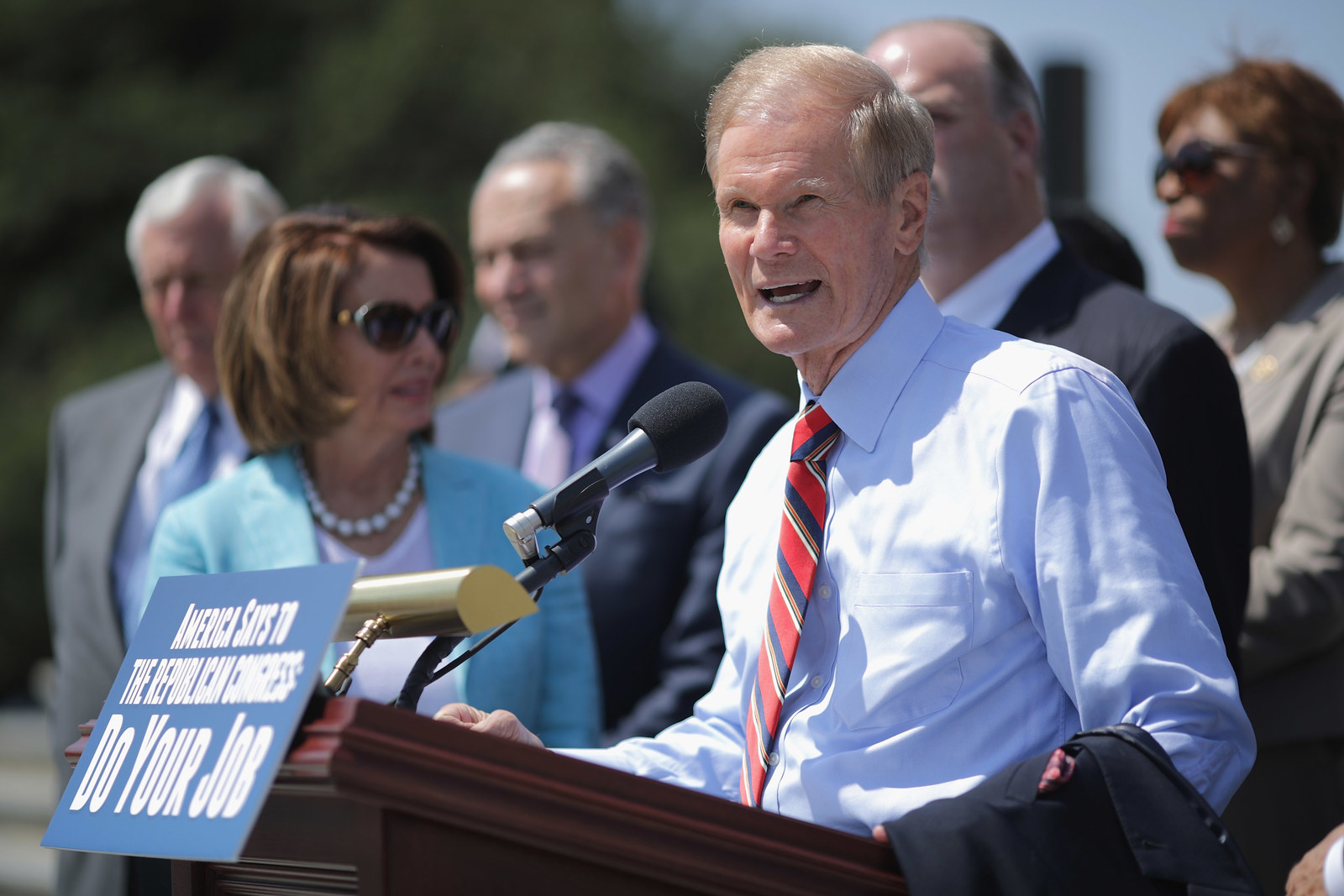 Florida Sen. Bill Nelson released a statement early on Sunday afternoon, saying, "Our thoughts and prayers go out to the families of all the victims of this horrific attack in Orlando."
He added: "I have spoken with the FBI and there appears to be a link to Islamic radicalism. I have conferred with additional sources and they think there is likely a connection with ISIS. So as we all mourn the senseless loss of life and investigators continue to learn more, we must remain vigilant and remember that if you see something, say something."
Florida Gov. Rick Scott, in a Sunday afternoon news conference, said, "This is clearly an act of terror. He called for a moment of silence at 6 p.m. Sunday.
Of the attack, he said, "I want to thank the law enforcement, especially those who walked into that shooting scene to save people."
Scott also issued a warning, saying, "Anyone who is thinking about doing this in our state, our justice is swift, our penalties are severe."
Florid Attorney General Pam Bondi, also speaking at the news conference, expanded on those remarks, saying, "Anyone who attacks our LGBT community, anyone who attacks anyone in our state, will be gone after with the full extent of the law."