There Have Been 8 Executions In The U.S. In 2014 — And The Victim In Every Case Was White
"You're much more likely to get the death penalty if you kill a white person than if you kill a black person — even controlling for the crime differences." Two more executions are scheduled for Wednesday; both people were convicted of murdering white victims.
WASHINGTON — In 2014, eight people have been executed in the United States.
Three were white, three were black, and two were Hispanic; one of the eight was a woman; they were executed in five different states; they ranged in age from 38 to 62.
All had one thing in common: Their victims were white.
Despite the fact that about three-quarters of executions involve cases with white victims, only about half of the murder victims in the country are white — a fact that reflects longstanding questions about the many ways in which race plays a role in the death penalty.
"It's not surprising because it's been a consistent problem, and it hasn't gone away," Richard Dieter, the executive director of the Death Penalty Information Center, told BuzzFeed. "Executions involving minority victims are rarer, and it's only February, so I wouldn't read too much from eight in a row — but it does illustrate that this is a continuing problem. These are just raw numbers, but even when you control for the severity of the crime ... it's still a bias in the system."
The next two executions in the U.S. are scheduled for Wednesday — both are black men, Michael Taylor and Paul Howell — convicting of killing white people.
If those executions go forward, 5 of the 10 executions in 2014 will have been of black men. All 10 executions will be for killing white people.
"It was brought up, with careful research to the U.S. Supreme Court, and in a very close vote, 5-4, the court said, 'We accept this evidence, but we still don't find it enough to overturn the death penalty,' and so there it sits," Dieter explained.
More than 25 years ago, the Supreme Court considered and rejected concerns about the racial disparities in the application of the death penalty.
In the challenge to the system, lawyers for Warren McCleskey, a black death-row inmate in Georgia, presented the findings of a study that examined more than 2,000 murder cases in Georgia during the 1970s. Defendants charged with killing white persons received the death penalty in 11% of the cases, but defendants charged with killing blacks received the death penalty in only 1% of the cases.
"The raw numbers also indicate a reverse racial disparity according to the race of the defendant: 4% of the black defendants received the death penalty, as opposed to 7% of the white defendants," the court noted of the study. Defendants charged with killing white victims were 4.3 times as likely be executed as those charged with killing black victims, according to the study.
The court decided that the study indicated a "discrepancy that appears to correlate with race," but that "apparent disparities in sentencing are an inevitable part of our criminal justice system."
The court ultimately ruled that the study did not "demonstrate a constitutionally significant risk of racial bias affecting the Georgia capital sentencing process."
Regardless of the Supreme Court's decision about the constitutionality of the reality, Dieter said, it's still the reality: "You're much more likely to get the death penalty if you kill a white person than if you kill a black person — even controlling for the crime differences."
And the issue does find its way forward every few years. As the New York Times wrote in 1995, "About half of all the people who are murdered each year in the United States are black. Yet since 1977, when a firing squad in Utah initiated the modern era of capital punishment, the overwhelming majority of people who have been executed — 85% — had killed a white person."
Although that statistic has become slightly less extreme — as of now, 76% of those executed since the death penalty was reinstated killed a white person — Dieter said, "To say that race is no longer a problem and doesn't effect the criminal justice system or the death penalty system in particular would be to have blinders on."
Structural components of the capital sentencing process play a role in the disparity, Dieter and said University of North Carolina-Chapel Hill law professor Rob Smith — like the race of juries and other factors.
"Juries come from middle America, and we all still have biases," Dieter said. "And, in particular, juries are picked a special way in death penalty cases so there's always going to be less blacks on the jury. The jury is composed of people who support the death penalty, and that tends to be more white, more men, more older, more conservative than a jury of your peers. "
"We don't get juries as diverse as our general population because of the way juries are picked in death penalty cases," he said. The jury selection process eliminates people who outright oppose the death penalty. Statistically, he said, that means juries in capital cases have fewer African-Americans, Catholics, and women — groups that generally have less support for the death penalty.
"It makes these juries not only more likely to impose the death penalty, but more likely to convict them as well," Dieter said.
As Smith put it, "You have all of these 'empathy' questions. You have a mostly white jury — and all of them have said, 'Yes, I could give the death penalty to somebody' — you've already cut out millions of people [who would never give the death penalty]. You're left with a mostly white, mostly conservative jury pool and a white victim, and then they're given victim impact evidence."
Dieter went further, saying, "If you had a diverse jury, they might see things differently."
But those who question whether racism causes the disparity, Smith said, raise two arguments, including how capital cases are prosecuted.
When prosecutors determine the sentencing they will pursue in a capital case, they often work with the families of victims. "Most of black victims have black offenders, and support for the death penalty is just so much lower in those communities, so you can imagine that prosecutors who are relying on victims' family members are — that makes a difference," he said.
Although it can be related to race, another factor that comes into play even before prosecution itself, Smith said, is the concept of "stranger danger." Particularly in cross-race cases, he said, "a lot of what the race of the victim effect is getting is 'stranger danger' — crimes where, spacially, there is perceived to be a threat from the inner-city coming into a neighborhood where there is not a terrible lot of crime."
But, once prosecution has begun, he said, "The more powerful and influential victims' families are ... in the community, the more likelihood prosecutors pay attention to what you say."
And, with regards to Dieter's point about the composition of juries, Smith pointed to retired Justice John Paul Stevens' comments in a 2008 death penalty case that he had reached the conclusion "that the process of obtaining a 'death qualified jury' is really a procedure that has the purpose and effect of obtaining a jury that is biased in favor of conviction."
Dieter, though, also pointed to what he sees a secondary problem with that.
"It not only makes for an unfair trial, but it excludes people from a badge of citizenship," he said. "It's like going to the voting booth, and saying, 'You can't vote because you support Obamacare, or you can't vote because you have religious views that are unacceptable to us.' We would never allow that.
"We would never allow that part of citizenship to be excluded, but we do allow people to be struck from serving on juries because of their moral or political views, and that tends to hurt minorities more than whites, it tends to hurt women more than men," he went on. "We're not just hurting defendants and skewing the system, but we're also depriving citizens of basic rights and that's something not always recognized."
Fighting against perceived racial or other disparities in the death penalty is difficult, Smith said, noting that the cases concern people who have already committed a homicide — and the racial issue can become an aggravating factor.
"If you raise the issue of race, especially among white citizens," Dieter said, "the problem is that you're still talking about a guilty person — guilty of a horrendous crime, so, if race entered into and they're still guilty, it's not as moving — it doesn't change minds."
Having lost those arguments at the Supreme Court, though, Dieter said the public presentation has taken a different — and, arguably, more successful — tack.
"If you approach it as a question of fairness, Americans are concerned about fairness in the death penalty, and a large chunk — about 40% of Americans in the Gallup poll — think the death penalty is administered unfairly. That's a large percentage," he said. "That unfairness is eating away at the death penalty."
And, despite the two executions scheduled for this week, recent numbers and trends across the nation bear that out.
Only 10 states have conducted more than two executions in the past five years:
The number of executions and death sentences are on the downswing: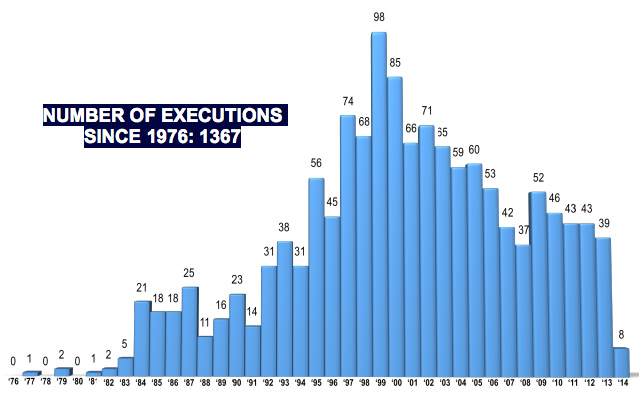 Only nine states held an execution in 2013: