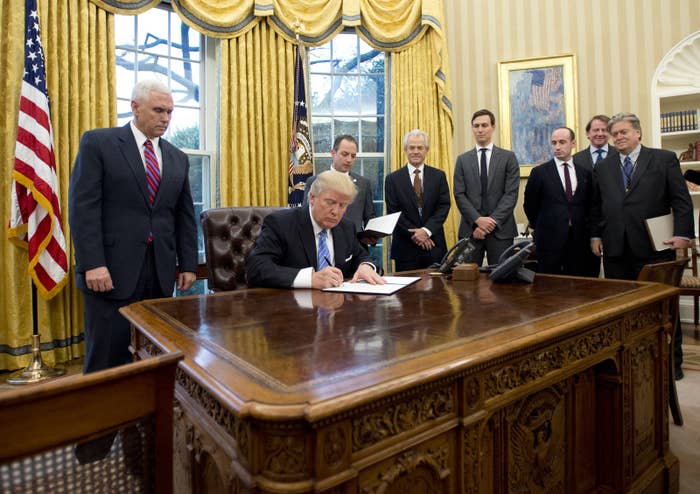 WASHINGTON — On Friday night, the White House began publicly releasing financial disclosure forms for senior officials in the Trump administration.
A handful of staff — like Jared Kushner, President Trump's son-in-law and senior adviser, and Gary Cohn, the former Goldman Sachs president who is now the National Economic Council director — are very rich. Some — like White House senior strategist Steve Bannon — are merely wealthy. Others made incomes in the low six-figures before joining the White House.
Rather than posting the disclosure forms online, however, news outlets had to specify — one by one — which staffers' forms they wanted to receive. The White House later began emailing them to requesting publications.
And so, as the night wore on, reporters — and the public — learned a little bit more about the team Trump has brought into the White House.
Bannon made more than $1,000,000 last year — with $191,000 coming from Breitbart and more than $490,000 coming from Bannon Strategic Advisors, Inc., but with significant amounts coming from several other enterprises. For example, Bannon received $100,000 from Citizens United Production IV, LLC, for "director fees." He made more than $125,000 in "consulting fees" from Cambridge Analytica LLC, and more than $160,000 came from Glittering Steel, a production company that the Daily Beast previously connected to Bannon.
Ivanka Trump's business trust alone is worth more than $50 million, the 54-page disclosure form filed by Jared Kushner revealed.
Kellyanne Conway, one of the president's most recognizable advisers, made more than $800,000 from her polling and consulting firm, inc./Woman Trend, according to her disclosures.

President Trump's social media adviser, Dan Scavino, made $300,000 over the past year before joining the White House — through his work on the Trump campaign and transition and other political consulting work.
KT McFarland, the deputy national security adviser who had previously been a Fox News analyst, made a little more than $60,000 from the cable news station — but more than double that from paid speeches (which came in about $10,000 a speech, on average) and a $42,500 book advance.