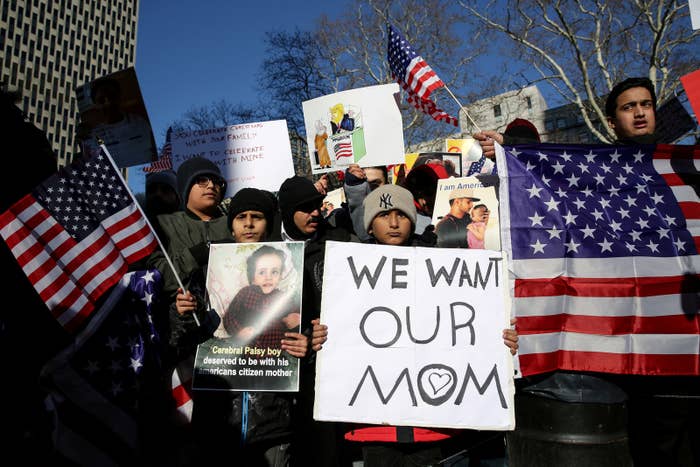 The Supreme Court will hear a challenge to President Trump's third attempt at his travel ban, the court announced on Friday.
The travel proclamation, signed in September, limited travel to the United States from eight countries — six of which are Muslim-majority nations. It was Trump's third attempt to limit travel to the US; the first two — which were executive orders — faced significant pushback from federal courts, although the Supreme Court ultimately allowed the second one to go into effect in part.

A district court had halted enforcement of the September ban nationwide in a lawsuit brought by Hawaii, but the Supreme Court issued an order allowing the Trump administration to enforce the ban while the administration appealed the ruling — a sign that a majority of the court believed the proclamation is likely, but not certain, to be found to be lawful.
In late December, the US Court of Appeals for the 9th Circuit ruled against the travel proclamation, upholding the lower court's injunction in part and setting up the Justice Department's request for Supreme Court review.
In addition to the questions raised in the Justice Department's brief of whether the case is justiciable (i.e. whether it can even be heard by the courts), whether the proclamation is allowed under federal immigration law, and whether the "global injunction" is too broad, the justices also asked the parties to "brief and argue" a question raised by Hawaii: whether the proclamation violates the Establishment Clause.
The case is to be argued in April, with a decision expected by June.
A second case challenging the travel proclamation also is pending before the US Court of Appeals for the 4th Circuit, but given the stay from the Supreme Court and the fact that there is no opinion yet from the 4th Circuit, that case — brought by the ACLU — would seem to have taken a backseat to the Hawaii challenge.
The travel ban case, Trump v. Hawaii, was the only new case granted by the court on Friday.
Among other cases before the justices at their private conference on Friday, the court gave no notice of whether it would take up the Justice Department's request to review a ruling from the US Court of Appeals for the DC Circuit in the first challenge from an undocumented minor who was seeking an abortion while detained by federal officials.