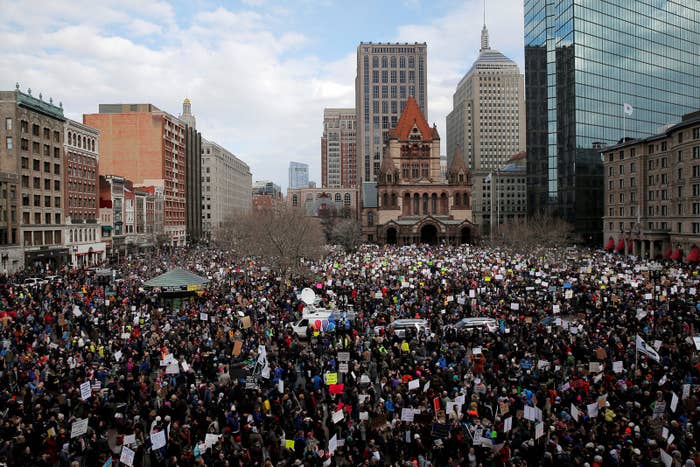 WASHINGTON — President Trump's decision to proceed with his expansive executive order restricting immigration at the end of his first week in office has turned into a massive legal battleground that will shape the consideration of any Supreme Court nominee.
The order ran into legal trouble almost immediately, with several federal courts and key Republicans pushing back in the 48 hours that followed. From here, federal district court rulings overnight Saturday are likely to be appealed, spurring a rolling series of legal debates about one of the first actions taken by President Trump.
And it's about to get more complicated. Trump will now nominate a Supreme Court pick in the midst of a national debate over the powers of a chief executive who is drawing sharp criticism from Democrats and Republicans — including senators who will be holding hearings and voting on his nominee. That justice will provide a crucial vote on the highest-stakes cases in the country — and could wind up ruling on elements of the executive order.
At least three of the Republicans on the Senate Judiciary Committee — Sens. Lindsey Graham, Jeff Flake, and Ben Sasse — already have criticized aspects of the order.
Amid reports that there was little to no vetting of the order in advance of Trump signing it, the question is what the legislative and judicial branches will do in response. Senate Majority Leader Mitch McConnell on Sunday made clear that the judiciary is now front and center, saying on ABC's This Week, "The courts are going to determine whether this is too broad."
In the midst of this fight, it appears that Trump is going to attempt to change the conversation by making a new headline. On Sunday afternoon, ABC's Jonathan Karl reported that the White House was considering announcing Trump's Supreme Court nominee as soon as Monday. (Per Karl, two appeals court judges — Neil Gorsuch and Thomas Hardiman — are Trump's finalists.)
With the attention already on the courts and their role, however, the nomination, rather than changing the conversation, could crystallize and focus the debate.
In the space of a week, Trump has gone from having the opportunity to begin an administration with a legacy-setting nomination to pushing someone right into a debate about the power of the executive — and potentially changing how that Supreme Court nominee gets introduced to and scrutinized by the United States Senate.