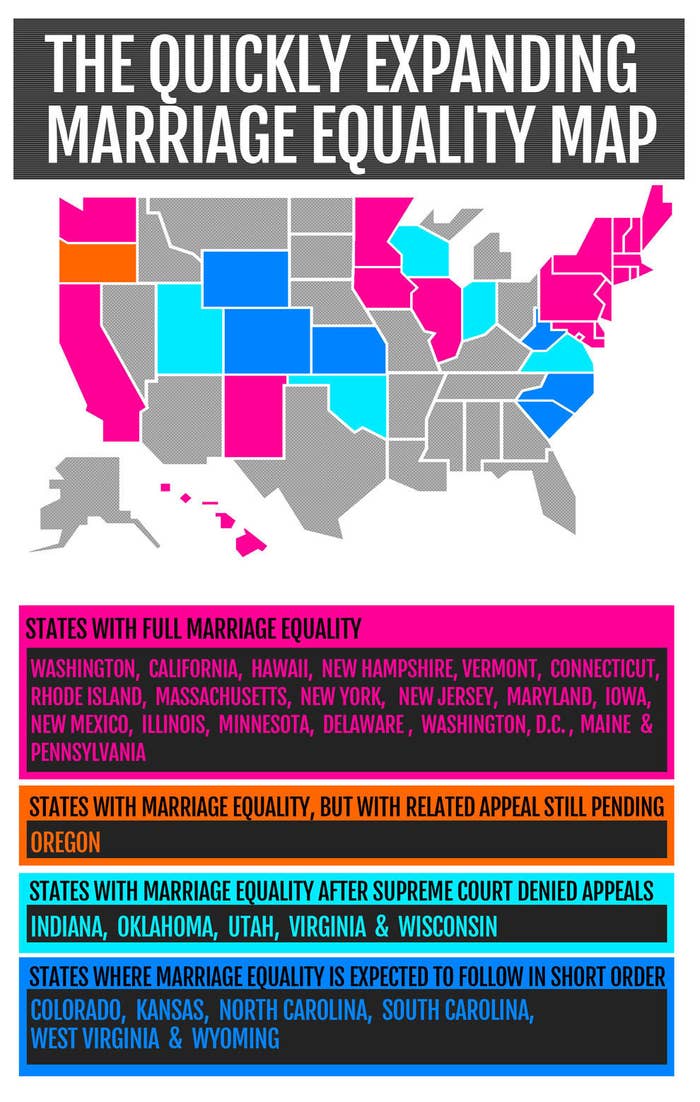 WASHINGTON — Americans in 30 states and Washington, D.C., will be allowed to marry someone of the same sex by the time the fallout from Monday's Supreme Court decision not to hear any of the pending marriage equality cases is done.
That result was not expected — but the impact is immediate. From Utah's Republican governor to Virginia's Democratic governor, the Supreme Court's decision not to decide meant that the governors on Monday were ushering in marriage equality to their respective states.
Marriage equality is now the law in Indiana, Oklahoma, Utah, Virginia, and Wisconsin after the Supreme Court's decision — joining the 19 states and Washington, D.C., where marriage equality already was the law.
What's more, the wider impact is already being seen for states within the three federal appeals court circuits involved in Monday's non-decision. Because the precedent in those circuit courts is that marriage bans are unconstitutional, the bans in other states within those circuits are expected to be ruled unconstitutional in short order, too.
Republican Colorado Attorney General John Suthers said in a statement, "By choosing not to take up the matter, the court has left the 10th Circuit ruling in place. ... Once the formalities are resolved, clerks across the state must begin issuing marriage licenses to all same-sex couples."
The other states still without marriage equality in the 4th Circuit and 10th Circuit courts of appeals — Kansas, North Carolina, South Carolina, West Virginia, and Wyoming — are expected to follow suit as soon as a court issues a judgment enforcing the circuits' rule that such bans are unconstitutional. No other states are affected in the 7th Circuit Court of Appeals; the only state not involved in the litigation is Illinois, which already has marriage equality.
Pennsylvania is in the "full marriage equality" grouping, as a clerk's appeal of the trial court's denial of that clerk's intervention request was denied in August and the mandate was issued in that appeal. An earlier version of the map incorrectly categorized the state.