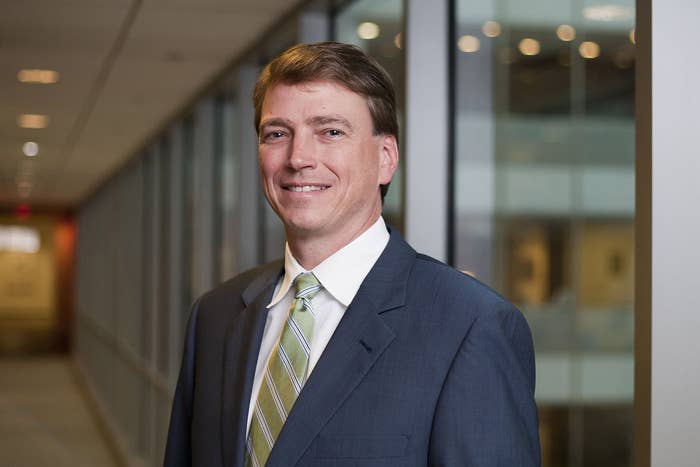 WASHINGTON — Doug Hallward-Driemeier's first run-in with legal questions about marriage recognition came after he married his wife almost 19 years ago in Canada.
The couple changed their names — combining them into one, hyphenated surname — then returned to Massachusetts where Hallward-Driemeier expected resistance. He expected even that he might get to file a case, to sue for the right to change his name.
"I marched into the drivers' license bureau … with my Canadian marriage certificate — just ready for them to say, 'You can't change your name, you're a man,'" he said. "But, no, they were just fine."
Forty-five years ago next month, another trip to another government office ended very differently. Richard Baker and James McConnell, two gay men, went to a Minnesota court clerk to ask for a marriage license. They were denied the license, sued, and lost — all the way up to the U.S. Supreme Court, which dismissed their appeal in Baker v. Nelson as lacking any "substantial federal question."
Now, later this month, Hallward-Driemeier will be one of two lawyers arguing on behalf of same-sex couples at the Supreme Court in the big marriage cases. He will be focused on the marriage recognition question before the court: "Does the Fourteenth Amendment require a state to recognize a marriage between two people of the same sex when their marriage was lawfully licensed and performed out-of-state?"
And though he knows the case will not be as easy as his driver's license change, he, like most observers, believes the court will find that marriage and marriage recognition bans are unconstitutional.
The lawyer who will argue the marriage equality question, Mary Bonauto from Gay & Lesbian Advocates & Defenders, has worked on these kinds of cases since the 1990s, when she was part of the team that brought a marriage case in Vermont that led to the country's first civil unions.
A partner in the Washington, D.C., office of Ropes & Gray, an international firm with more than 1,000 lawyers, Hallward-Driemeier is unknown to most of the LGBT community — but the place where he is well known is the Supreme Court. He has argued 15 cases before the court — as recently as last week.
The Harvard Law School graduate spent more than a decade working for the Justice Department — including more than five years in the Solicitor General's Office, which argues regularly before the Supreme Court. Since re-joining Ropes & Gray in 2010, Hallward-Driemeier has played a quieter role in support of LGBT rights, working on amicus briefs advancing LGBT interests in cases ranging from immigration to health care to prison abuse. And, in 2013, with him as counsel of record, Ropes & Gray filed a brief for the Anti-Defamation League and others in United States v. Windsor — the challenge to the Defense of Marriage Act.
But his direct involvement with the marriage cases came up only in November 2014.
"I recall distinctly," he said. "I was driving home, it was a Friday evening, and I got an email. I was stopped at a red light — and it was from Chris Stoll."
Stoll is an attorney at the National Center for Lesbian Rights, which has been working on the Tennessee marriage recognition case. The day before, on Thursday, Nov. 6, the 6th Circuit Court of Appeals had upheld Tennessee's ban on recognizing same-sex couples' marriages, along with marriage and marriage recognition bans in Kentucky, Michigan, and Ohio. Hallward-Driemeier and Stoll also have a long history — the friends both went to DePauw University, then Harvard Law School.
I haven't heard from Chris in a long time, Hallward-Driemeier said he remembered thinking as he saw the name pop up in his inbox.
"What are you doing for the next week?" the message read.
"I stopped the car, and I called him back right away," Hallward-Driemeier said. "One does not turn down a chance to be a part of [this]. So, that's when I got involved."
While he said everyone thought the justices were likely to take up the marriage issue, he added, "We wanted to make sure that we were thinking about the schedule right and how are we going to pitch this."
One of the key arguments to the justices, who first had to decide whether to take the case at all, was the positioning of the case, Hallward-Driemeier said.
"It was really the 6th Circuit who had forced this on the Supreme Court," he explained. "We had a section of the brief that was focused on Baker v. Nelson, and the 6th Circuit's treatment of that" case, which concerned the Minnesota couple in 1970.
"I just thought that was so disingenuous to suggest that somehow they were controlled by Baker v. Nelson, and only the Supreme Court can do this," he said of the November 2014 decision, countering that constitutional law — from sex discrimination to privacy law and from marriage rights to gay rights — had changed so fundamentally since Baker and McConnell brought their marriage case in the 1970s. "Well, the 6th Circuit has said to you, Supreme Court, that only you can do this. We didn't think that was so."
Once the court accepted the cases from all four states out of the 6th Circuit in January, Hallward-Driemeier said, it was the same-sex couples' stories that really got to him.
"You read their stories, and they are everyone," he said. "They are the couple who marry in California in 2008, adopt two children in 2009, one of the spouses takes time off to be the primary caregiver, the other spouse — the primary breadwinner — works for a large, international law firm who is outsourcing my transferring administrative offices to Tennessee. That is the world we live in. That could be anybody. And yet, they arrived there, having done everything they're supposed to do, and yet they're told, 'No, your marriage is not going to be respected, does not exist here.'"
After having filed their first brief with the court last month, Hallward-Driemeier and all of the teams arguing against the bans will file their last brief with the justices by April 17. Then, Hallward-Driemeier and Bonauto will prepare for April 28.
"There are folks who have their entire practice devoted to civil rights litigation — or even LGBT civil rights litigation versus folks who understand the Supreme Court. How do you weigh that?" he said of the complicated path that led to him and Bonauto arguing, noting that "have an overabundance of riches" in terms of lawyers who could have argued before the justices. "Well, maybe if you have folks with each different background do it, those different perspectives — who knows which is going to speak to the justices?"
As to his plan for April 28, he said he hopes to "be able to go to where the justices' concerns or questions or comments suggest" — a chance he will have since he will take to the podium 90 minutes into the two-and-a-half hours of arguments.
While he said that the recognition question presents "a distinctive harm" to his clients because it amounts to Tennessee "destroy[ing], as a legal matter, families and marriages that have already been created," he also said he does not expect the court to reach different answers on the two issues because "the arguments that the states have made are the same on both" questions.
"One of the things that I hope the justices appreciate is that this is not an issue that only affects — we are very clear in our brief that this is not about 'gay marriage' … it's not a different kind of marriage, it's about marriage and about allowing people who love each other to join in that institution," he said. "It's about my family members, my friends, my children. It affects me as it affects others."
More than that, Doug Hallward-Dreiemeier knows that — while there are no cameras in the courtroom — the audio set to be released that day will be listened to by same-sex couples across the country, looking for signs about whether they will be able to marry or have their marriage recognized elsewhere once a decision comes down.
"It is a huge, huge honor," he said, "and I sense the hopes and aspirations of so many people that are at stake here. That's something I carry with me. And I'm just going to do everything I can."