The Judge In The Kentucky Clerk Case Is Making The Situation Worse
In Kentucky, U.S. District Court Judge David Bunning has issued — or not issued — a series of orders and statements in the Kim Davis case that have left major questions about what he means.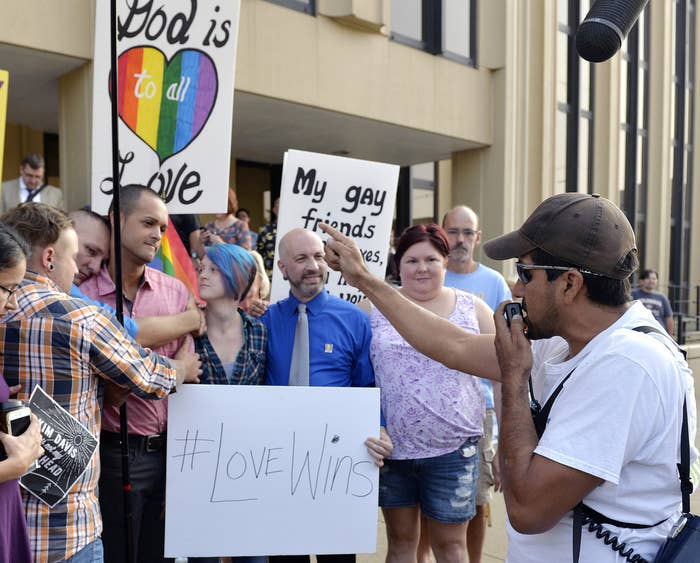 WASHINGTON — The situation is fraught. An elected official is refusing to follow the Supreme Court's marriage ruling, as well as a subsequent court order that her religious convictions do not exempt her from the ruling.
U.S. District Court Judge David Bunning, however, isn't making the situation in Kentucky any easier, issuing a series of vague or incomplete rulings over the past month that have added an element of confusion — even, at times, mystery — to the already precarious situation.
After the Supreme Court ruled in favor of nationwide marriage equality, Rowan County Clerk Kim Davis put into place her "no marriage licenses" policy — a response to her opposition to her name appearing on same-sex couples' marriage licenses. Four couples sued, and Davis was asked to defend the policy.
Judge Bunning — former Sen. Jim Bunning's son — was assigned to hear the case.
Fourteen years ago, when the Senate considered Bunning's nomination to the bench by President George W. Bush, the American Bar Association rated him "Not Qualified" for his appointment in 2001.
"President Bush has submitted to the Senate the names of 64 nominees for judicial appointment, and our Committee has found only this one candidate to be 'Not Qualified,'" the lawyer who ran the ABA investigation of Bunning, David C. Weiner, stated at the time. Neither his integrity nor his judicial temperament were questioned. "Rather, our conclusion that the nominee should be rated 'Not Qualified' is based on several, serious concerns relating to his competence."
Nonetheless, the Senate confirmed Bunning in February 2002. Now, he's found himself in the middle of the biggest story in the country — and, putting aside ideology on either side, his legal rulings over the past month have created substantial confusion in an already politically complex case.
On Friday morning, Davis woke up in jail and couples began getting marriage licenses in Rowan County for the first time since the Supreme Court ruled that Kentucky's ban on same-sex couples' marriages is unconstitutional. While both of those decisions might ultimately be correct, there is, as of now, no written explanation for why either of those things is happening — and at least one of them rested on shaky legal ground that could come back to hurt the couples marrying on Friday, a fact acknowledged by Bunning on Thursday.
Although five of Davis's deputies have stated that they would issue marriage licenses, at least two — through their lawyers — questioned whether they would have the authority to do so.
"Whether a license issued by the Rowan County Clerk's Office is valid or not," Bunning said in court, "I am not saying it is or it isn't."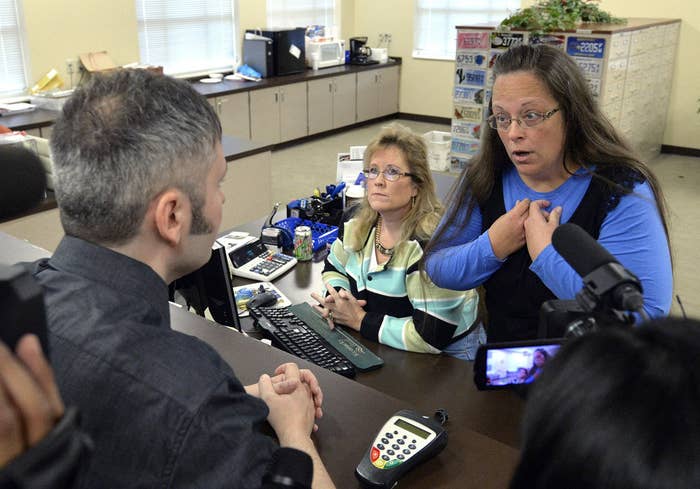 How we got to this point is complex, even to lawyers who have closely followed the marriage cases, and the orders from Bunning have only added to the confusion.
On Aug. 12, Bunning issued an order that Davis stop the policy, specifically ordering that "Defendant Kim Davis, in her official capacity as Rowan County Clerk, is hereby preliminarily enjoined from applying her 'no marriage licenses' policy to future marriage license requests submitted by Plaintiffs."
The confusion started five days later. Davis requested that the ruling be put on hold — or stayed — while she appealed it. Bunning denied her request.
He added, however, that "this Order denying Kim Davis' Motion to Stay be, and is, hereby TEMPORARILY STAYED pending review of Defendant Davis' Motion to Stay (Doc. # 45) by the Sixth Circuit Court of Appeals."
What does that mean? It's not exactly clear. Lawyers on the case disagreed, as did lawyers around the country who have been following marriage cases for years. If Bunning had just denied her request, it would mean that he was keeping the preliminary injunction in effect — or, in other words, Davis would have to stop her "no marriage licenses" policy immediately. But then Bunning added the second part. Taken literally, Bunning temporarily put on hold his own denial, which does nothing since his injunction, issued five days earlier, would still be in effect.
Earlier in the opinion, Bunning wrote that he was staying the denial order "in recognition of the constitutional issues involved, and realizing that emotions are running high on both sides of the debate." That strongly suggests what he meant to do was to put a temporary hold on his injunction until the 6th Circuit Court of Appeals could consider whether to put on hold Bunning's order that Davis must issue licenses while she appealed.
Two days later, Bunning attempted to fix that confusion — without directly acknowledging it — while also admitting a second issue with his Aug. 17 order.
In describing the Aug. 17 order, Bunning wrote, "the Court temporarily stayed its August 12, 2015 Order to give the appellate court an opportunity to review, on an expedited basis, the August 17, 2015 Order denying the motion to stay." The Aug. 17 order had not, by its plain language, done that, but Bunning simply wrote on Aug. 19 that that's what his Aug. 17 order meant.
He then admitted that there had been something missing from his Aug. 17 order, writing, "Upon review of Federal Rule of Appellate Procedure 8(a)(2), governing stays of injunctions pending appeal, the Court finds it necessary to set an expiration date for the temporary stay."
As such, Bunning ordered that "the Court's temporary stay of its August 17, 2015 Order shall expire on August 31, 2015, absent an Order to the contrary by the Sixth Circuit Court of Appeals."
When the 6th Circuit denied Davis's request for a stay pending appeal on Aug. 26, that raised a third question. Did the stay denial from the appeals court constitute "an Order to the contrary"?
On Aug. 27, an official in the Rowan County Clerk's Office made their answer to the question clear, denying a couple's request for a marriage license by saying, "There's a stay until the 31st."
On Aug. 28, Davis's lawyers from Liberty Counsel asked the Supreme Court for a stay pending appeal, as well as asking Bunning to extend his temporary stay until the Supreme Court ruled. Bunning denied the request the same day.
Then, with no word from the Supreme Court come the end of Sunday night, Aug. 30, a fourth issue was raised: If the stay expires "on August 31," does that mean the Aug. 12 order would be in effect on Monday morning or is the stay in place through the end of Aug. 31?
Even Davis's lawyers appeared to acknowledge the vagueness of the language, telling the Supreme Court — when attempting to get it to act quickly — that Bunning "stayed the Injunction until August 31, 2015," suggesting the court needed to act before Monday, Aug. 31, to keep a stay in place. When asking Bunning to extend his stay until the Supreme Court ruled on that request, however, they used language suggesting the stay continued into Monday, writing that Bunning "granted Davis a temporary stay of the Injunction Order through August 31, 2015."
With no clarification from Bunning and no answer from the Supreme Court, Monday, Aug. 31, was filled with confusion, with at least one couple seeking and being denied a marriage license — and lawyers uncertain of what the status of the law was.
Then, the Supreme Court weighed in, denying Davis's stay request a little past 7 p.m. And, as August made way to September, the question about the effect of Bunning's language became moot.
With the Aug. 12 order clearly in effect come Sept. 1, officials continued to deny couples marriage licenses in Rowan County — with Davis declaring that her authority to refuse to issue Kentucky marriage licenses came from God.
That, of course, led the plaintiffs' lawyers to file a motion seeking to have Davis held in contempt, which led to Thursday's hearing. Bunning, taking further action than requested by the plaintiffs, ordered Davis to be jailed.
More than 24 hours later, however, there is no entry on the case's docket noting, let alone explaining, his contempt order.
In an afternoon continuation of the Thursday contempt hearing, he also asked the deputy clerks — who Davis had refused to allow to issue licenses because, under state law, they must be issued in the clerk's name — whether they would be willing to issue licenses. When five said under oath that they would be willing to do so, Bunning said that marriages would then be able to start again soon in Rowan County, noting that "the court will continue to have oversight of this matter."
Because state law specifies that only the clerk or, in the clerk's absence, county judge or county executive, can issue marriage licenses in Kentucky, it is not clear what authority the deputy clerks have for issuing licenses. There is a provision in state law permitting deputies of ministerial officers to perform duties of the officer, which some have pointed to as providing authority.
On Friday, marriage licenses were issued in the office of "Rowan County, Rowan County." Prior to June's marriage ruling, they had been issued in the office of "Kim Davis, Rowan County."
There also is a possibility that, under federal court rules, Bunning has effectively "appointed" the deputy clerks to carry out his Aug. 12 order.
But, as with Davis's contempt citation itself, though, Bunning is yet to issue an order explaining his decision.
Update
Additional information about the licenses issued on Friday and an additional possible authority for the issuance of marriage licenses by deputy clerks were added to this article.