This week, all employees at the Health and Human Services Department were required to complete a training session about the dangers of leaking information.
That request, outlined in an email obtained by BuzzFeed News that included a link to a 30-minute video on leaks, was just how one agency fulfilled the Trump administration's latest and broadest crusade against leaks.
Federal agencies and departments held training sessions warning employees about leaks, following guidance from President Trump's national security adviser earlier this month. How many agencies have actually held the trainings is unclear, but the Sept. 8 memorandum from H.R. McMaster — taking aim at both classified and controlled unclassified information — stated that training sessions should take place this week. The memo was first reported by BuzzFeed News.
The Education Department, Commerce Department and, as reported by E&E News, Environmental Protection Agency officials also planned efforts instructing employees about leaks, and the Associated Press confirmed that EPA training sessions were taking place.
HHS instructed employees to complete training in an email, BuzzFeed News has learned.
"We all come from diverse backgrounds, but we need to be unified in our commitment to safeguarding federal information and data," John Bardis, the HHS assistant secretary for administration, wrote in the email announcing his department's program.

Bardis' email announced a "mandatory 1 hour training session for all employees to be completed by" Friday. The email provided a link to the "training session" — a 31-minute, 30-second video. HHS spokespersons did not immediately respond to a question about what constituted the other 30 minutes of the "1 hour training session."
"Allowing all employees the ability to obtain this training will support our efforts to decrease unauthorized disclosure of classified and controlled but unclassified information," Bardis wrote.
The 30-minute video begins with an introduction from Bardis and then jumps into an "insider threat" video — think an 8-minute after-school special about the dangers of leaks.
From the "insider threat" video:
The "insider threat" video appears to have been produced under the auspices of the National Insider Threat Task Force — a program that came out of an executive order signed by President Obama.
The remainder of the video is framed in a question-and-answer format. Bardis uses one question to introduce a video from the National Archives and Records Administration (NARA) about "marking requirements" for controlled unclassified information (CUI).
In a sign of how caught off-guard agencies were by McMaster's directive, the video then poses this question: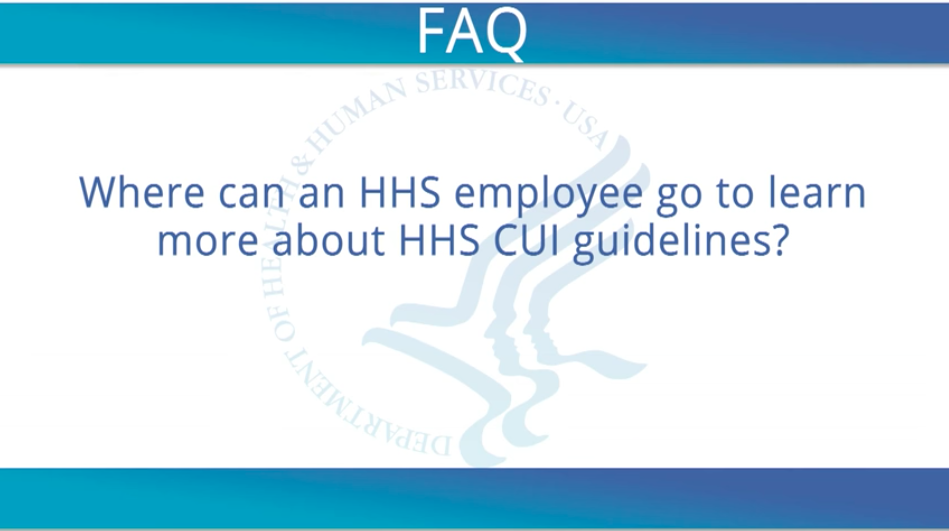 The answer Bardis gives in the video suggests that there isn't currently much department-specific guidance about how to handle controlled unclassified information: "While the HHS CUI policy is being finalized, please see the NARA CUI training on the NARA website."
The final 10 minutes of the video include further NARA-produced videos about "decontrolling CUI" and "controlled environments."