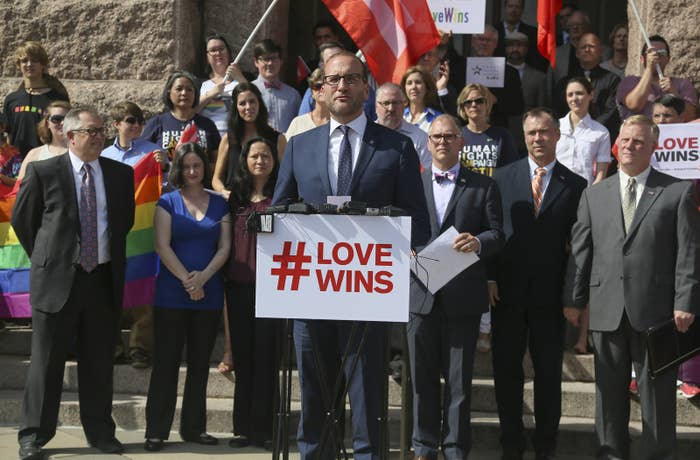 WASHINGTON — This year, Chad Griffin spent his birthday in Alabama, for a series of meetings about the future of the LGBT movement.
The president of the Human Rights Campaign since the summer of 2012, Griffin is overseeing the nation's largest LGBT organization at the time of the movement's greatest successes. On several mornings this June, he showed up at the court early in the morning to stand at the front of the line with Jim Obergefell — the lead plaintiff in the marriage cases — for seats in the courtroom as the justices announced the court's many end-of-term decisions.
The moment was historic for Obergefell, seeking recognition of his marriage to John Arthur on Arthur's death certificate, as well as for thousands of activists and same-sex couples across the nation — some of whom had been fighting for the right to marry for decades.
It was also key moment for Griffin and the organization he now runs that was formed as a political action committee in 1980 — the year that Griffin turned seven.
"[I]t was a group of individuals who were frustrated because they had no political power," Griffin said from his office in the nearly $10 million building bought by the Human Rights Campaign in 2003. "They got together and they said, 'One of the most important things we can do is to get our elected officials to acknowledge we exist, privately first and then publicly, and then be there and stand up for us.' That's how it started."
Thirty-five years later, Griffin has just completed his third year on the job — which followed his time starting and running the American Foundation for Equal Rights, the upstart organization that backed the federal lawsuit against California's Proposition 8 marriage ban. As the country adapts to being one in which marriage equality is the law of the land, however, it is a very different world. Weeks after the Supreme Court's landmark marriage ruling, Griffin went to Birmingham to start deciding what happens next.
This month marks a change. Marriage equality commanded the energy, attentions, and money of many in the LGBT advocacy world for a decade — and now it's over, the battle's been won. HRC — as the largest LGBT organization in the country, by far — has long faced criticism from smaller groups and individuals dissatisfied with the group's priorities. Some of the key questions raised, and not at all unique to Griffin's tenure, are about its effectiveness and about the group's commitment to diversity. And for the larger LGBT advocacy movement, what will be the next issue? Will there even be a singular issue? And will a group like HRC lose support to fight remaining LGBT battles after marriage — a fight that was popular with big-money, big-city donors and, ultimately, corporate America?
"No," Griffin said. "I think the unique position that we're in is that this organization is 35 years old, it's been a multi-issue advocacy organization... for a very long time, decades."
Pointing to past battles over the Federal Marriage Amendment, the hate crimes prevention law, and the repeal of "don't ask, don't tell" — fights that Griffin said took "all of the momentum, all of the energy" at those times — he said that a loss of donors or interest was "not evidenced in those places." And he doesn't see that happening now. "I think our supporters, our members and supporters all across the country, are as excited and as engaged as they ever have been, and I suspect that they will stay with us."
That said, he did acknowledge that the group has work to do to keep people interested, "Now, everyone needs to hear the vision. We've reset the goalpost."
HRC's long-fought battle for passage of the Employment Non-Discrimination Act — first introduced in Congress in the mid-1990s — never resulted in passage by both chambers in the same session of Congress, and the group is now turning its focus to a bill that would address more than just employment protections: "It's not marriage and ENDA when it comes to legal protections; it's a comprehensive approach to nondiscrimination protections."
Nondiscrimination provisions, Griffin noted, find higher support from the public in polling than marriage equality receives. But, in an implicit criticism of his organization's work to advance ENDA over the past two decades, Griffin said, "The sense of urgency, I'm not convinced, was ever felt in Congress."
"It is possible, and it's going to take a ton of work," Griffin said of passing a comprehensive LGBT rights bill that would include employment, housing, lending, education, and other protections. A bill like that has yet to be introduced, although there has been discussion that its introduction is expected as soon as next week — but it will be, he said, "probably the heaviest legislative lift we've ever had" in the LGBT movement.
"It's necessary, it has to be done, and we will get it done," he said. In fact, Griffin flipped the question of lost momentum:
"Being beyond marriage frees up resources."
The issues facing HRC, though, aren't only external. This spring, BuzzFeed News published the findings of a report commissioned by HRC to look into the group's internal workings. The report called the organization a "White Men's Club," and noted that the group's own employees found the atmosphere to be "judgmental," "exclusionary," and "sexist."
Talking about the report — and the current atmosphere at HRC — Griffin said that, too often, nonprofits focus on their efforts "looking out," but, "a lot of nonprofits do not spend enough time looking internally." The surveys and focus groups that led to the report, Griffin said, were part of his effort to make taking such an internal look a priority. "That's why we did the study that we did."
In terms of how people should judge the group going forward, he said the questions to ask are: "How serious are you, and are you actually bringing about change?" The answer, he said, "is it's #1 in top priority, and watch us change. I intend for this organization to be a model, not just in the progressive movement, but as a whole."
When questioned, however, about ongoing criticism from employees who have told BuzzFeed News that change isn't happening, as to racial and transgender issues in particular, Griffin bristled.
"That's not true," he said. "Things are changing, things have changed, we have a long ways to go, and I'm serious about the commitment at that. I would just say, 'Watch us.'"
From data provided to BuzzFeed News, it is true that the organization has a marked increase in numbers of non-white employees and transgender or other gender-expansive employees since Griffin took the helm. Criticism, however, continues — particularly when data such as that provided by the internal report suggests that numbers alone don't result in a significant change in the attitudes.
"I can't say more than how committed I am and to watch the progress that we make," Griffin said.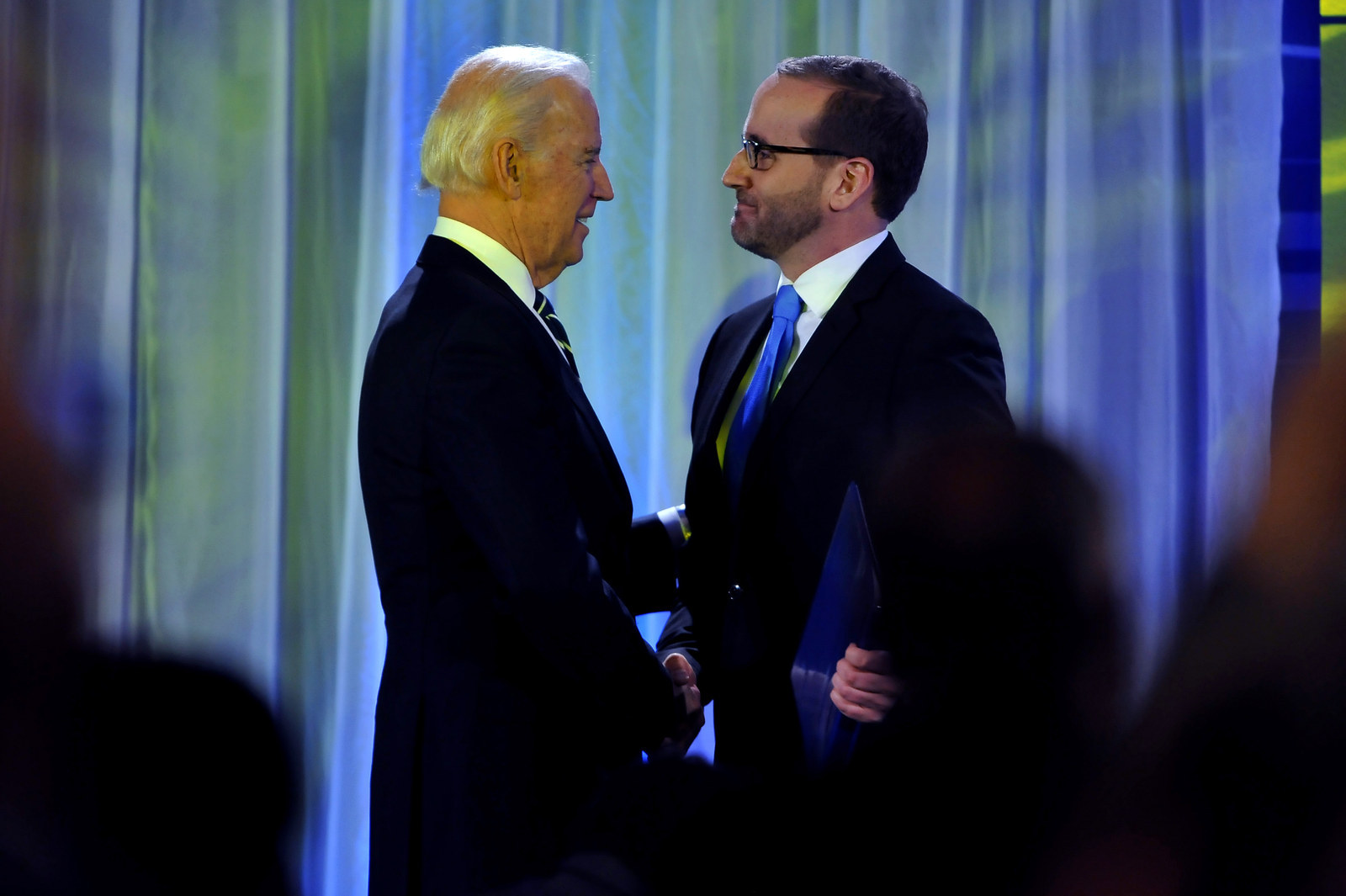 In fact, when asked to name five accomplishments at HRC during his tenure, Griffin chose as one his September 2014 speech in Atlanta at the Southern Comfort conference — a conference billed as one of the largest transgender community gatherings in the world.
"HRC has done wrong by the transgender community in the past, and I am here to formally apologize," he said in that speech, acknowledging the divide caused by the group's early opposition to transgender inclusion and later support for a version of ENDA that would have barred sexual orientation, but not gender identity, discrimination. "I am sorry for the times when we stood apart when we should have been standing together."
Asked 10 months after giving that speech whether trans people can trust HRC today, Griffin said, "I hope so. I understand the distrust that existed, historically, and I understand where it came from. That's why I've worked to build the relationships that I've built with my partners in the movement."
He added, however, that he doesn't "expect everyone to change their minds overnight" and said he will keep working to improve the organization's position within the trans community.
Among the other accomplishments Griffin pointed to were the group's early support for fighting the Maryland marriage referendum effort in 2012; work in advancing LGBT rights in the South — specifically targeting Alabama, Arkansas, and Mississippi — under its Project One America; investment in figuring out how to talk to Southern Baptists about LGBT issues; and the expansion into global issues, both through support of activists in foreign countries and efforts at influencing the U.S. foreign policy agenda.
Even among those areas, though, Griffin acknowledged one key setback.
"[A]s a movement, we weren't in front of our opposition in the forceful way we needed to be" to fight the dozens and dozens of state legislative initiatives opposed by HRC and other groups as being anti-LGBT. "In some places more so, in other places less so."
HRC was criticized most significantly for a perceived failure to be out in front on an Arkansas bill that would preempt localities from passing nondiscrimination protections beyond those provided for in state law — a clear swipe at recently passed local LGBT protections in the state.
While Griffin pushed back at some of the criticism — across the states — as being a failure to account for strategic decisions that kept HRC officials from speaking out publicly in order to keep from alienating officials willing to have behind-the-scenes discussions about legislative proposals, Griffin did acknowledge, broadly, a lack of preparation for how quickly things would turn from marriage.
"I think what we as a movement weren't as ready for is their quick shift to throw in the towel on marriage and to say, 'We're going to go after them in basically three categories of things,'" Griffin said, pointing to preemption bills like the Arkansas one — which Gov. Asa Hutchinson signed into law in February — as well as anti-transgender bills and the heavily covered religious liberty bills.
"We will be ready for those battles every time in the future," Griffin said. "I know we at HRC, and I know our partners, and I know our business coalition [will]."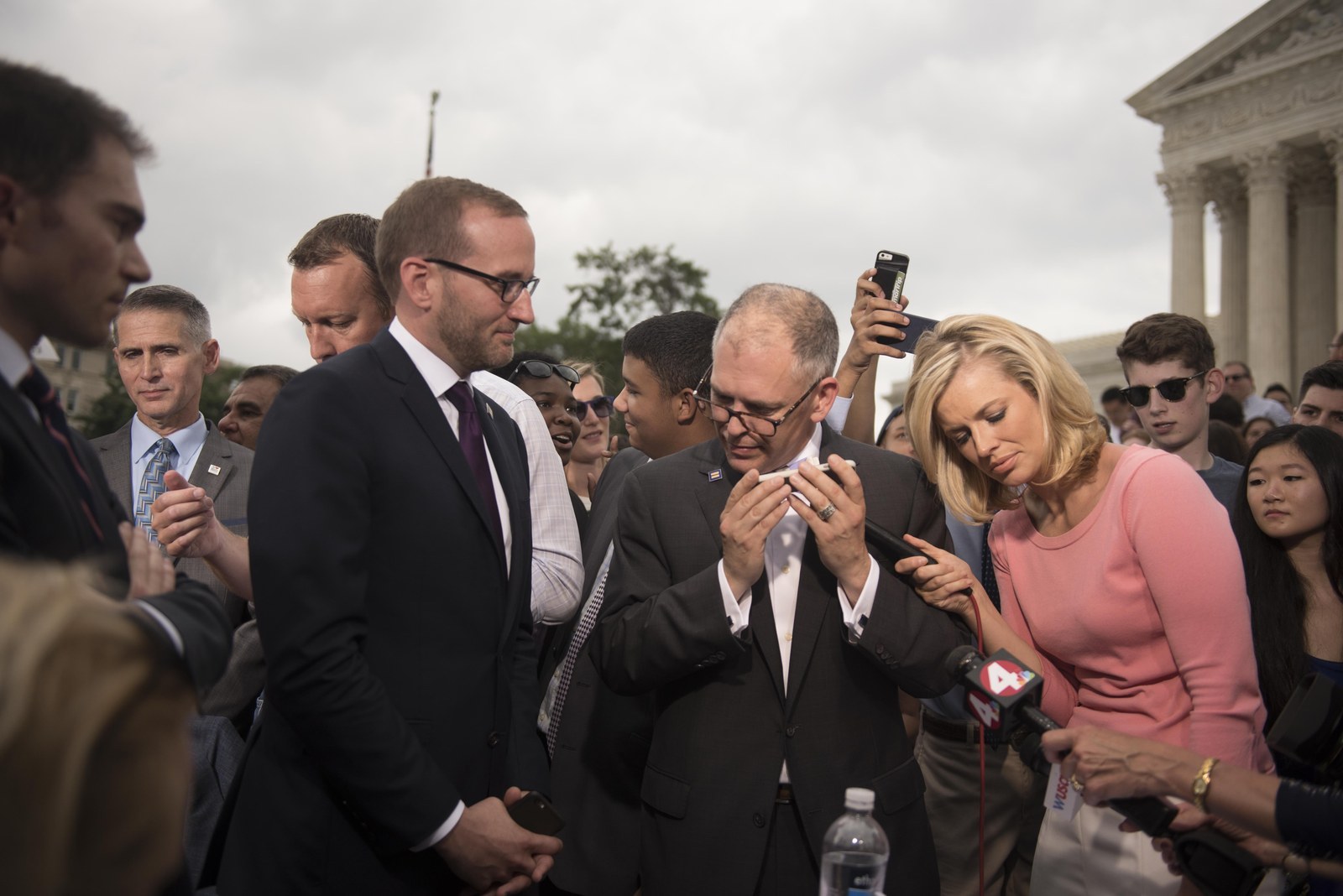 Griffin had particular praise to shower on the corporate support for LGBT rights that was shown this year from briefs at the Supreme Court in the marriage case to efforts to push officials on the state legislation — notably, Republican governors like Indiana's Mike Pence and, on a second bill in Arkansas, Hutchinson.
"Business deserves a lot of credit for the success that we've have in many of these states," Griffin said, noting that businesses had been accustomed to the slower pace of federal legislation and litigation and were asked by LGBT groups, all of a sudden, "We need you here, we need you here, we need you here, we need you there." And, he said, in many cases they were.
Moving forward — and specifically looking to 2016 — Griffin made clear that the organization is preparing for a campaign strategy more aggressive than it has ever pursued previously.
"I don't think, as a movement, we've ever fully realized our political power," he said. "I think in this next election, we have got to do more, be smarter, and be more strategic and invest more heavily in how we engage and organize that base. The LGBT base, among our elected officials, needs to be more recognized, more sought after and feared."
Griffin — despite his long past with the Clintons and the fact that his former business partner, Kristina Schake, has already joined Hillary Clinton's campaign — aggressively pushed back against any idea that the group's endorsement was hers or even hers to lose.
"I can assure you," Griffin said, "we will not be endorsing Mike Huckabee for president." He later added that Sen. Ted Cruz also was a non-starter for the group, saying of the two that they "have been the most anti-LGBT, to the point of [being] dangerous and harmful as young people see those hateful messages on TVs across the country."
As to who the organization will endorse, however, he only would say, "I don't know when we'll make an endorsement in this presidential. It will be a pro-equality candidate, and we'll have more to say about that in the coming months." Rumors and gossip, Griffin made it clear, will be all there is for now.
As to another rumor circulating — that, with marriage done, Griffin is readying to leave the organization — he laughed.
"I did not come here to this organization for marriage," Griffin said. "I have my dream job. I have never had a job that I've loved and enjoyed more than this one. And I have a lot more time and a long ways to go."